If it's not one thing, it's another. This past week was a blur. Skye was ill.
I can talk about it now since she's out of danger. I just hate to bring bad news, that's why I didn't mention it last week. Fiesta Friday should be fun and happy.
Sad fiestas are unnatural and an oxymoron besides.
But I need to tell you, if nothing else it will at least serve as a reminder to all pet owners. It was definitely a wake up call for me to be mindful.
Basically, just be careful when you're cooking and serving corn, especially corn on the cob. Make sure your dogs don't steal any.
Corn is hard to digest and can cause upset stomach and the cob poses even worse problems such as intestinal blockage or rupture.
Last week, while my family and I were enjoying grilled corn on the cob, somehow Skye was able to get hold of one. By the time I was able to get to her and pry it out of her mouth, about 2 inches off the top was already missing. She already ate it.
It didn't agree with her and she became sick. What made it worse was that her X-ray came out inconclusive so the vet couldn't decide whether to send her to surgery or rule it out. So it was a lot of keeping a close watch on her and a LOT of shampooing the carpet, if you know what I mean (let's just say it rhymes with "nuke").
Long story short, she's better now after a shot to settle her stomach and multiple goings to the bathroom. The vet thinks she'll be fine. She just needs to keep a bland diet for a while. Thank goodness!!
Oh, Skye! We didn't realize how much we loved her until we thought we were going to lose her. Needless to say, she's being thoroughly spoiled by everyone right now. It's all good!
Now, let's fiesta! But first, take a look at these: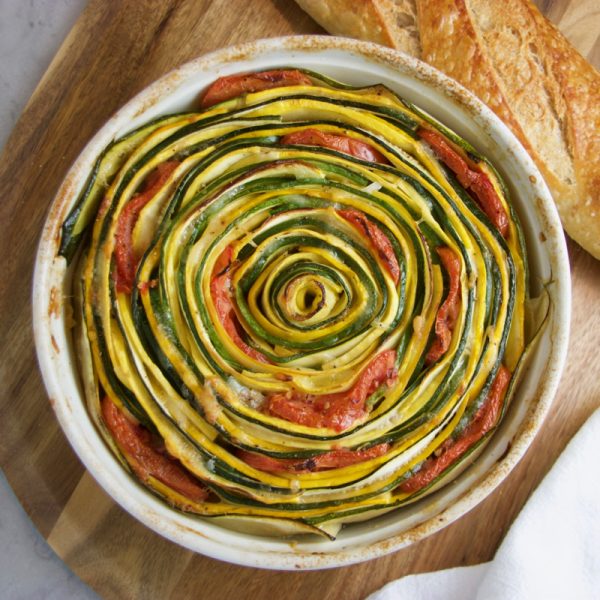 Summer Squash Gratin from Josette @ thebrookcook
"So beautiful! I'll have to make this at least once this Summer. How could I not, it's so beautiful. Yah, I know I've already said that but I have to say it twice it's so beautiful. Ha, that's three times!" — Angie
Potato Zoodle Breakfast Egg Nests from Monika @ Everyday Healthy Recipes
"I love anything spiralized – the meal looks more appealing. I couldn't resists such pretty and healthy dish. Monika's breakfast egg nests are something both adults and kids would love." — Jhuls
"[These] egg nests need to be on every brunch menu." — Tracey
Splendid Summer Salad from Jenny @ Dragonfly Home Recipes
"Jenny's salad is beautiful and nutritious. The lemon lavender ginger dressing looks divine." — Tracey
Gluten Free Coconut-Filled Mango Crepes from Lathiya @ Lathi's Kitchen
"I have never seen such beautiful crepes like the one Lathiya did. Adding mango purée into the crepes is a genius idea. The coconut & sugar filling sounds like a perfect filling for delicious mango crepes." — Jhuls
***
Now, let's party! Join Fiesta Friday #181 by adding your link. Don't forget to link your post to FiestaFriday.net and the co-hosts' blogs, so we can feature you. Your cohosts this week are CH @ Cooking From My Heart and Nimmi @ Adorable Life
If you're new to Fiesta Friday, please read the guidelines.
[inlinkz_linkup id=728041 mode=1]