Is it Friday already?!
What a struggle it's been to keep up with the days! Car trouble, sick husband, dependent children (of both the human and canine kinds) are keeping me frantic, frenetic, and frazzled.
Go ahead, throw in another f-word in there, I'm sure it'll be applicable. Okay, not THAT f-word! This is a G-rated site.
I have no idea what I've actually accomplished this week. I even forgot a recipe post I was working on. Actually, make that several posts. All left in mid-sentence.
Can someone please rescue me? Swoop me out of here and fly me to the beaches of Hawaii!
The husband says, through much hacking cough, that he will. How sweet! But that's beside the point. I'd still be stuck with him. Sorry, honey, just joking! I'd love to be stuck with you! But only on the beaches of Hawaii!
***
Now, take a look at these outstanding links from last week: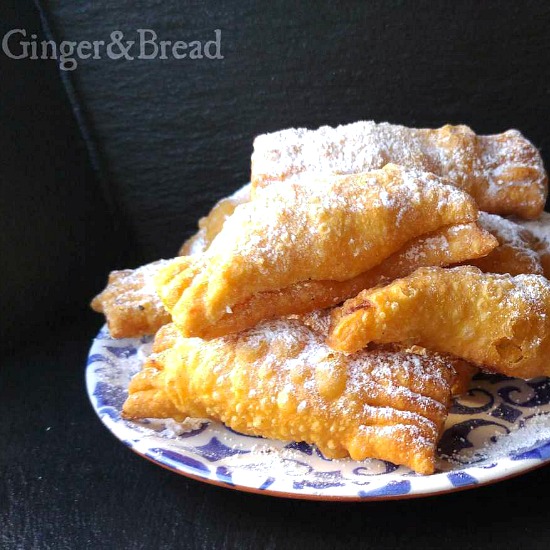 Casadielles – Asturian Walnut Donuts
"I've always wanted an alternative to beignets for Fat Tuesday. Okay, that could be an oxymoron, a beignet alternative. But see, my hunch has been proven right. It does exist! These casadielles are perfect for Mardi Gras, perfect!" — Angie
Blueberry Cream Cheese Buns from Ai @ Ai Made it For You
"These Blueberry Cream Cheese Buns look super cute. Love Ai's creativity with these buns. It must have been a fun-break from the regular cakes that she could have made for her Dad's birthday. I can't take my eyes off from the cute-looking beardy man :)" — Anugya
Apple Oatmeal Whoopie Pies from Lily @ Little Sweet Baker
"I made whoopee pies a couple of times. Every time it turned out as a disaster, they were eatable, but they looked very ugly. So when I saw how perfectly shaped these are, and on top of that, made with oat, apple and peanut butter frosting, I couldn't do anything but clap my hands!" — Margy
Slow Cooker Mexican Style Honey Lime Chicken from Mollie @ The Frugal Hausfrau
"What?! A 10-minutes-prep-dump-it-set-it-forget-it-recipe?! And it sounds and looks so yummy! You just gotta try this, gotta!" — Angie
***
Now, let's party! Join Fiesta Friday #161 by adding your link. Don't forget to link your post to FiestaFriday.net and the co-hosts' blogs, so we can feature you. My solo cohost this week is Laura @ Feast Wisely
If you're new to Fiesta Friday, please read the guidelines.
[inlinkz_linkup id=701101 mode=1]