Here we are, finally!
Winners of the Fiesta Friday Healthy Recipe Challenge have been selected and are ready to be announced.
Big thanks to all who participated. You have made it fun and exciting for everyone involved with your unbridled enthusiasm and genuine willingness to challenge yourself.
In the process, you have encouraged and inspired one another to embrace the concept of thinking outside the box. To do something out of the norm or ordinary.
And to go where no man or woman had gone before… Oh, well…maybe not that far, but you did stare a challenge in the eye, rose to the occasion and came out all the better for it.
Selecting a handful of winners from such an impressive pool of entries was not an easy task. After much hand-wringing, hair-pulling, and nail-biting, I still wasn't able to narrow down my selections.
That was when my daughter suggested that I create a scoring guide rubric. Brilliant! How did she get to be so smart? She didn't take after her mom, that's for sure.
I broke down the rubric into the following criteria: creativity, originality, technique, and presentation. And because I couldn't taste the results, I applied one other consideration.
The challenge asked that greens and pineapple be used in a single recipe. The overall recipe should reflect that the two required ingredients be used in a cohesive manner.
In other words, they both should be an integral part of the recipe, and not just an afterthought or garnish that can easily be left out. That became the fifth criteria.
A score of 1 – 5 was applied to each criteria.
I looked closely and tediously at every single recipe, applied the scores and didn't tally until all entries were scored.
At the end of the process, I had one clear winner for 1st place, but I was surprised to see that two entries were tied for 2nd place. I had to review the two recipes once again, and decided that one was a healthier recipe than the other and that was how I came up with 2nd and 3rd places.
Another surprise was that 3 other entries were tied for 4th place, very closely behind the 3rd place. However, there wasn't any prize promised for 4th place. Instead, I will give them honorable mentions.
I hope all of you can understand the decision-making that I put myself through. You can tell it was exhaustive and as fair as I could possibly make it to be. It was extremely difficult but I'm pleased with the results.
Without further ado, the winners of Fiesta Friday Healthy Recipe Challenge are:
1st Place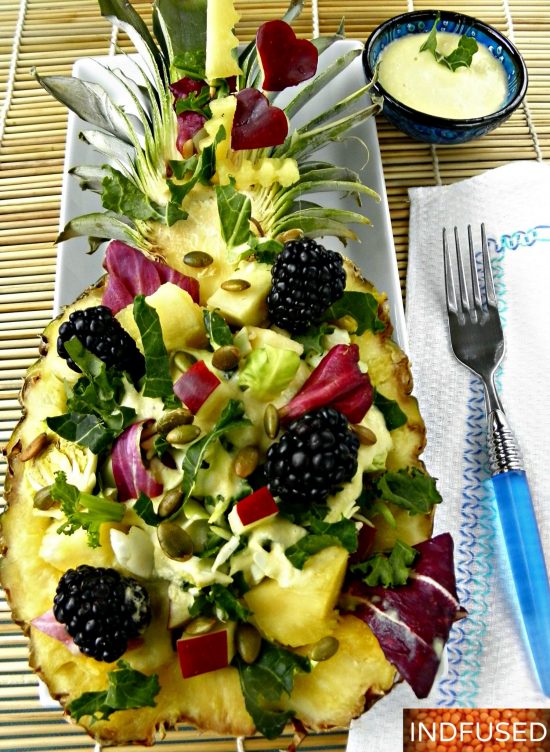 2nd Place
Salad Rolls with Pineapple and Pineapple Mint Dipping Sauce
3rd Place
Thai Pineapple Fried Rice with Kale
Honorable Mentions
Grilled Pineapple-King Fish Kebabs In Spicy Spinach Marinade
Chicken Spinach Flatbread Wraps With Grilled Pineapple Salsa
Carnitas-Filled Pineapple Ravioli with Crispy Kale
Let's have a round of applause, please! ???
If you're one of the winners, please email me your address, so I can send you the prize.
And if you didn't win this time, please don't hate me. I promise there will be more challenges in the future!