It was my birthday, and I told the hubster to please, please…not buy me flowers…
So, of course, I got this…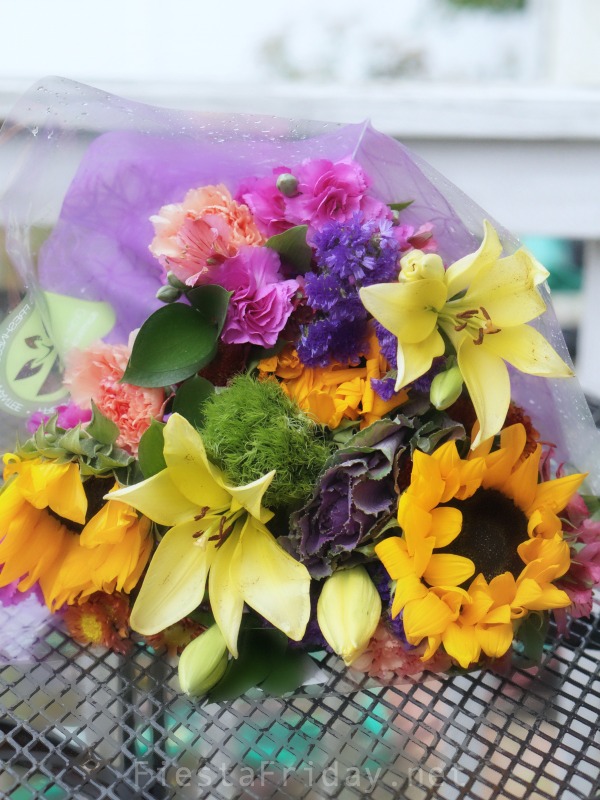 It's not that I don't like flowers; I love them! But sometimes I feel like they're just an easy way out for him to not have to think about what to buy me on special occasions.
I want him to be creative, I want him to think outside the box, I want him to surprise me… I want him to maybe get me some…
Calzones…
Whaatt?!
Well, that's what I really want! I want calzones! I've been thinking about calzones for like, uhm…10 minutes. Which is a loooong time when you're craving something, amirite?!
So, can someone please make me calzones??? It's my birthday week.
Now, Features!
Curried Squash Galette
from Josette @ The Brook Cook
"I love this! A galette for one, and a savoury galette at that, perfect!" — Elaine
"Amazing fall flavors of butternut squash married with Madras Curry and Manchego Anejo Cheese. This is a must try!" — Michelle
Pepita Pesto-Coated Pasta with Shrimp from Colleen @ Faith, Hope, Love, and Luck
"I love this because it proves that there is always a way … This is pesto made with seed for someone with a nut allergy – A perfect solution!" — Elaine
Baked Figs & Custard In Phyllo Pastry
from Ai @ Ai Made It For You
"WOW! Caramelized figs with creamy custard, layered with crispy honey and lemon phyllo dough – I'm in dessert heaven!" — Michelle
Super Easy, Baked Sutarfeni
from Sandhya @ Indfused
"A unique recipe that is sure to please. A fun combination of shredded, baked Fillo Dough topped with a sugar syrup infused with cardamom and saffron. Can't wait to try this recipe!" — Michelle
***
Now, let's party! Join Fiesta Friday #143 by adding your link. Don't forget to link your post to FiestaFriday.net and the co-hosts' blogs. Your co-hosts this week are Judi @ cookingwithauntjuju and Maggie @ Spoon in a Saucepan
If you're new to Fiesta Friday, please read the guidelines.
[inlinkz_linkup id=673328 mode=1]