Anyone here ever experienced cyberbullying? It suddenly dawned on me that I may have become a victim of it recently.
Without going into details, let me just say it is so annoying! As a matter of fact, it makes me angry!
If these people truly value my friendship, they wouldn't be doing this, right? So, what should I do? Should I cut them out of my life? You're supposed to cut out toxic people out of your life, right?
You know, just like those ingredients past their expiration dates in your pantry. You'd throw them out, right?
When it comes right down to it, though, I'd probably just ignore them. I'll go ghost for a while and let things cool… That's right, deep down I'm a pushover. Or maybe I'm just a more mature person than my friends. Let's just go with that! I'm the grownup in the group.
Besides, it's Friday and I have a fiesta to attend to. Who has time for childish, obnoxious behavior?! We want to party and have fun instead! Right?!
Now, Features!
Blueberry Banana Buckwheat Layer Cake from Hannah @ Domestic Gothess
"Even though this is a beautiful looking cake with the fresh blueberries and mascarpone cream filling, one of my first thoughts was "buckwheat flour". Like Hannah I have some sitting in my cupboard as I was going to make some sourdough bread using it. I think many would agree that this cake is a much better choice than a loaf of bread, at least for now." — Judi
"You know what?! That makes the three of us! I bought buckwheat flour thinking I'd make pancakes with it, but of course I promptly forgot. I told you I have lots of forgotten ingredients in my pantry, didn't I, some of them past their expiration dates?!"– Angie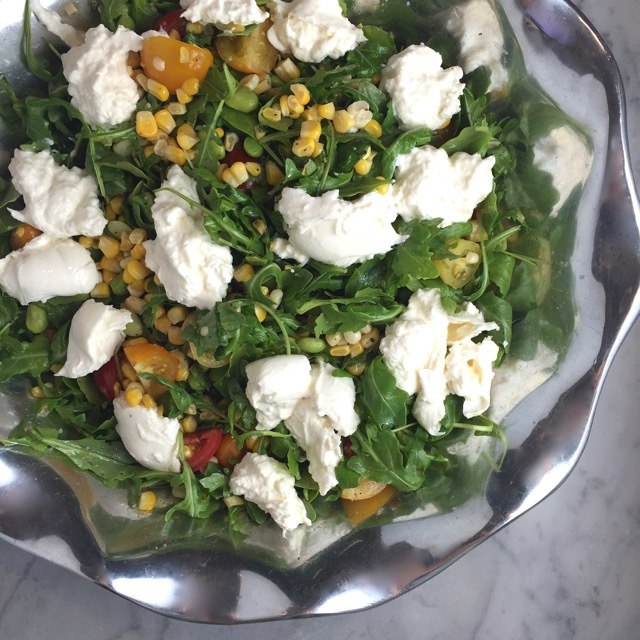 Arugula Salad with Corn & Burrata from Josette @ thebrookcook
"This recipe is the perfect end of summer salad filled with many fresh ingredients such as arugula, tomatoes, corn and fresh herbs. Tossed with a light dressing and this wonderful Burrata cheese just made my mouth water. This cheese was recently introduced to us through a pasta dish by fellow blogger Johanne (which is delicious by the way). Burrata resembles a fresh Mozzarella ball but when opened there is a rich tasting soft filing of fresh pieces of Mozzarella soaked in heavy cream – oh my!" — Judi
"How awesome is this salad, huh?! Everything looks so fresh and happy and just beautiful! Like Judi said, just perfect to celebrate the end of summer!" — Angie
Apple Cider Mimosas from Haley @ if you give a blonde a kitchen
"What a great beverage to serve for a Fall brunch or perhaps a special birthday breakfast. Oh heck – I would not need a reason to make this. Besides the apple cider and champagne (I always use Prosecco) the cinnamon sugar rim is a really nice touch. Apple season is almost upon us and I will be making this soon." — Judi
"Same here, Judi, same here!" — Angie
Fish Taco Rice Bowl from Aditi and Nikhil @ Confused Bawarchis
"This is not your typical "rice bowl" or at least how I think of one. The addition of an Apple Pico de Gallo sounds wonderful on top of taco flavored fish and barley instead of rice. What a great substitute when you are trying to eat healthier grains. Look at the pictures – wouldn't you love a bowl? This recipe is a keeper!" — Judi
"Apple Pico de Gallo?! Say no more, I'm sold!" — Angie
***
Now, let's party! Join Fiesta Friday #135 by adding your link. Don't forget to link your post to FiestaFriday.net and the co-hosts' blogs. Your co-hosts this week are Loretta @ Safari of the Mind and Natalie @ Kitchen, Uncorked
If you're new to Fiesta Friday, please read the guidelines.
[inlinkz_linkup id=663595 mode=1]