Not to complain or anything, but I was sick. As a dog…
I meant that in the literal sense, since it was Skye who got sick first. Then I got it from her. Of that, I'm quite certain; I'm her primary caretaker and spend a lot of time with her.
It was a case of a head cold, quite bad. I came home from work with a splitting headache, muscle pains, and a slight fever… And I was droopy, sleepy, and sneezy. I was definitely grumpy and not happy… I was not at all feeling like Snow White.
But, but! The story does have a happy ending. I'm so much better today. All because of my Mom! Who is not at all like the Evil Queen.
In fact, she's the opposite. Can I just brag a little about her?
I'm sure I've told you before how she's into healthy eating and healthy living and all that. Well, she's also apparently a holistic healer!
She made me some herbal tea, told me to drink it hot, then gave me a pressure point massage. Then she forbade me to touch any of my electronic devices. She sent me straight to bed.
I wasn't too happy being stripped off my iPhone…but guess what?! I slept like a baby and in the morning I felt immeasurably better! A sickness like that normally would have taken me days to recover from, but one night?! It was a miracle!
That's why we should celebrate big time today! So, come one, come all, let's fiesta!
Now, Features!
Turmeric Roasted Cauliflower w/ Dates & Almonds from Petra @ Crumbles and Kale
"Cauliflower doesn't often get to be all dressed up like this. It sounds delicious." — Natalie
"I'm currently stuck in a rut with boring steamed cauliflower, so when I saw this, it was like…bam!! It's an easy recipe, but oh boy, does it sound yummy or what?! Definitely will be making this very soon!" — Angie
Chickpea Curry with Jerk Chicken from Ai @ Ai Made It For You
"The chickpea curry and jerk chicken caught my attention right away and in my opinion, definitely needed to be featured. Caribbean and Indian flavors are definitely the hallmark of this complete meal. Both happen to be cuisines I am partial to. I love the cashew and almond milk addition, it is healthy, creamy and velvety in place of the coconut milk I sometimes use. Serving it with quinoa surely added some wholesome and nutritious properties. With the cooler weather around the corner, I know what I will be replicating this in my kitchen for the Fall weather." — Loretta
Pavlova from Nell @ I Need A Feed
"Nell has surely tantalized my tastebuds with this gluten-free version of the famous Australian dessert. I learned that both Australia AND New Zealand claim fame to its origins. This creamy meringue topped with fruit and cream is a show-stopper! Any fruit would do justice to Nell's gorgeous pavlova. I love passion fruit and for me the inclusion of the passion fruit pulp was what got me salivating. Mangoes would make a perfect addition too. I've yet to try making pavlova, but with these clear and concise directions, I'll put it on the back burner to try out for a very special occasion." — Loretta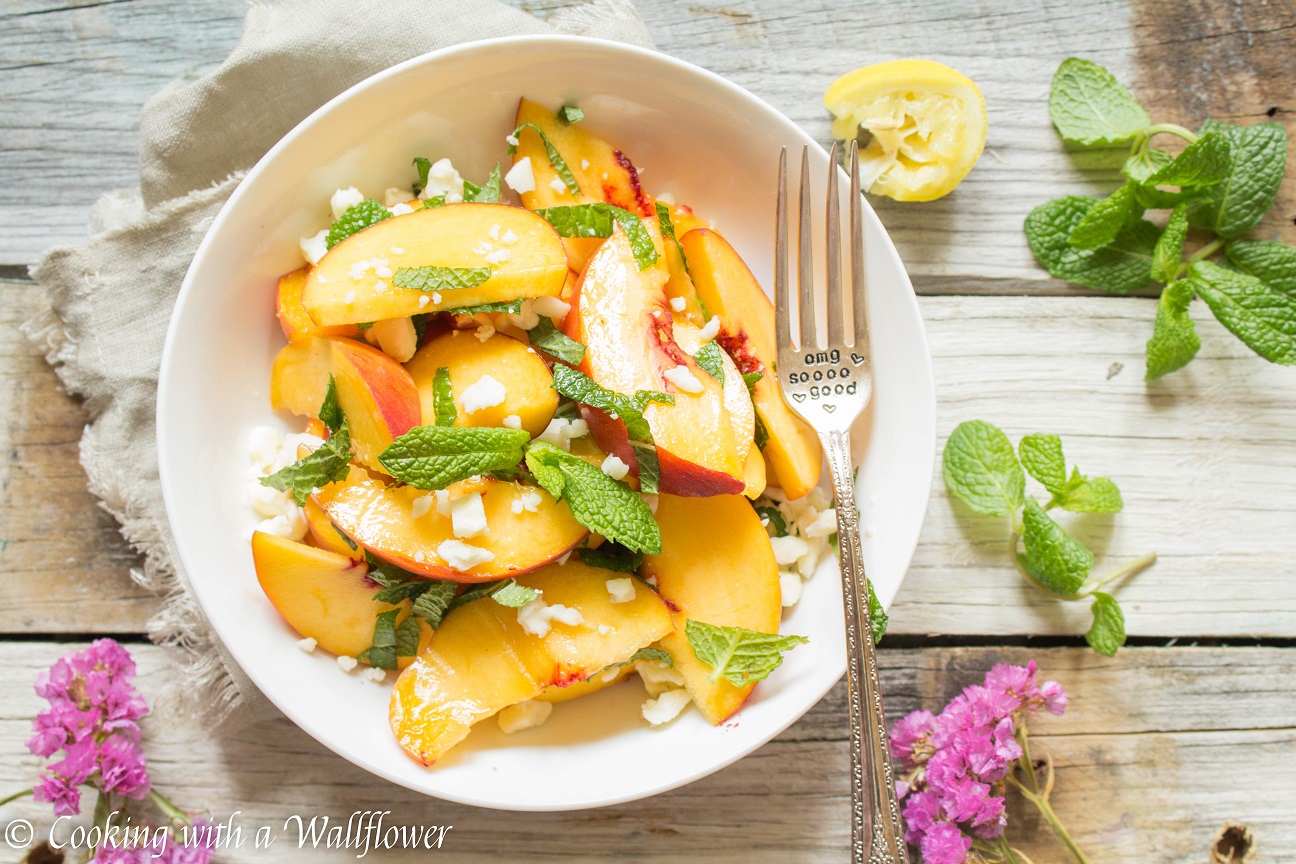 Peach Mint Salad from Andrea @ Cooking with a wallflower
"I just love the simplicity of this salad. It sounds so flavourful, but so easy to put together. And it's just beautiful to look at." — Natalie
***
Now, let's party! Join Fiesta Friday #138 by adding your link. Don't forget to link your post to FiestaFriday.net and the co-hosts' blogs. Your co-hosts this week are Mollie @ The Frugal Hausfrau and Johanne @ French Gardener Dishes
If you're new to Fiesta Friday, please read the guidelines.
[inlinkz_linkup id=665018 mode=1]