Here's a peek into what's been going on inside my head these past week:
I need more time to learn about this blogging business. I mean, real time, like hours at a stretch. I know very little of it.
I can't, realistically, manage 2 blogs at the same time.
It gets confusing, at times, what my focus is. FiestaFriday or TheNoviceGardener.
It gets repetitive and redundant, posting essentially the same things on both blogs.
I need to abandon one blog. And it's the one I've been neglecting, i.e., TheNoviceGardener. Sad, but it's time to say goodbye to it.
I might still keep it up but mark it private, or just delete it. I'm not sure yet.
So, with that, I'll move on.
To a new frontier. I hope it's for the better.
It will be Fiesta Friday from now on. All the time.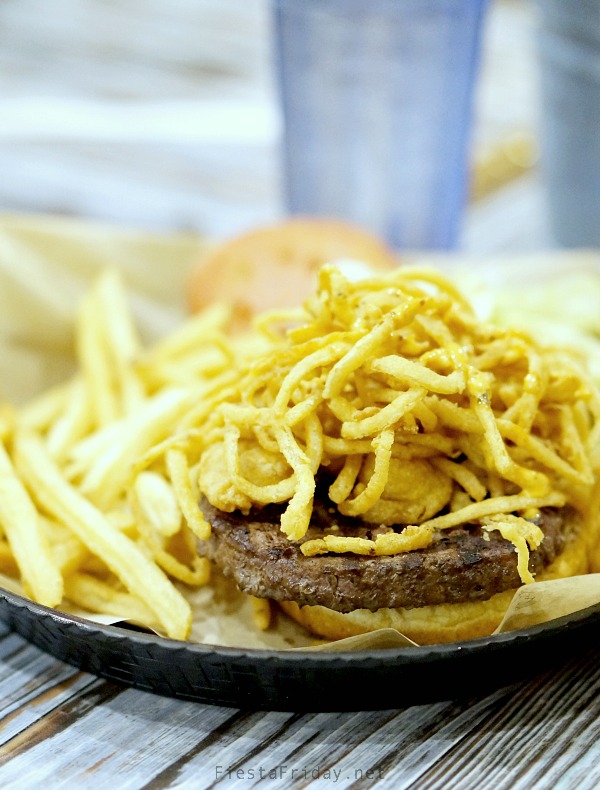 What?! How did this get in here? Okay, I just thought you need a breather from all the talking. It's Joe's Crab Shack surf n turf burger. So good!
I'm now in the process of merging the two blogs. I'll be bringing over older posts that are FiestaFriday-approved, updating them whenever I can. You may be getting email notifications as if new posts have been published, I hope you won't mind. They all carry good recipes, I promise!
And I'm doing this all by myself. I may regret this later. But the funny thing is, every time I talked to the experts, they kept telling me that even though they could do it for a fee (ranging from $129 to $149), I could also try doing it on my own and that many people were able to do it. And they willingly showed me how to do it!
So far it's pretty easy. Just takes time, since I do it bit by bit. It's all about learning, peeps. By the time this is all done, I may become an expert myself. NOT! But I can at least give you a few tips.
I also hope to be able to transfer my TheNoviceGardener followers over. I know my Fiesta Friday followers will welcome them with open arms. I don't see any problems; they're kind of overlapping anyway. Many of you know each other already. And I hope TheNoviceGardener followers will like what they see here and stay.
Okay, serious business announced, now it's time to party! Not that partying is not serious business. It's very, very serious! I take my partying very seriously!
FEATURES
A Royal Repast: Dal Baati Churma from Naina @ Spice in the City
"This is such a beautiful collection of dishes. I loved learning about their history and how to eat them together, as well as the recipes. These are new Indian dishes to me, and I love it." —Elaine
"Shut the front door! Oops, sorry, but that was the first thing that came to my mind when I saw this! C'mon, will you look at that? It's absolutely rocking it, this Royal Repast thing!" — Angie
Roasted Red Pepper and Hazelnut Pesto from Mara @ Put on your Cake Pants
"This dish looks so creamy, and I don't think I could stop at just one dish of this sauce on a plate of pasta." — Julie
Empanadas with Pancetta, White Beans, and Queso Fresco from MB @ Bourbon & Brown Sugar
"Is there anybody who doesn't like empanadas? No! Is there anybody who can resist this version, with pancetta and queso fresco? Double No!! Sounds completely and insanely to die for! P.S. Check out all the beautiful travel pictures from Buenos Aires, too." — Angie
Purple cauliflower and pear flan with roquefort sauce from Margy @ La Petite Casserole
"Being the vegetable lover that I am, I just love this purple cauliflower! And paired with pears, and Roquefort, even better :)" — Elaine
***
Now, let's party! Join Fiesta Friday #103 by adding your link. Don't forget to link your post to FiestaFriday.net and the co-hosts' blogs. Your co-hosts this week are Sonal @ simplyvegetarian777 and Petra @ Food Eat Love
If you're new to Fiesta Friday, please read the guidelines
[inlinkz_linkup id=600646 mode=1]