Hey, Happy Fall, y'all!
I don't know about you, but I'm just the happiest person that Fall has finally arrived, and brought with it the cooler weather.
Or maybe I'm just happy these days because of Papa Francisco. I don't know about you, but I'm completely obsessed with him.
I was almost late to work a couple of times, totally forgetting time and completely glued to the TV.
Never mind the disagreements I have with the Catholic Church, I just can't get enough of the Holy Father.
I don't know about you, but I just love to hear his message of love. Plus he has the sweetest smiles.
And to think he'll be in Philadelphia tonight, a mere 20 miles away, and I have yet to find a way to get there!
So, please forgive me if I'm a little distracted this weekend. 'Coz I don't know about you, but if Pope Francis is within walking distance from me (a looong…. walking distance), I'd try to find a way to see him.
***
Outstanding posts from last week's fiesta are: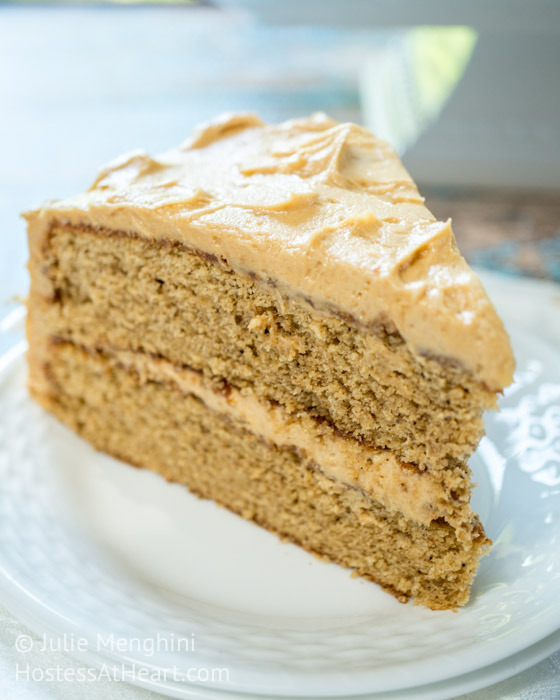 Spice Cake with Peanut Butter Frosting from Julie @ Hostess At Heart
"Julie recently celebrated her birthday and she made this cake that brought back great memories of her younger years some 35 years ago. Well, it also brought back fond memories for me of a spice cake with caramel frosting that my Mom made for my Dad's birthday every October. This was a special treat we four kids (Dad too) looked forward to every year and I have not had it in 25 years.
Also, Julie's birthday is 5 days earlier than mine. Just one more thing Julie and I have in common. Trust me, Julie's version will melt in your mouth and you will definitely be back for seconds. I mean peanut butter, don't we all love peanut butter? Spice cake with the traditional cinnamon/nutmeg/cloves – perfect for a fall dessert, and especially for a birthday." — Judi
"It's Julie's Birthday and this cake is perfect for fall." — Quinn
"Happy Birthday, Julie! The cake sounds so good I might want to try a spice cake with peanut butter frosting for my birthday, too!" — Angie
Traditional Apple Pie from Sarah @ Sarah's Little Kitchen
"Great post by Sarah. The lattice work looks amazing. Good detail and instructions. And it is apple picking time." — Quinn
"That's a gorgeous pie if I ever saw one! Who can ever resist a perfectly home-baked good old-fashioned apple pie? Not me, that's for sure!" — Angie
Apple and Blackberry Cream Turnovers
"Michelle knocked this out of the park. Very versatile recipe with great instructions and wonderful flavors." — Quinn
"Really?! Seriously?! Is this a conspiracy?! First, Sarah brought her perfect apple pie. Then, Michelle piped whipped cream into her apple turnover! Now it's perfect-er! YOU GUYS!!" — Angie
Sausage Meat Pasta from Vasun @ Cupcakes & Curries
"Vasun presented a favorite pasta dish that is very similar to one I make including the pappardelle pasta she used. Don't you find that happens a lot, but then there are slight differences as we add our own special touch to a recipe. I added more tomatoes and she thinned it using chicken broth; different herbs can change the flavor of a dish as well.
All summer long sauces have been light made with fresh tomatoes, vegetables and herbs and now with the weather turning cooler I begin to think of more heartier recipes such as this tomato based chorizo pasta. From my own experience this is a great recipe to make your own and have fun doing it. It will really warm your tummy and as Vasun said add a salad and a nice bottle of wine and you are good to go." — Judi
"Does this look good or what?! I swear I've never met a pasta dish I didn't like. And sometimes simple is best." — Angie
***
We'll be voting for our favorite posts again this time around. Don't forget to come back on Tuesday and cast your vote!
Now, if you please, join Fiesta Friday #87 by adding your link. If you're new to Fiesta Friday, please read the guidelines.
[inlinkz_linkup id=566718 mode=1]