I'm in the thick of it, peeps! I'm super, super busy!
So I can't party with you!
Just kidding!
Of course I'll party with you.
Besides, if I can't, there'll be Judi @ cookingwithauntjuju and Quinn @ Dad Whats 4 Dinner. And all the other party revelers, of course. So, you see, you don't even need me.
'Coz I am super busy!
I'm revamping my entire garden.
Moving things around. Making beds. Edging beds. Digging holes. Removing plants. Planting plants. Re-planting plants. And so on and so forth.
Lots to do!
It's a huge project. Hopefully, the garden will start looking nice…
Uhm…in two or three years…
In case you didn't know, gardening isn't exactly instant gratification. Unlike cooking. Which is almost, almost, instantly gratifying. Especially when you make pasta, like this one.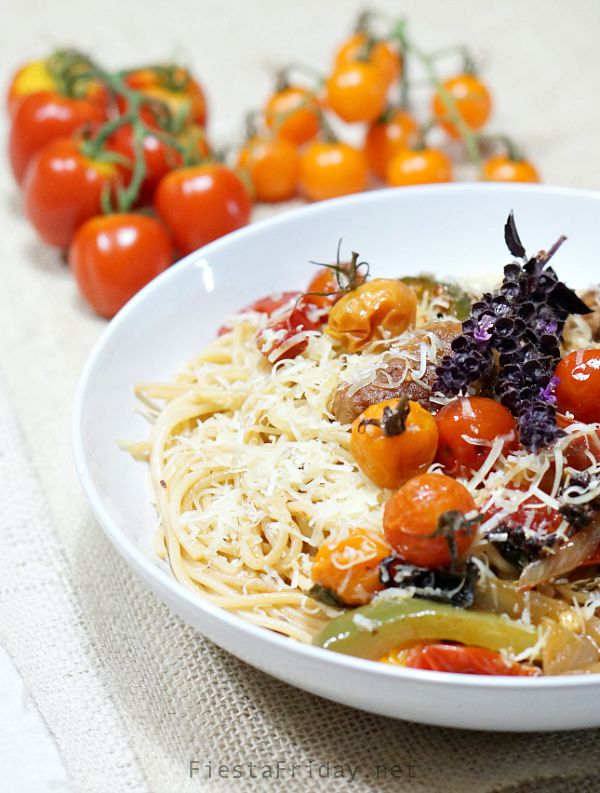 Seriously, this is all I've been cooking lately. Easy, quick, no-recipe kind of pasta dishes. I suppose one day I will have to sit and jot down the recipes just in case someone, like my daughter for instance, asks for them. She loves pasta so much.
Which means I'll have to measure the ingredients. Maybe tomorrow I'll do it.
In the meantime, there won't be any shortage of recipes. Just look at these:
Chocolate Turtle Cake from Anna @ thelittlebluemixer
"I love Anna's step by step guide for the chocolate rosettes, and her cake is simply decadent. Not only is the chocolate buttercream screaming my name, I love her inner filling with the caramel. Every picture in her post this week is simply mouth-watering." — Kaila
"Now there's no excuse to not know how to make chocolate rosettes! Look at the detailed pictorial instructions. This should be bookmarked by everyone who wants to improve their piping skills." — Angie
Heirloom Tomato Basil Cheese Tart from Johanne @ French Gardener Dishes
"This immediately caught my attention because I love every single ingredient in this dish. The combination of tomatoes, basil, cheese, and pastry got me. Plus, it is a fun way to use all those tomatoes that may be piling up this time of year." — Jenny
"This sounds excellent! I'm definitely going to make this ASAP. Even though I know my son won't eat it 'coz he just won't do tomatoes. But he's just a silly kid, right? He'll just have to starve. At least I'll be happy. And I know his sister will be, too!" — Angie
Lemongrass & Wasabi Asian Style Chicken Nuggets from Dini @ The Flavor Bender
"Dini put a spin on classic chicken nuggets and gave them a bold flair that I'm sure all our guests will love. Not only do I love that her nuggets and nam jim dipping sauce are made from scratch. This chicken marinade is something I need to try out myself!" — Kaila
"Note to self: Buy wasabi paste. Or save the wasabi paste from sushi trays. 'Coz now there's a purpose for it. I've always wondered why they give you so much wasabi when you really need only a smidgen. They must know it goes great in chicken nuggets!" — Angie
Mixed Vegetable Manchurian Gravy from Prachi @ the Divine Spice Box
"I don't know much about Indo-Chinese cuisine, but this post made me want to learn more. The vegetables and gravy just sounded so good together, so savory and also so healthy!" — Jenny
"Wow, Manchurian Meatlessballs! Something new to love. I must say they look very appealing!" — Angie
***
There are even more recipes below! Join Fiesta Friday #86 and add your link. If you're new to Fiesta Friday, please read the guidelines.
[inlinkz_linkup id=564726 mode=1]