Step-by-step instructions on how to make dried pineapple flowers. Edible and healthy decoration for your cakes or cupcakes!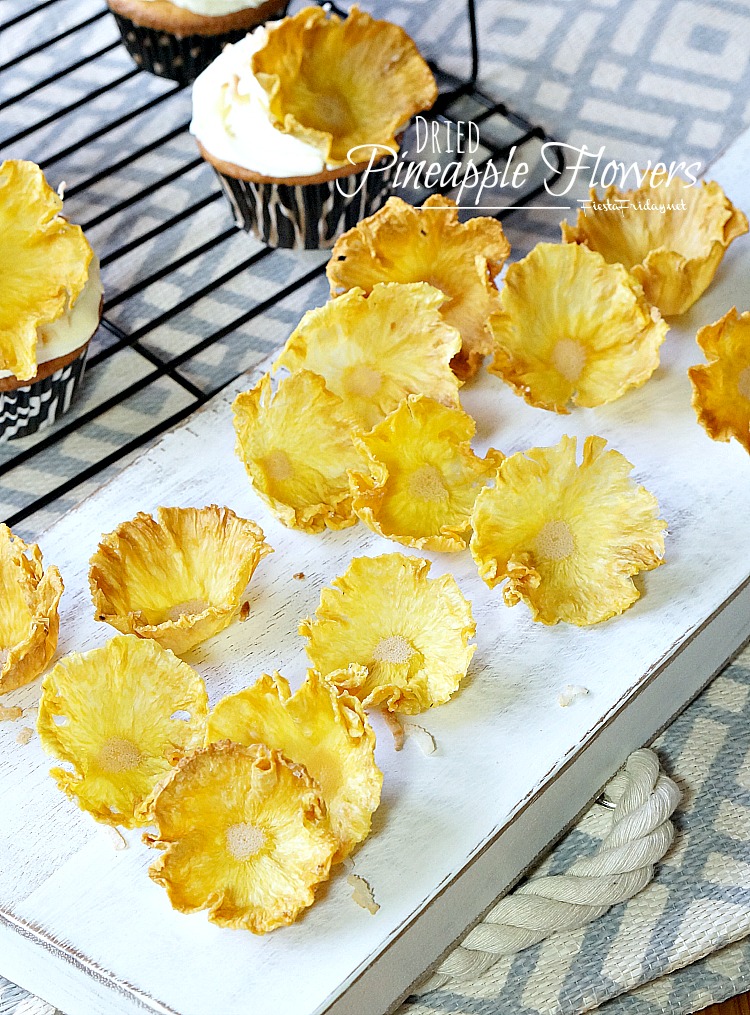 Here are the promised step-by-step instructions on how to make those pretty and edible dried pineapple flowers. You can use them to decorate your cakes or cupcakes or just eat them as a snack. They are delicious and better for you than those fruit candies you get from the stores. And guess what? These dried pineapple flowers do taste like candies!
I first saw these oh…must have been a couple of years ago, in Martha Stewart's Cupcakes Book. Oh…I didn't buy it, I just flipped through it at Barnes and Noble's. And since I have a photographic memory, I was able to recreate them at home, without having to buy the book!
Okay, I really just went on her website to find the instructions when I came home. For some reason the original recipe is no longer there today, but I was able to find this page on MarthaStewart.com to show you that it was there at one point.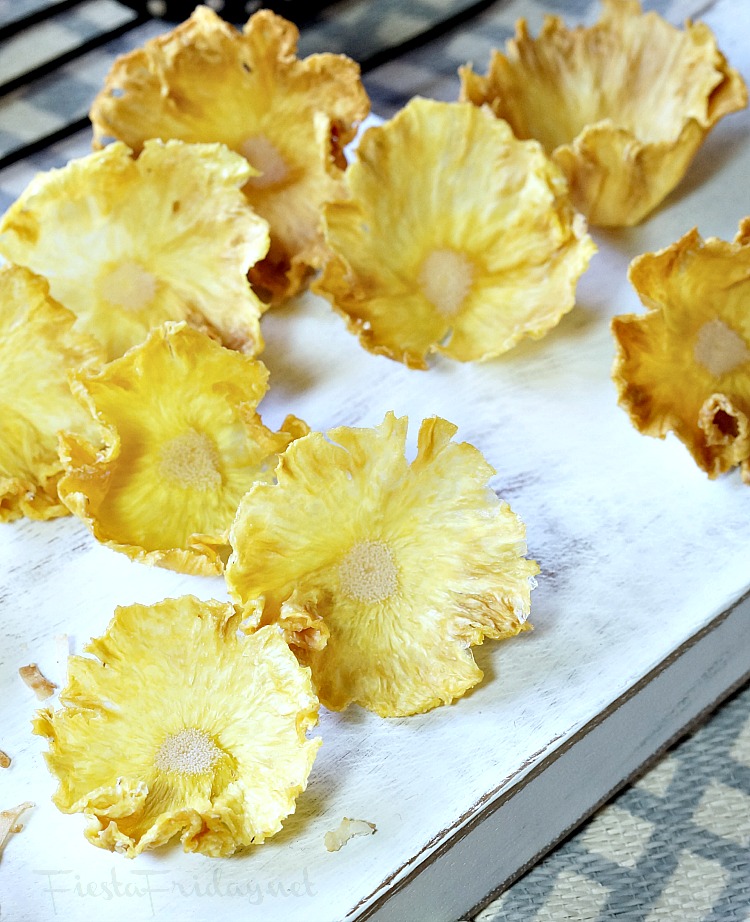 In the recipe, she mentioned that after you peel the pineapple, you then need to "gouge" each of the pineapple eyes with a small melon baller or the tip of a paring knife. I can tell you that this instruction has been repeated by many, many other sites.
Seriously, people? Martha? Please, whatever you do, don't do this! Don't listen to Martha! Oh…don't worry, she won't be mad at me for saying that. Martha and I know each other very well. I mean, Martha and I are old friends. I mean, I've been obsessed with Martha. I mean, I've been a faithful follower since I was in high school.
I believe she would appreciate an improvement to her recipe. She is a pretty cool person. Have you seen her roasting a turkey? I mean, Justin Bieber? The woman is not only a genius in the kitchen, she is obviously also a comedic genius! Y'all have to watch the video!
Anyway, don't spend precious time gouging those pineapple eyes one by one! There's a much easier way to get rid of the eyes. Plus, I feel that gouging the eyes, thus making all those little holes on the pineapple, just ruined the overall look of the final product. You want these flowers to have uniform "petals". I think I have a better way of making these dried pineapple flowers.
I first wrote about these pineapple flowers in my older blog The Novice Gardener, but I didn't provide step-by-step photo instructions. So, here they are: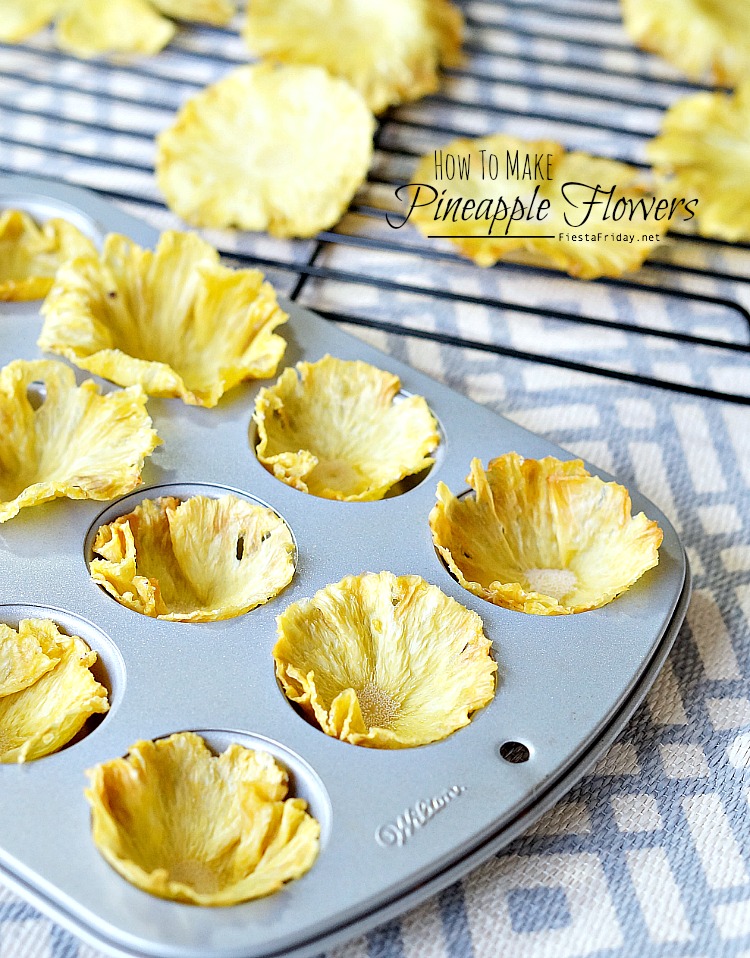 How To Make Dried Pineapple Flowers
1. Slice the top and bottom of the pineapple, so it can stand up on your cutting board.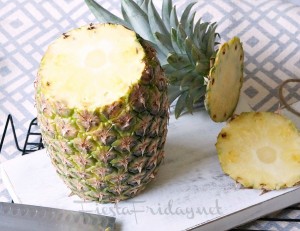 2. Then slice off the rind of the pineapple from the top to the bottom, exposing all those eyes.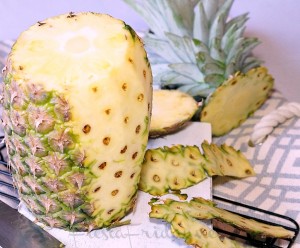 3. If you decide to peel the pineapple this way, then this is how you should get rid of the eyes.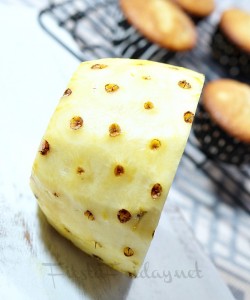 Do you see how those eyes are lined up diagonally on the fruit, but pretty much in a straight row? Using a paring knife, make v-shaped cuts all along the rows of eyes, removing multiple eyes at once.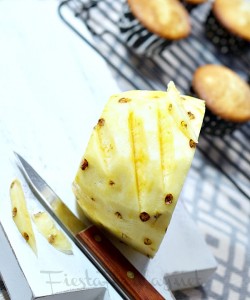 4. But the easiest way, in my opinion, is to peel the pineapple thickly, removing all the eyes at once, along with the rind.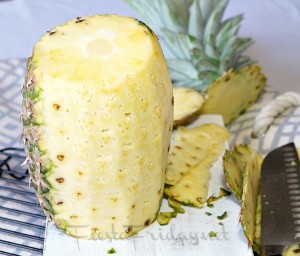 I think you get the best-looking flowers this way. And you can always save the scraps for other uses so you don't feel like you're wasting on the good pineapple.
5. Once your pineapple has been peeled to your satisfaction, start slicing it thinly. It doesn't have to be paper-thin, but try to get even slices.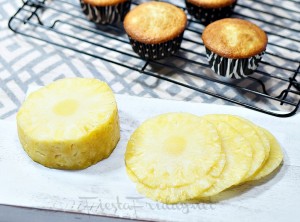 6. Now you have a choice. Either dry these slices in a conventional oven or dry them in a dehydrator. I prefer the simpler, fool-proof method of using a dehydrator and have always gotten great result from it.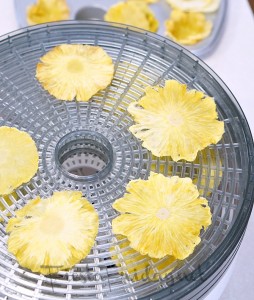 A dehydrator heats and dries these slices gently and as a result, you will get a more uniform color without any browning or scorching. You just leave them in the dehydrator for about 5 hours, then flip them once, and continue drying for about 5 more hours. The flipping may not even be necessary. One time I left my dehydrator on overnight, didn't flip the slices, and I still got a good result. Some pieces were a little too crisp to form but otherwise the color was perfect.
7. If you don't have a dehydrator and prefer to use a conventional oven, however, then place the pineapple on a baking sheet that has been lined with parchment paper or silpat, and bake in 200°F oven for anywhere between 45 minutes – 1 hour, turn over the slices, and bake for another 45 minutes – 1 hour.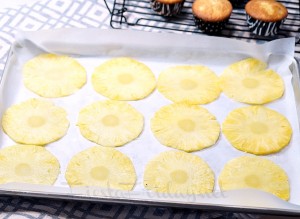 All the times mentioned above are approximate. Your dehydrator and oven may act differently from mine or your slices may be thinner or thicker than mine. But what you're looking for at the end of the heating/drying time are slices that are dry enough that you can start shaping them, but not crunchy dry. They should still be warm and pliable.
8. The easiest way to form them into flowers is to place them in a muffin pan so that the edges curve up to form a cup. You can also pinch the center of the slices so they will curl up. Leave them overnight until they hold their shape.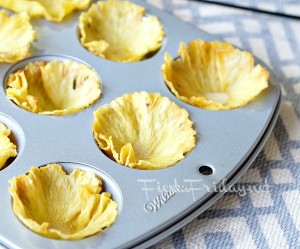 P.S. This does not work well with pineapples you get from the store that have been cored. You want the center/core of the pineapples intact. It's what gives the flowers their distinctive look.
Save This To Make Later