My family's Thanksgiving Dinner menu is set in stone… normally. But this time around, I'm unable to persuade the daughter to forego her plant-based diet. So now I'm not sure what to serve.
Of course she's assured me she'd be fine to just nosh on bread and a couple of side dishes as long as they're not served or slathered with butter.
But c'mon now… I can't have her eating just side dishes on Thanksgiving! I need to serve her a good… no, great Thanksgiving meal!
And actually, even the side dishes are not exactly vegan-friendly either. Perennial favorites (and therefore, a must or else…) such as corn pudding, green bean casserole, stuffing, and mashed potatoes all need either eggs, chicken stock, milk, or cream. And the gravy! How am I going to make good gravy without meat drippings?!
The challenge has been set. By and for me… 😬
I do know one thing, however. These pretty pumpkin rolls, which are a new addition to our Thanksgiving Dinner, can easily be made vegan.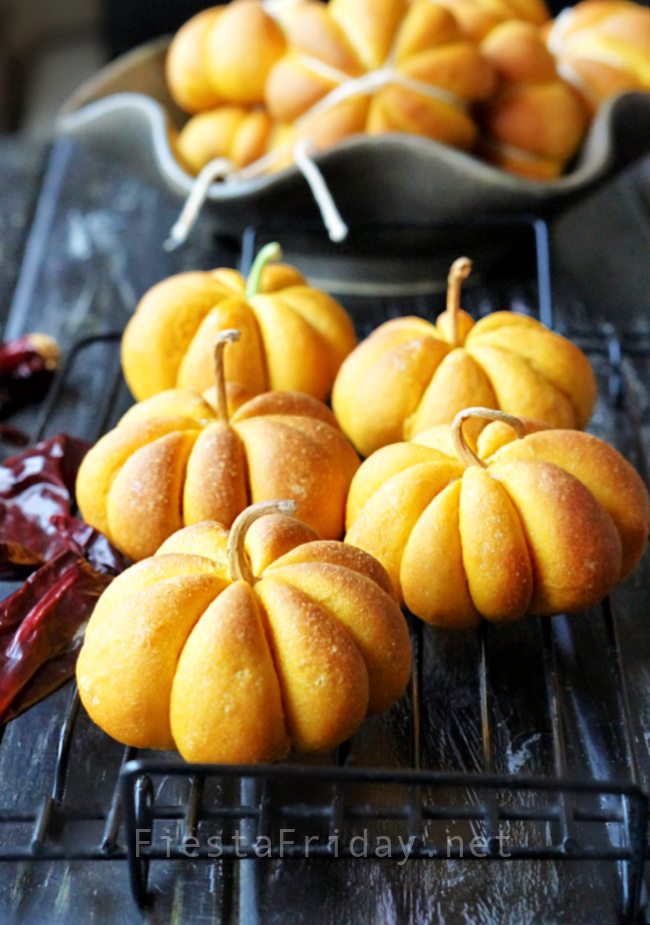 They're as good and as soft as their non-vegan counterpart. And therefore, Skye-approved. That's my canine baby – she LOVES these rolls!!
Since I won't "see" you again until after Thanksgiving, let me take this opportunity to wish you all…
A Happy and Memorable Thanksgiving filled with blessings and joy!
Now It's Features Time!
Olive Pecan Cheese Ball
French Onion Pork Chops
Scalloped Corn Casserole
Quail Egg Stuffed Mushrooms
***
Now, let's party! Join Fiesta Friday #511 by adding your link(s). Don't forget to link your post to FiestaFriday.net and the cohost's blog so you can be featured.
Your cohost this week is Jhuls @ The Not So Creative Cook
If you're interested in becoming a cohost, please let me know.
If you're new to Fiesta Friday, please read the guidelines.
You are invited to the Inlinkz link party!