School has been closed for the last couple of days, giving me the rare opportunity to lounge around the house in pjs, eating buttered toasts and schmeared bagels… What?! I'm testing butter and schmear, to see which kind or brand I like.
Life is good…
Until you listen to the news channel… I just can't bear listening and watching the news anymore. Also, politics.
They're almost always bad and depressing.
And that's when I bring out the bread-making bowl. There's something therapeutic about kneading and slapping dough.
Though focaccia doesn't really need a lot of kneading and slapping. It's one of the easiest, most forgiving doughs that pretty much works itself to be fabulous.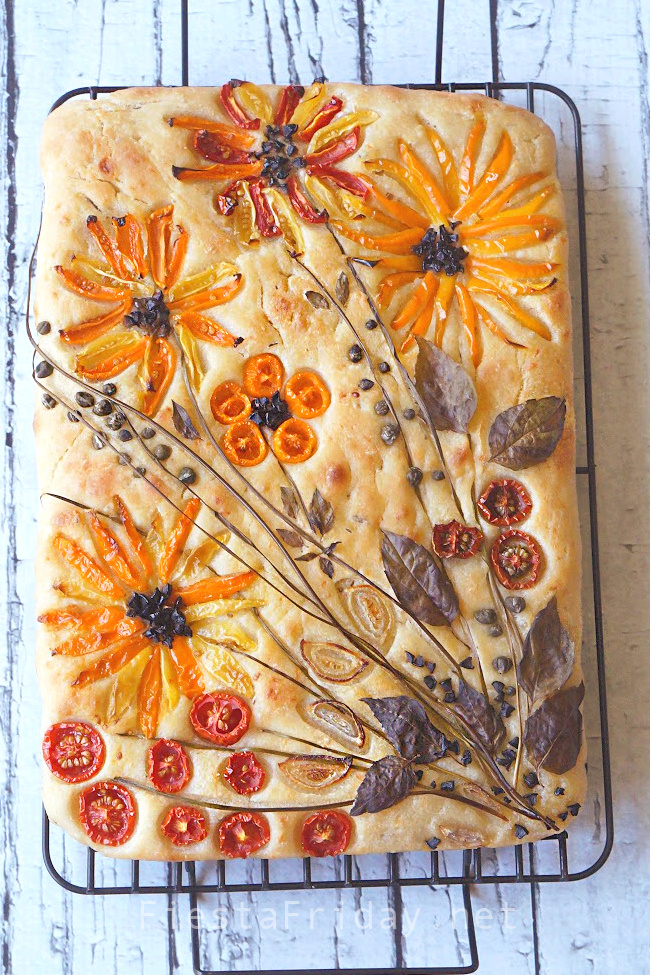 I feel somewhat better now.
Other Things That Help Me Feel Better
Meatball Couscous Soup
"Gosh, this soup looks outrageously mouthwatering! I'd like to curl up with a big bowl of this soup on cold days!" — Angie
Mushroom Ricotta Crostini & More Easy to Make Ahead Starter Ideas
"I'm a big fan of crostini! It's quick and simple to put together as a starter for a dinner party and I absolutely enjoy eating it too." — Pauline
Pesto Ricotta Crostini with Roasted Cherry Tomatoes
"Just like Pauline, I'm also a fan of crostini. And I'm partial to roasted cherry tomatoes. Plus the pesto just makes these incredibly irresistible!" — Angie
Muffaletta Calzone
"What. Muffaletta Calzone?! Surely it's the best calzone there is!" — Angie
***
Now, let's party! Join Fiesta Friday #510 by adding your link(s). Don't forget to link your post to FiestaFriday.net so you can be featured.
If you're interested in becoming a cohost, please let me know.
If you're new to Fiesta Friday, please read the guidelines.
You are invited to the Inlinkz link party!