Aaand… just like that, it's back to being summer again, sigh…
After wonderful fall weather last week, temperatures are back up in the 80s these past several days, thwarting my baking plans.
I was going to make fig focaccia but changed my mind because I didn't feel like cranking up the oven to 500° or even 400°.
I've been making salads, instead. This is one of them.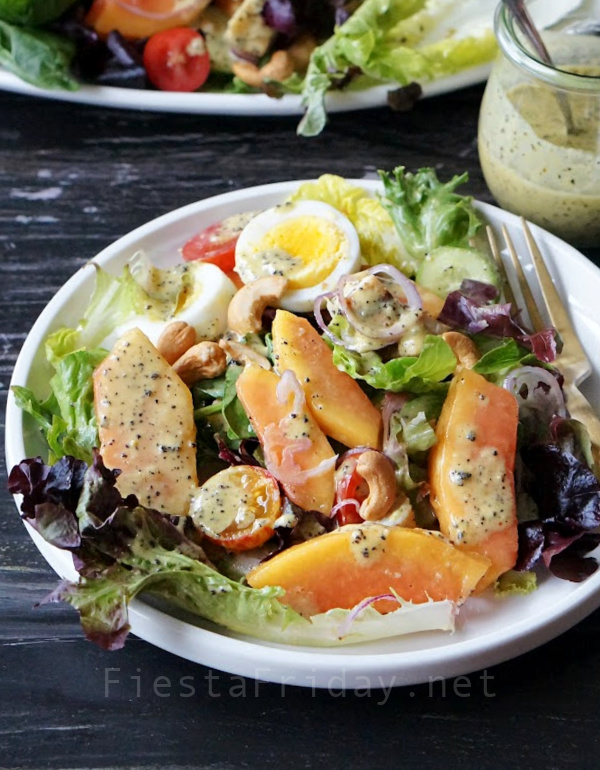 In hindsight, it would have been great served with a slice of fig focaccia. Oh, well…
It's a healthy low-carb dinner, I said to myself. And myself then proceeded to accuse myself of making excuses 😆 That's why I rarely converse with myself, haha.
That salad, incidentally, was excellent. I added papaya to it. For those of you who don't like papaya (like my former self), try adding it to a salad. You might just get hooked on it, and that wouldn't be such a bad thing – it's one of the most nutrient-dense fruits.
Now It's Features Time!
Tomato Galette (Gluten Free)
Easy Pumpkin Rice Krispie Treats
Simple Broccoli Cauliflower Salad
Crockpot Mexican Butternut Squash Soup
***
Now, let's party! Join Fiesta Friday #505 by adding your link(s). Don't forget to link your post to FiestaFriday.net and the cohost's blog so you can be featured.
Your cohost this week is Pauline @ Beautiful Voyager
If you're interested in becoming a cohost, please let me know.
If you're new to Fiesta Friday, please read the guidelines.
You are invited to the Inlinkz link party!