Happy Mother's Day to all Fiesta Friday Moms out there!
Here's a cake for you!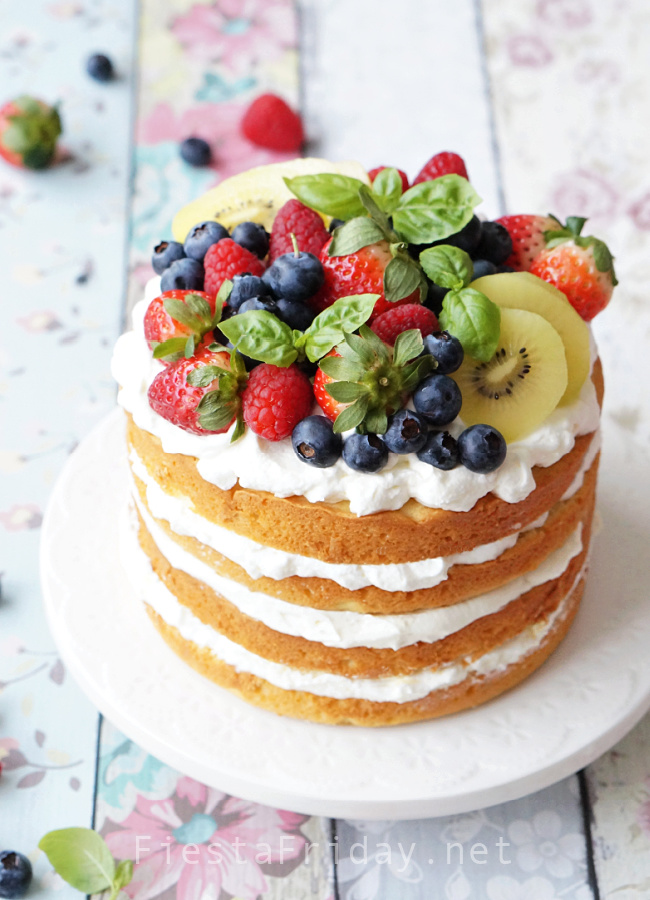 I made that cake for my own mom many years ago. At the time, the kids were younger so I didn't get a home-baked cake from them, nor did I expect any.
Most likely they and their dad took me out to brunch and presented me with flowers and chocolate… you know, the yoozh…
But now that they're older, I expect more… Maybe they can bake me a cake just like that one up there. Though I have to say, I much prefer a pie… specifically, a fruit pie.
Having said that, however, I'd be happy if I just get a simple breakfast in bed, and then be left alone for hours still in bed enjoying a good book or a good movie. That's my Mother's Day wish. That's what I want.
But if they want to take me out to dinner… let's say… to a Korean BBQ restaurant later, they may. And if they want to buy me a much-desired (desired by me, that is) black zz plant, they may do so also… What can I say, I'm an easy mom to please, lol.
Now, It's Fiesta Time!
Espresso Granola
"Espresso Granola! That sounds amazing! Who says you can't have your coffee and eat it, too?!" — Angie
Homemade Oatmeal Creme Pies (Little Debbie Copycat)
"What cute little cream pies! Also looking absolutely delicious!" — Pauline
Cinco de Mayo Flan
"Flan is one of my favoritest (is that a word, btw?!) desserts and this one incorporates cream cheese, another favoritest thing, in it. So, this is majorly appealing to me! Should I ask the kids to make this for Mother's Day?! Hmm…" — Angie
Cowboy Bacon Cheeseburger
"The cheeseburger looks so tall and absolutely delicious!" — Pauline
***
Now, let's party! Join Fiesta Friday #484 by adding your link(s). Don't forget to link your post to FiestaFriday.net so you can be featured.
If you're interested in becoming a cohost, please let me know.
If you're new to Fiesta Friday, please read the guidelines.
You are invited to the Inlinkz link party!