Cheesy Colcannon Balls are exactly that… cheesy colcannon balls…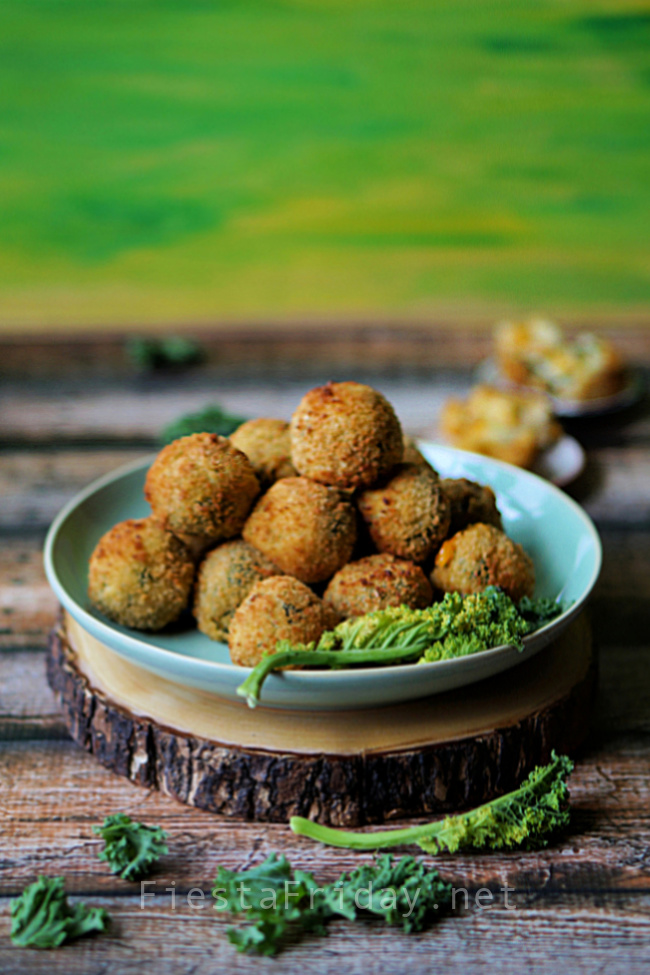 That sounds snarky, I know, but I can't help it. Cheesy Colcannon Balls are so obvious there's no need for an explanation.
Cheesy… that surely doesn't need an explanation.
Balls… are rounded spherical things… see, obvious, and shouldn't need an explanation.
Colcannon… maybe this one needs a little bit of an explanation. Basically, Colcannon is Irish-style mashed potatoes with some vegetables like cabbage or kale mixed in. You can read more about it here –>Colcannon with Brown Butter & Bacon
So, back to the obvious no-explanation-needed Cheesy Colcannon Balls…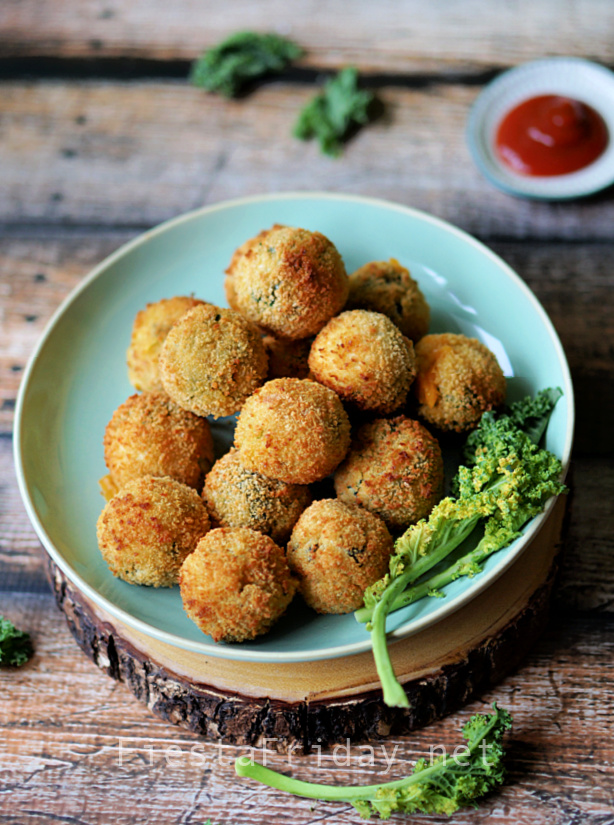 Alright, alright… if you must have an explanation, I'll give you one… Cheesy Colcannon Balls are Irish mashed potatoes that are loaded with cabbage, leeks, and kale… then stuffed with cheddar cheese, then formed into balls, then breaded with panko, and finally air or oven-fried. Or deep-fried, if you're so inclined.
They're adorable and tempting little balls you would not be able to resist. And because they're made out of Colcannon, they are THE perfect St. Patrick's Day appetizer, snack, or side dish.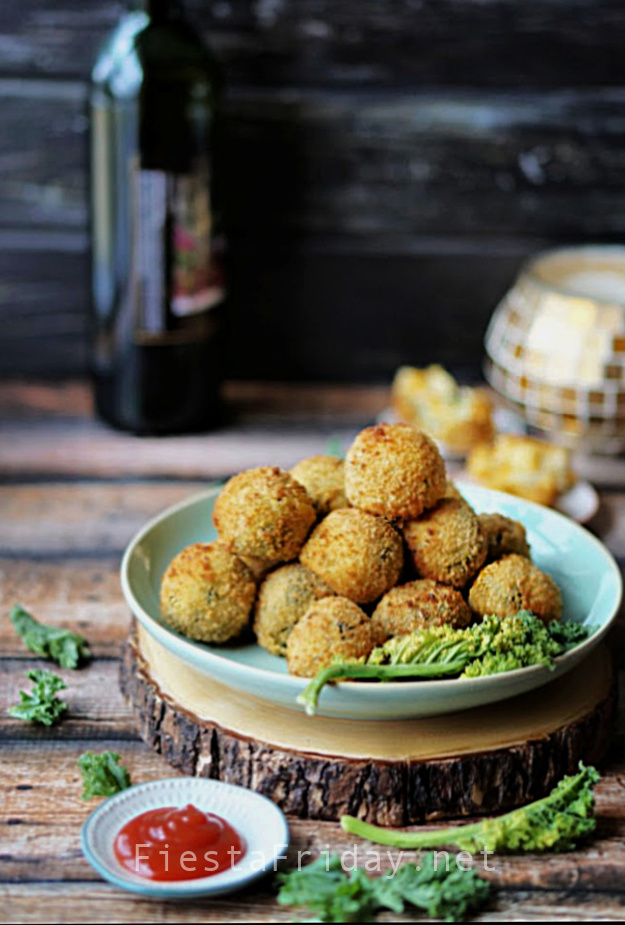 So first thing first… What led me to make these Cheesy Colcannon Balls?
Under the pretext of trying out recipes for St. Patrick's Day, I've been making Colcannon after Colcannon.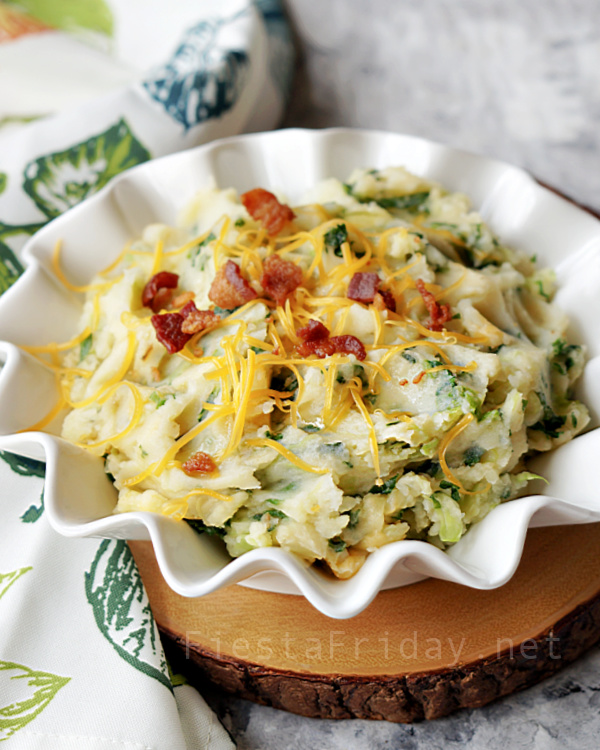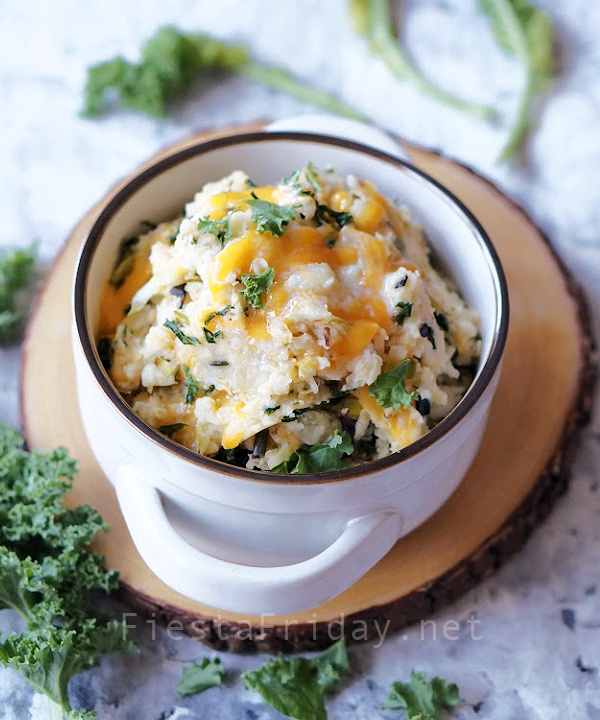 In reality, I just want to eat mashed potatoes, and I want my family to eat kale. They've been a good sport about it, finishing everything I put on the dining table.
They didn't complain one bit, but I could see they were starting to have that look on their faces. Like what's up with all the colcannon?
So, today they're getting a reward. In the form of these Cheesy Colcannon Balls.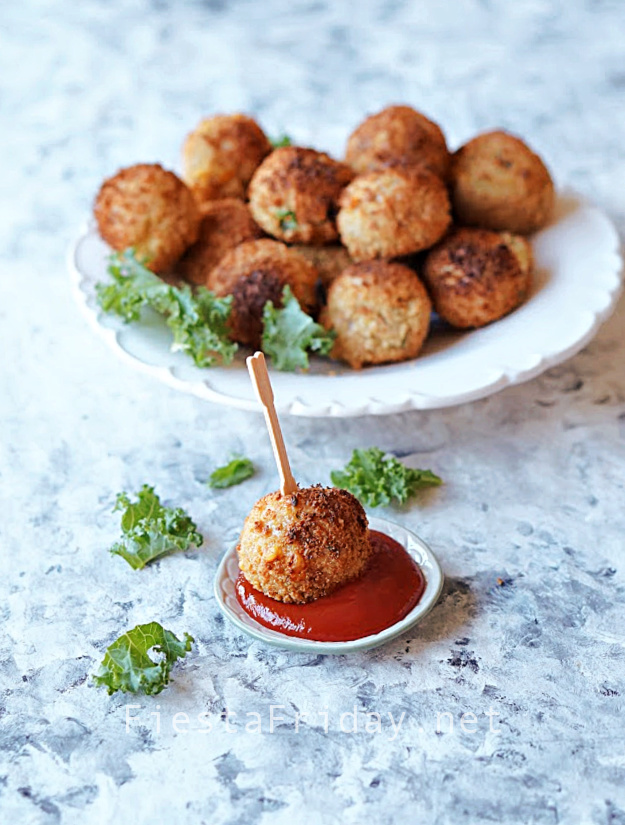 Cheesy Col… Cannon Balls! Cannon Balls!
So obvious. And so appropriate.
When you bite into one, you'll be hit immediately by its crunchy panko coating, so good! Then you taste the creamy and warm mashed potatoes, delish! And then all of a sudden, the cheesy gooey melty center explodes, bam!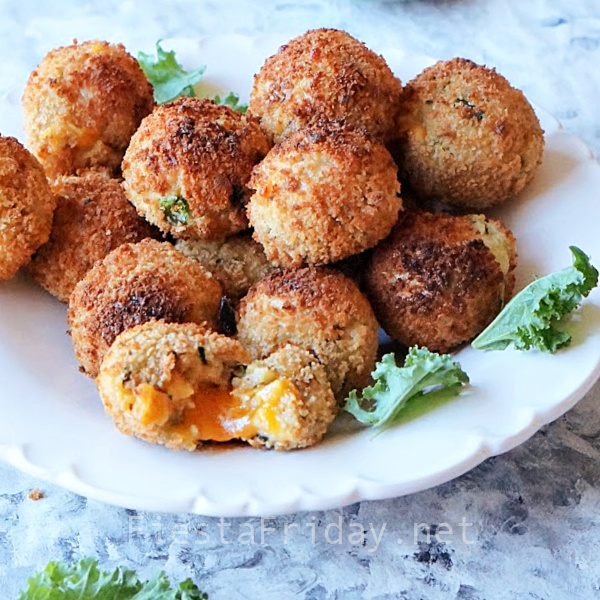 Before you know it, you'll be exclaiming… Cannon Balls!
So let's get to it, shall we? Let's make Cannon Balls… I mean, Colcannon Balls.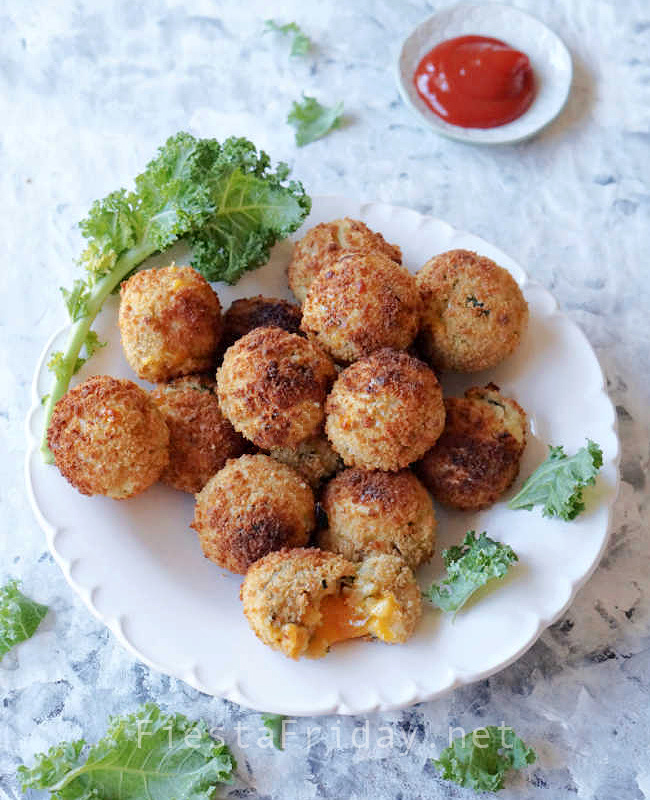 Ingredients Needed To Make Cheesy Colcannon Balls
Potatoes (Yukon or Russet, or a mix of the two)
Cabbage
Kale
Leeks
Milk
Butter
Garlic powder
Salt & Pepper
All-purpose flour
Cheddar cheese
Eggs
Panko Breadcrumbs
Olive Oil or butter
How-To Make Colcannon Balls
If you have leftover Colcannon, these balls are a snap to make. If not, follow the Colcannon recipe provided in the recipe card below, or use this Brown Butter Colcannon recipe.
Then, proceed with the following steps:
1.Roll portions of colcannon into balls. Stuff each with a cheese cube.
2.Dredge balls in all-purpose flour.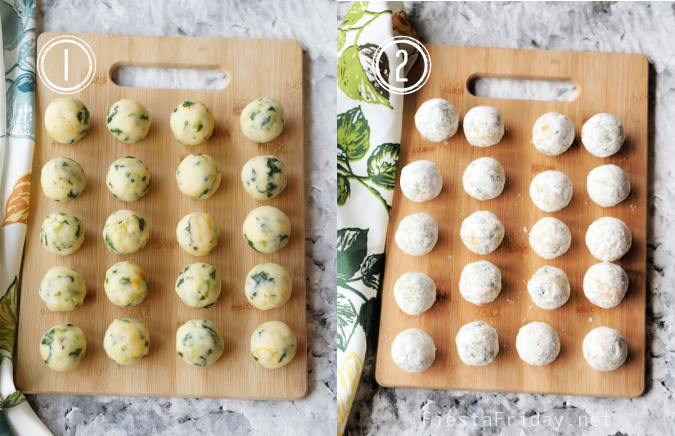 3.Dip the floured balls into beaten eggs.
4.Coat them in bread crumbs.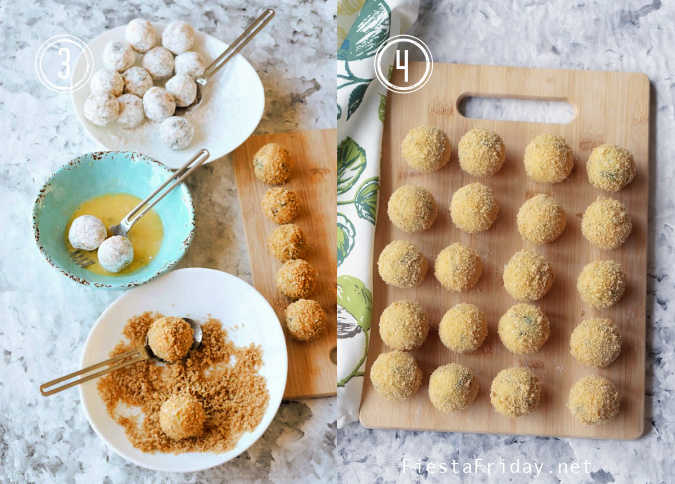 5.You can then either deep-fry or oven-fry or air-fry them.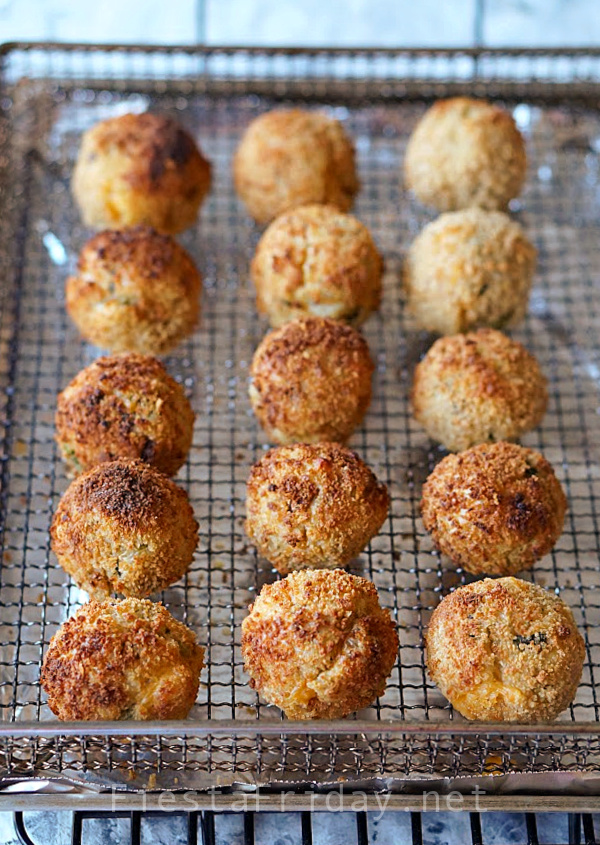 A Few Tips for making Colcannon Balls
Make sure to rinse leeks in several changes of water. They have a lot of dirt/sand in between the layers. After cutting off the roots and tops, it's easier to slice them in halves lengthwise before placing them in a bowl of cold water. The leeks will float while the dirt will sink to the bottom of the bowl.
Although you can make these balls immediately after making the colcannon (as soon as it's cold enough to handle), I find it even easier to form the colcannon balls with leftover colcannon that's been refrigerated the night before. The texture of the mashed potatoes will be drier and tighter, making it easier to form into balls.
If you decide to oven-fry these colcannon balls, toasting the panko breadcrumbs first before using them will give you a more uniform golden brown color.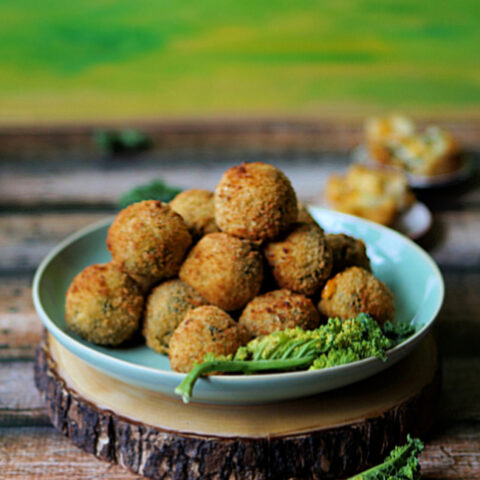 Cheesy Colcannon Balls
Cheesy Colcannon Balls are Irish mashed potatoes that are loaded with cabbage, leeks, and kale… then stuffed with cheddar cheese, then formed into balls.
Ingredients
2 1/2 pounds Yukon Gold or Russet potatoes, or a mix of the two
1 cup leeks
1 cup cabbage
1 cup kale
1/2 cup milk, scalded (*See Note #1 below)
3 tablespoons butter, divided
1 teaspoon garlic powder
Salt & Pepper
20 - 24 cheddar cheese cubes (1/2 inch cubes)
1 cup all-purpose flour
2 eggs, beaten
1 1/2 cups panko breadcrumbs (*See Note #2 below)
Oil (canola or vegetable) for frying, or cooking or olive oil spray (*See Note #3 below)
Instructions
Wash leeks well (See "Tips" above), then chop/slice into half-rounds. Roughly chop cabbage and kale.
Sautee the vegetables with 1 tablespoon of butter (or olive oil) until they're soft. Set aside.
Peel and cut potatoes into chunks. Boil potatoes in a big pot of water until they're tender (about 20 minutes), then drain. Place potatoes back into the pot, then start mashing while they're hot. Add the sauteed vegetables and continue mashing. Add milk, 2 tablespoons of butter, garlic powder, salt, and pepper. Taste to make sure the seasonings are to your liking and adjust accordingly.
Once the colcannon is cold enough to handle (or use day-old leftover colcannon that's been refrigerated), divide it into 20 - 24 equal portions. Using a cookie scoop is helpful here.
Flatten each portion into a patty, place a cube of cheddar cheese in its center, then roll it into a ball. Continue with the rest of the portions.
Roll each ball into all-purpose flour, then dip into beaten eggs, and finally coat with panko breadcrumbs. (See "How-To" photos above)
Fry in canola/vegetable oil over medium-high heat until golden brown and crisp, about 2-3 minutes on each side. To oven-fry, heat the oven to 425° F, and bake the balls for 10-15 minutes. See Note #2 below). Drain on paper towels. Serve hot with ketchup or a dipping sauce of your choice.
Notes
This amount of milk makes stiff mashed potatoes, which makes them easier to roll into balls. But if you're making this into a colcannon first, and use the refrigerated leftover for the balls, you can add more milk (about 1 cup).
If you're oven-frying these balls, toast the breadcrumbs first in about 2 tablespoons butter or olive oil in a large skillet over medium-high heat, tossing frequently, until crunchy and golden brown, about 5 minutes. 
I also air-fried some of these colcannon balls. Some with toasted breadcrumbs, some without. The results are mixed. The ones with toasted crumbs end up too brown while the ones without are too pale. If I were to do it again, I'd probably use untoasted breadcrumbs and spray the balls with cooking or olive oil spray.
Pin This To make Later!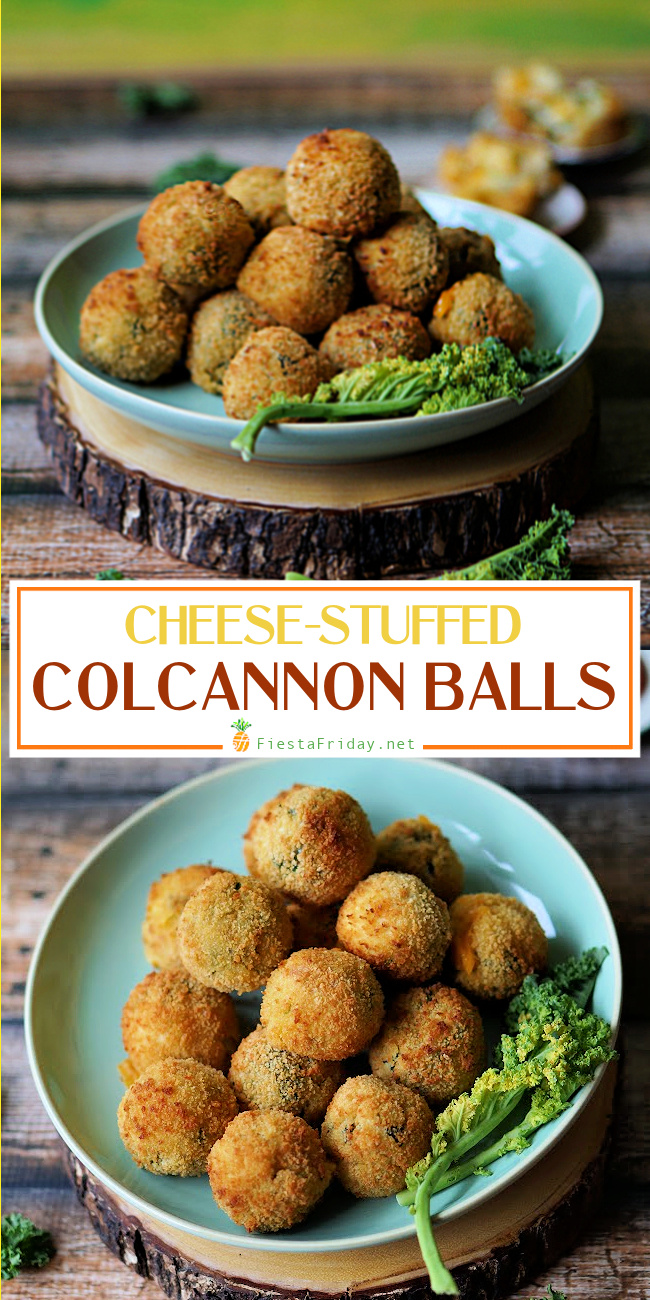 Sharing with Full Plate Thursday