This is off-topic – because we should be talking about Christmas from now on until the day, right?! – but I recently conducted a taste test on store-bought winter tomatoes, also otherwise known as reddish fruits suspiciously looking like tomatoes but in fact, sadly do not taste like them.
Except these do! I would even say they taste as good as summer tomatoes. Really!!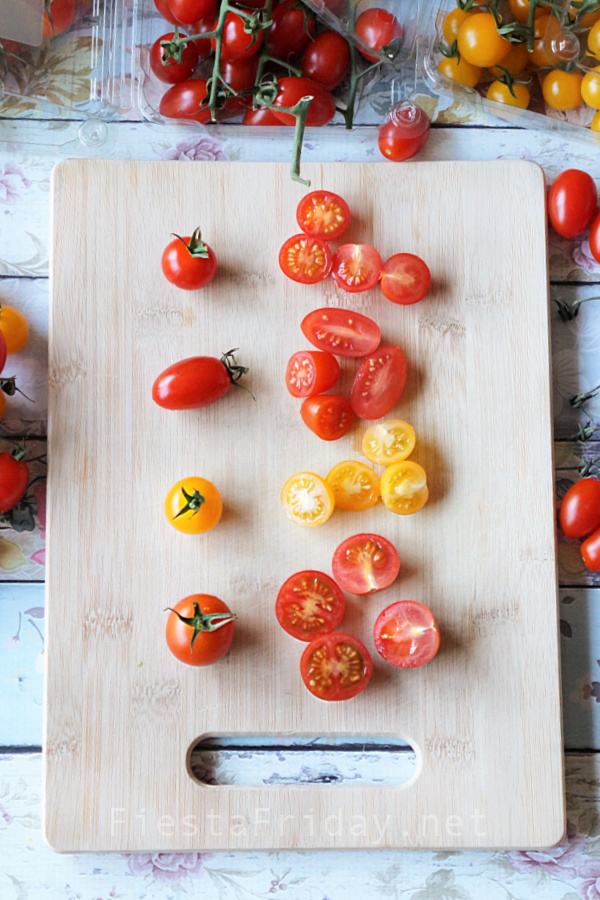 These tomatoes are sold as (top to bottom) Flavor Bombs® (red cherry tomato), Sugar Bombs® (red grape tomato), Lolli Bombs™ (yellow cherry tomato), and Honey Bombs™ (gold/orange cherry tomato).
I bought them from Sam's Club but I'm sure they're available in most grocery stores.
They're all pretty flavorful, fruity, sweet, and most of all tomato-ey. If I had to choose my favorite, it'd be the Lolli Bombs, the yellow ones. They taste sweeter than the other varieties. My least favorite is the Sugar Bombs, the grape-shaped ones. I've had better-tasting grape tomatoes. Probably ones I grow myself.
Anyway, I thought I'd share my finding with you. To be able to add fresh tomatoes to salads and such, and actually enjoy them during the cold winter months is something, isn't it?!
Okay, now let's fiesta!!
Starting with these!
15 Cookies for Christmas with 6 Ingredients or Less
Cinnamon Bun Cheesecake
Oven Baked Sriracha Chicken Wings
Chili-Mac Soup
***
Now, let's party! Join Fiesta Friday #463 by adding your link(s). Don't forget to link your post to FiestaFriday.net and the cohost's blog so you can be featured.
Your cohost this week is Jhuls @ The Not So Creative Cook
If you're interested in becoming a cohost, please let me know.
If you're new to Fiesta Friday, please read the guidelines.
You are invited to the Inlinkz link party!