Candy Cane Kiss Chocolate Crinkle Cookies are my signature cookies for cookie exchanges because they're so pretty and Christmassy. But what are the secrets to making perfectly crackly cookies?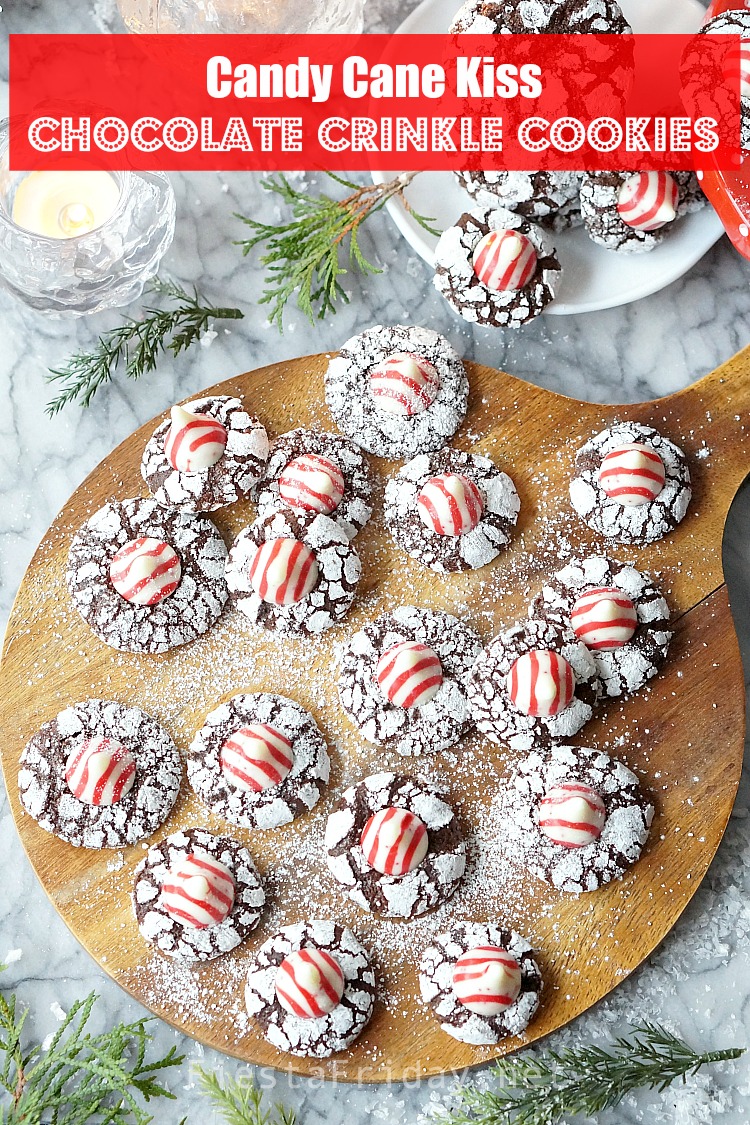 'Tis the season for cookies! Lots and lots of cookies!
I mean, cookies are for everyday, I know that. There isn't a specific season or time reserved for cookies. Unless, of course, when there are lots and lots of them. That, ladies and gentlemen, is specifically slated for Christmas.
And my signature Christmas cookies, the ones I bring to cookie exchanges, are these Candy Cane Kiss Chocolate Crinkle Cookies.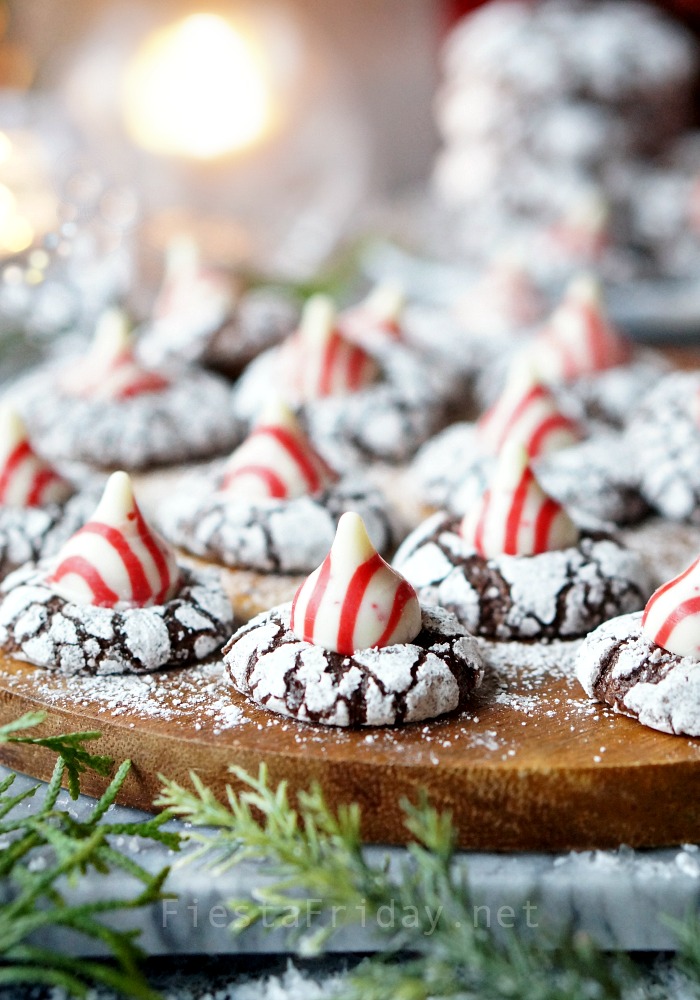 Although secretly, deep down I've always known they're not my favorite cookies. Gasp!
Why are they my signature cookies, then, you ask. Because everybody else was already bringing the chocolate chip, the snickerdoodle, the spritz, the molasses, the Italian almond, the oatmeal, the sugar cookies, etcetera, etcetera… And they wouldn't budge, these cookie-exchange buddies of mine.
Maybe they insisted on those cookies because they were the only cookies they knew how to make?! I don't know, but unlike my buddies, I'm a pretty flexible person. So when all the usual suspects were already taken, I decided to bring the Candy Cane Kiss Chocolate Crinkle Cookies. And now I'm stuck with them.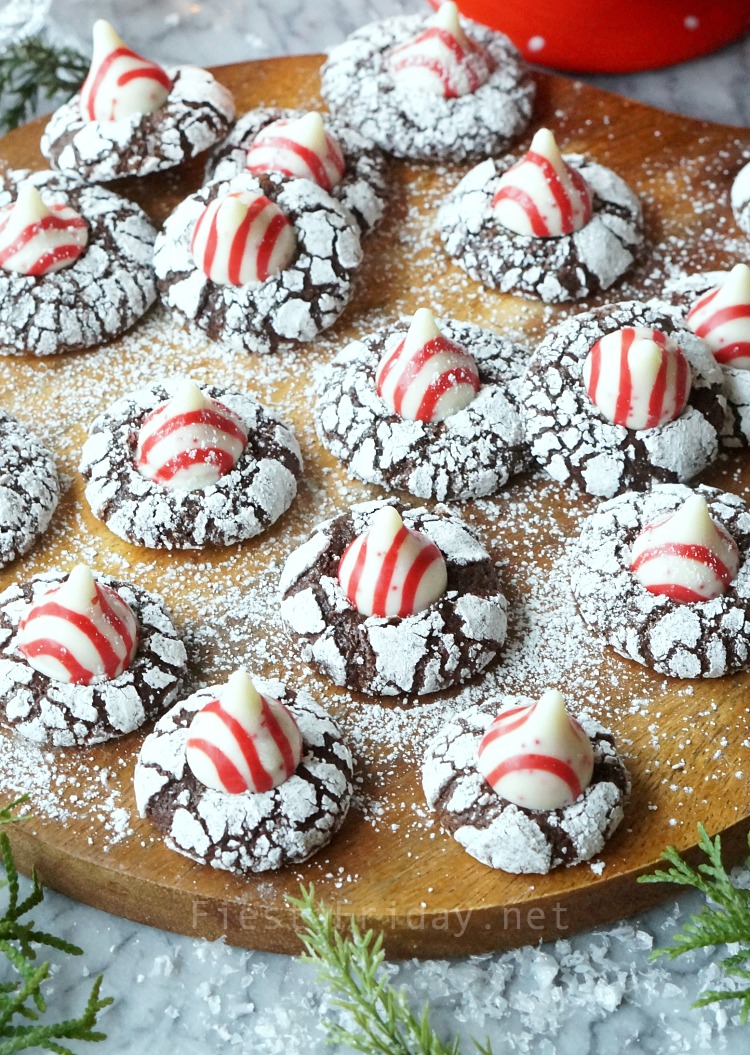 If I had my way, I would have picked the oatmeal cookies. Any cookies with oatmeal in them are hands down my all-time favorite. The oatmeal makes them so chewy and somewhat on the healthy side, a win-win in my opinion.
But we're not talking about them, I'm afraid. We're talking about Candy Cane Kiss Chocolate Crinkle Cookies. Which, as you know, are not chopped liver. Just look at them. So pretty. So Christmassy.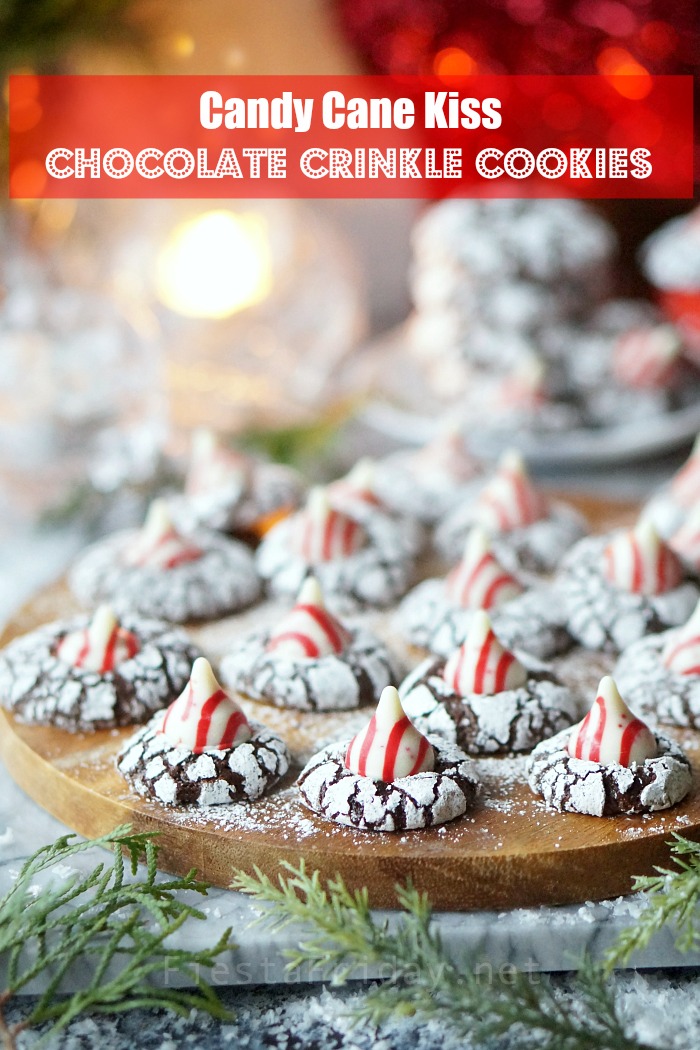 So I don't mind, actually, if people associate them with me. I do like making pretty things. And even though they're not my favorite, they're still very good cookies worthy of a cookie exchange party. I wouldn't have put them up on the blog if they weren't. They can very well be your cookie-exchange buddies' favorite.
The original recipe for these cookies came from Cook's Illustrated, which I've modified to suit my taste and preference. On the method, however, you should not veer far from that original recipe. It's the one fool-proof recipe, that consistently produces the best-looking crackling, because of one simple step.
The secret simple step to making the best-looking Chocolate Crinkle Cookies.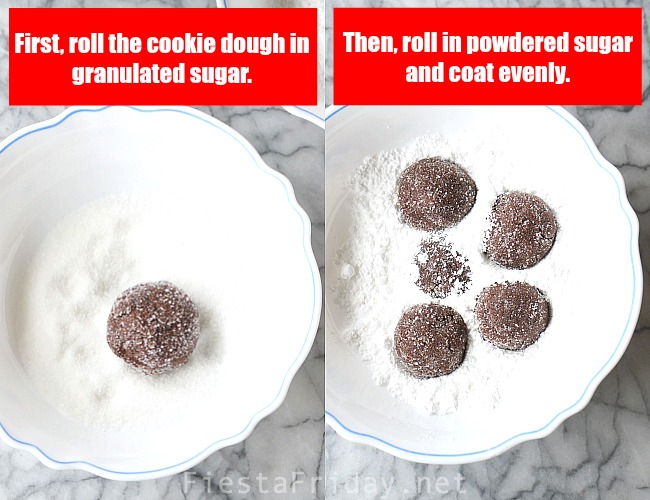 Rolling the dough balls in granulated sugar first, prior to rolling them in powdered sugar IS THE SECRET. Well, not so secret anymore now, seriously.
I'm sure most people know about it, but you'd be surprised to see recipes out there that miss this crucial step, and thereby yielding clumpy-looking cookie balls with just a few wide gaps.
NOT this recipe! This produces those attractive crackly cookies, every time.
After making these Chocolate Crinkle Cookies for so many years, however, I've also found another little secret step that works well for me. Who says you can't improve a recipe, even one from Cook's Illustrated?
The second little secret step to making the best Chocolate Crinkle Cookies.
Actually there are 2 little secrets: Coating your dough balls liberally with powdered sugar and NOT chilling your dough prior to baking will produce these bold, rough, and wide cracks.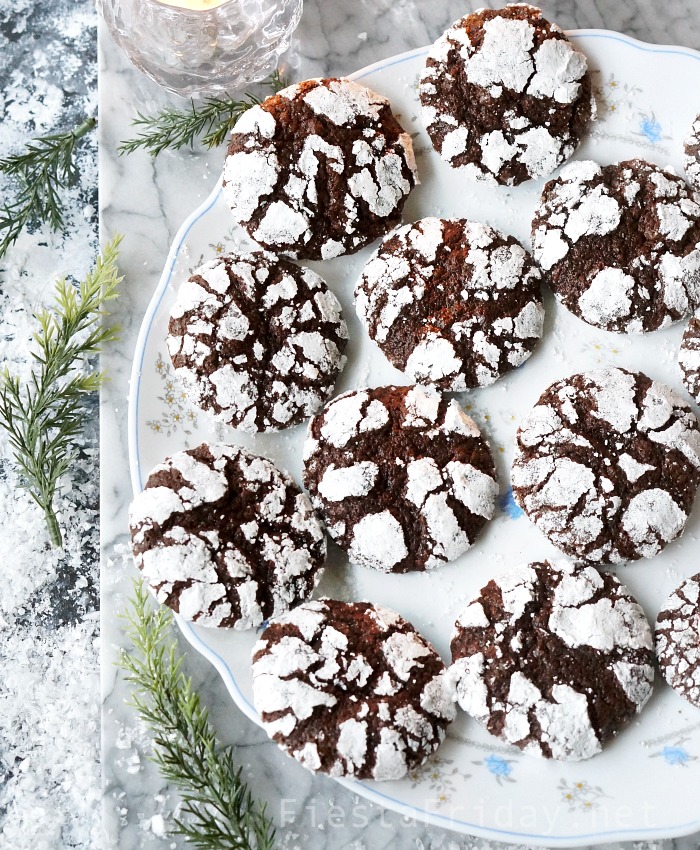 Shaking off excess powdered sugar aaand… chilling your dough in the refrigerator for at least a couple of hours, however, will yield these puffy cookies with dainty, delicate, and fine cracks. Prettier, in my opinion. Also, less sugar overall is always a good thing.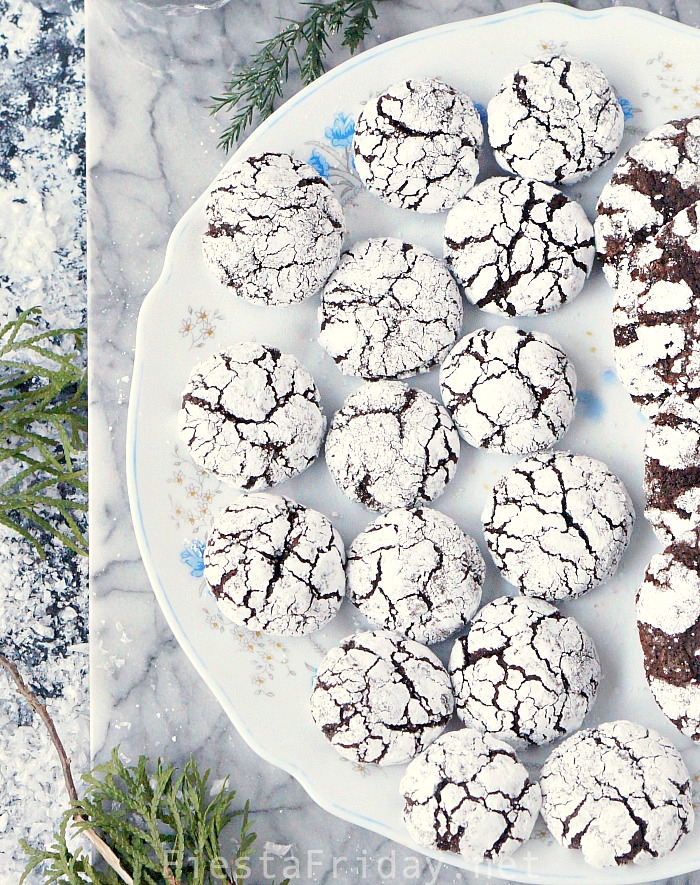 So, there you go, all the secrets are out! Go right ahead, make your own batch of these Candy Cane Kiss Chocolate Crinkle Cookies and let them be the star of your cookie exchange party.
Candy Cane Kiss Chocolate Crinkle Cookies
Candy Cane Kiss Chocolate Crinkle Cookies may become your signature Christmas cookies, but before you make them, find out the secrets to making perfectly crackly cookies!
Author:
Angie | FiestaFriday.net
Recipe type:
Dessert/Sweet/Cookies
Ingredients
1 cup (5 ounces) whole wheat flour
½ cup (1 ½ ounces) unsweetened cocoa powder
1 teaspoon baking powder
¼ teaspoon baking soda
½ teaspoon salt
1 cup packed (6 ½ ounces) brown sugar
3 large eggs
2 teaspoons instant espresso powder (optional)
1 teaspoon vanilla extract
¾ cup (4 ounces) bittersweet (60% cocoa) chocolate chips
4 tablespoons unsalted butter
½ cup (3 ½ ounces) granulated sugar
½ cup (2 ounces) powdered sugar
Hershey's Candy Cane Kisses
Instructions
Heat oven to 350 F.
Put flour, cocoa, baking powder, baking soda, and salt together in a bowl. Whisk to mix.
In another bowl (large), whisk brown sugar, eggs, espresso powder (if using), and vanilla together until it becomes a smooth batter.
Place chocolate chips and butter in a microwavable bowl and microwave at 50% power, stirring at 30-second intervals, until melted, about 2 minutes.
Pour chocolate mixture into egg mixture, and whisk until combined.
Add flour mixture and fold with a spatula until no dry streaks remain. Dough will be sticky at this point. Letting it sit in the fridge for 10-15 minutes will make it easier to work with.
Place granulated sugar and powdered sugar in separate bowls.
Using a small cookie scoop, drop about 1 tablespoon of dough at a time, directly into granulated sugar. Roll to coat and form into balls.
Then transfer the dough balls into powdered sugar and roll to coat evenly, but not too thickly if you prefer fine cracks.
Place on a cookie sheet that's been lined with parchment paper. Bake for about 8 to 10 minutes (depending on your oven), or until puffed and cracked and edges have begun to set but centers are still soft. Cookies may look raw between cracks and seem underdone (once cooled they'll set nicely).
Allow cookies to cool slightly for 1-2 minutes before placing Candy Cane Kisses, otherwise these kisses will melt into the cookies, instead of sitting on top. Push them gently into the center of cookies; the residual heat from the cookies will melt the bottom of the kisses, bonding them to the cookies.
Notes
1. Chilling the dough prior to baking is not required, but as mentioned in the text above, doing so will result in puffy and pretty cookies with finer cracks.
2. Baking them longer (for the full 10 minutes) will result in sturdier, and in my opinion, fudgier cookies.
3. Unlike most cookies, these Chocolate Crinkle Cookies actually taste better after they cool completely, and even better the next day.
Save This Recipe To Make Later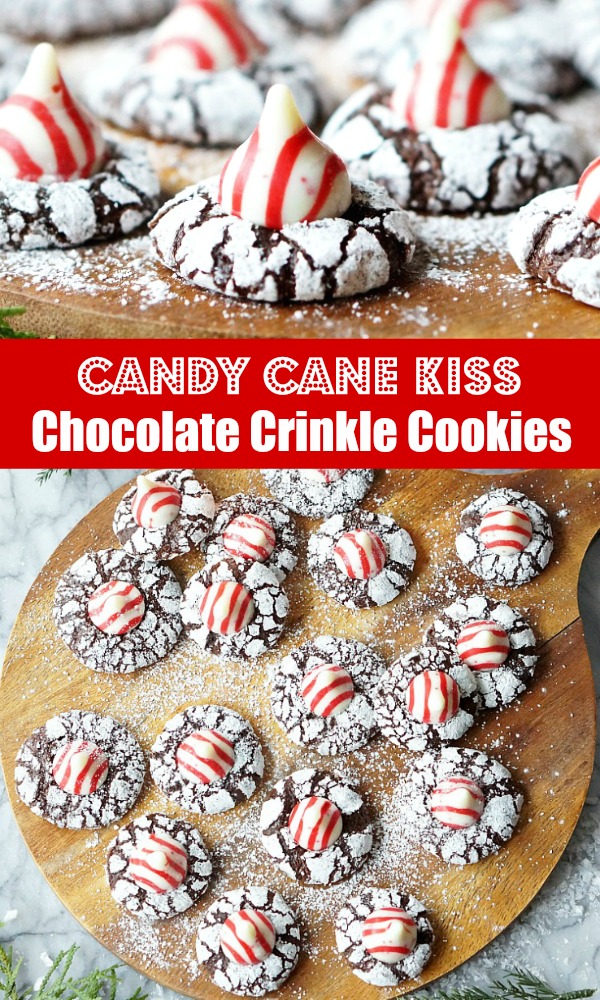 These cookies are partying with:
Full Plate Thursday
#CookBlogShare
#BakingCrumbs
soulsister meets friends