So did y'all have a great Independence Day yesterday? Mine could be better, I guess.
It started out fine. I roasted some red, white, and blue potatoes for everyone to nibble on.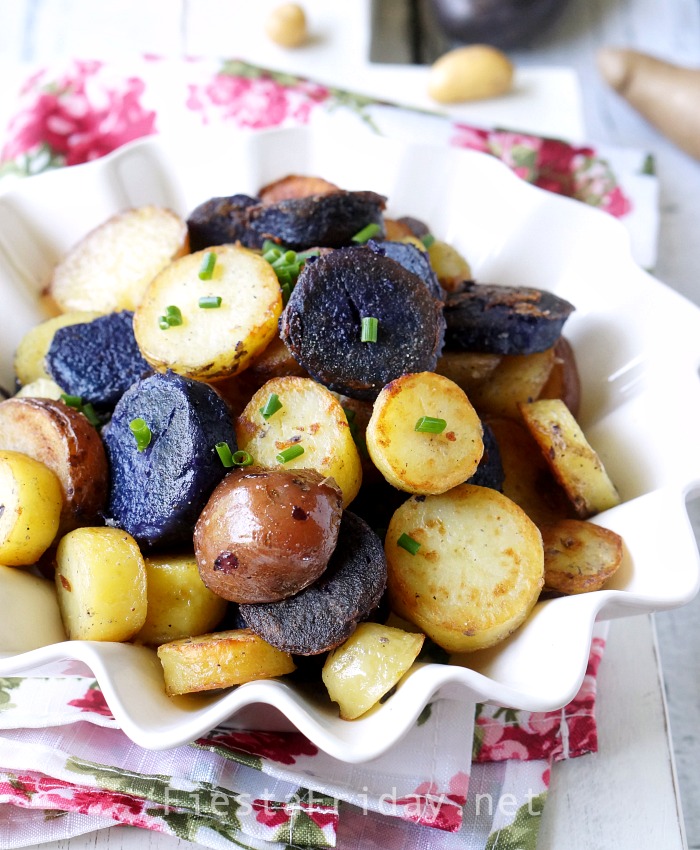 Then I made a red, white, and blue berry buckle to bring to a party.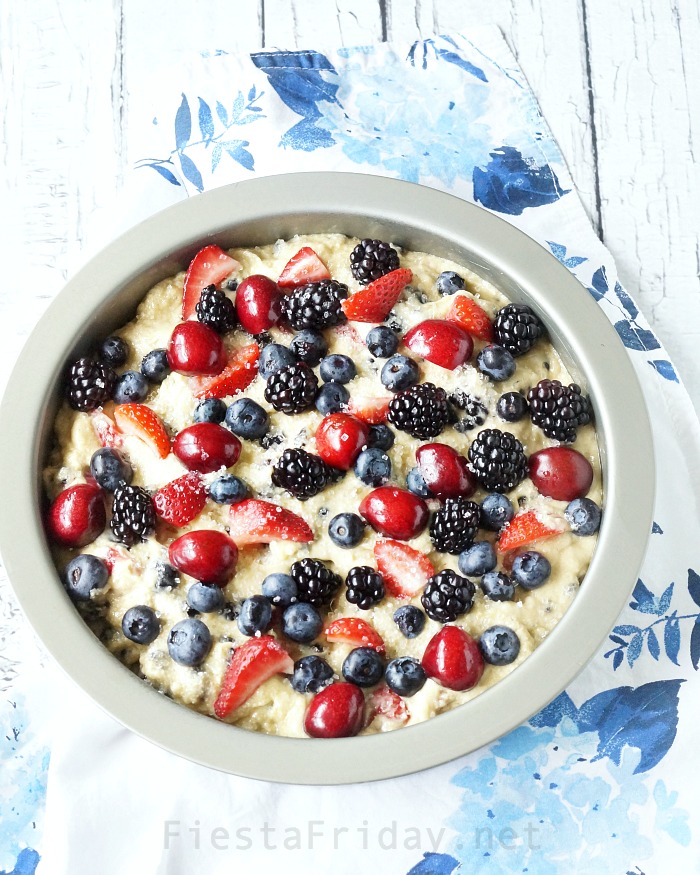 So far, so good…
Then at the party, I became the biggest party pooper. I couldn't keep my eyes open! Must have been the blackberry bramble being served by the gallon that was the culprit. It was delectable, I must say.
I cut my losses and made an early exit, then I just crashed on my couch. It wasn't even 6 o'clock!
Luckily, I woke up in time to enjoy Meghan Trainor on TV. She was just terrific!
I hope y'all had a great day! Happy 4th of July weekend!
Features Time!
Cornmeal Garlic Herb Bread from Jess @ Cooking Is My Sport
"A wonderful and cool take on garlic bread! It looks so soft and delicious! A perfect paring for almost any meal!" — Antonia
Kutsinta from Jhuls @ The Not So Creative Cook
"I'm really looking forward to trying these. I've had them at a friend's party once a long time ago but the name and recipe have eluded me. So excited that Jhuls brought them to the fiesta, at last!" — Angie
Blueberry Pancakes with Lemon Glaze from Antonia @ Zoale.com
"I confess I have a weakness for pancakes of all kinds, with blueberry pancakes at the top of the list. Served with Lemon Glaze?! That's just over the top!" — Angie
Jiggly Cheesecake Saga – How to bake a Soufflé Cheesecake from Hali @ Halicopter Away
"Whoa, Jiggly Soufflé Cheesecake! I think I've seen it a couple of times on Pinterest and have always been intrigued. I should take the plunge and try making one myself." — Angie
***
Now, let's party! Join Fiesta Friday #283 by adding your link. Don't forget to link your post to FiestaFriday.net and the co-hosts' blogs, so we can feature you. Your co-hosts this week are Antonia @ Zoale.com and Jhuls @ The Not So Creative Cook
If you're new to Fiesta Friday, please read the guidelines.
If you're interested in becoming a co-host, please leave me a message.
You are invited to the Inlinkz link party!