Happy Good Friday, Fiesta Friends!
It's finally happening… I woke up very early this morning so I can surprise my family with this: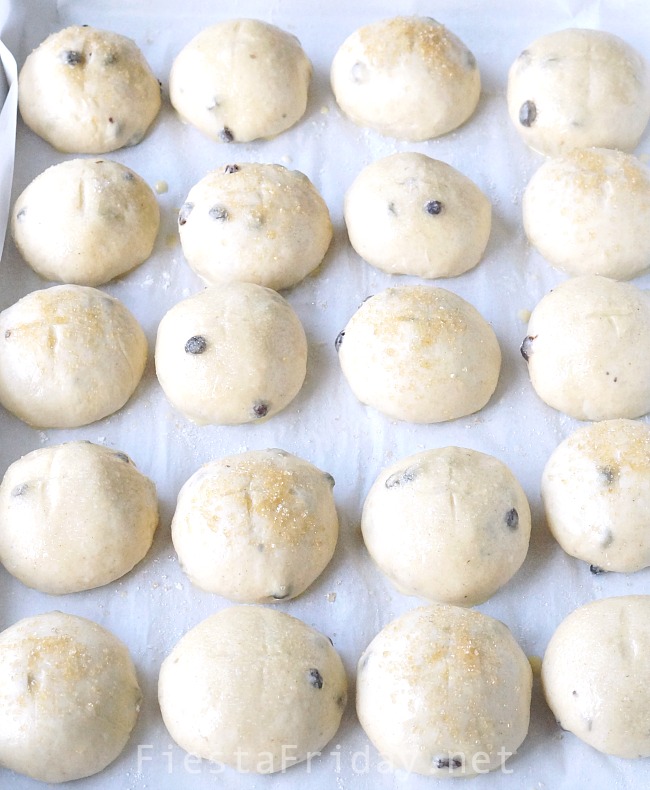 Hot Cross Buns are currently getting all hot in the oven as we speak. Lucky family or what, huh?!
As soon as they're done baking, I shall take photos, lots of them. And if they get the family seal of approval, I will share the recipe.
That's all, friends. There's not much to talk about, is there, when there are Hot Cross Buns waiting to be gobbled up?
Happy Easter to one and all! Peace out!
Now let's start the party with these fabulous offerings:
Banoffee Cake (with a gluten-free sponge) from Kate @ Gluten Free Alchemist
"Kate's gluten-free cake has me drooling all over my keyboard! I've yet to try a banoffee dessert, but the banana toffee combination sounds divine!" — Ai
"Squeal! Omg, this sounds super-duper fantabulous! Definitely a MUST-TRY!" — Angie
Filipino Cheese Bread Rolls from Jhuls @ The Not So Creative Cook
Jhuls's bread rolls look so fluffy and delicious! And that creamy cheesy surprise inside? I have no words. — Ai
"Ditto, Ai. Speechless… and drooling…" — Angie
Easter Bird's Nest Cookies (Gluten-Free) from Ai @ Ai Made It For You
"This one just screams "MAKE ME!!" And I'm listening. Chickpeas in cookies?! Amazing!" — Angie
Risotto Stuffed Squash from Kitt @ The Kittchen
"So, I know it's not acorn squash season, but I think we can use the idea for any other vegetables. Soon, there will be summer squash and tomatoes, and peppers, and eggplants, etc. All suitable for stuffing. Why not stuff them with cheesy risotto?! Great idea, isn't it?!" — Angie
***
Now, let's party! Join Fiesta Friday #272 by adding your link. Don't forget to link your post to FiestaFriday.net and the co-hosts' blogs, so we can feature you. Your co-hosts this week are Antonia @ Zoale.com and me aka Angie @ Fiesta Friday.
If you're new to Fiesta Friday, please read the guidelines.
If you're interested in becoming a co-host, please leave me a message.
You are invited to the Inlinkz link party!