Lately I've been eating these glazed chicken tenders.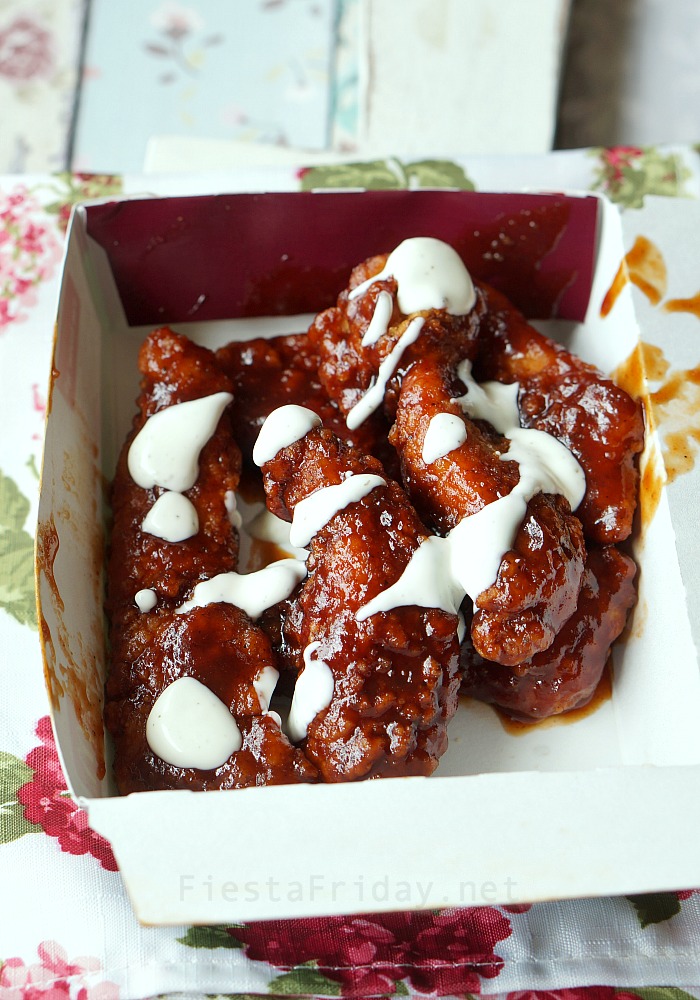 Too many of them. I think I'm developing an addiction to them.
Yes, they're from McDonald's.
I know…I know… You're thinking…they're from McDonald's, they can't be good, but they are! I'm serious, you need to try them.
Does anybody have a copycat recipe for them? The healthier baked version, if possible, in light of the horrendously large amount I'm consuming.
Another thing I can't get out of my mind is this Buddakan's Lobster Saffron Fried Rice.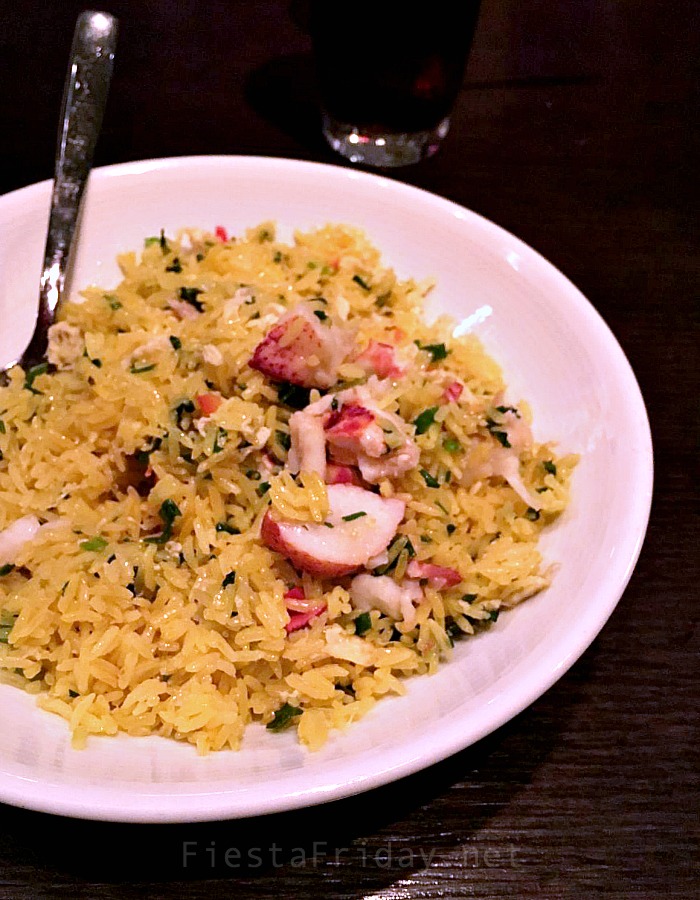 It tastes like paella and fried rice combined, with big chunks of lobster meat. Just divine!
Can someone make a copycat recipe for it, please?
Those are my requests of the week. Next week, onto pumpkins, since fall is on the horizon. Actually, not really. I much prefer apples than pumpkins. So next week, let's do apples! But pumpkins are welcome, too. Actually, anything is welcome and appreciated. We're not picky at Fiesta Friday.
Now, take a look at these yummies
Cheese & Mango Chutney Muffins from Cat @ Curly's Cooking
"What a clever idea! I'd never have thought to add chutney to my muffins – it's opened up all sorts of possibilities! ? Cheese, mango chutney & a sprinkling of nigella seeds – what an amazing flavour combination! Thanks Cat!" — Laurena
Chewy Chocolate Chip Cookie Bars from Lily @ Little Sweet Baker
"These are perfect for hosting and look so quick and simple to make!" — Deb
Pimm's Cooler with Ginger Beer from Judi @ cookingwithauntjuju.com
"So, who's opened a bottle of Pimm's and then forget about it for a whole year? Me, that's who! I hope it's still good 'coz I'm definitely making this. There's still enough warm weather to enjoy this. Look how refreshing and pretty it looks!" — Angie
Yellow Tomato Bloody Mary from Becky @ Bubbly Bee
"Yes, another drink. I'm very thirsty. But look how pretty! And not so bloody! Besides I have yellow tomatoes in my backyard and you can only eat so much salad!" — Angie
***
Now, let's party! Join Fiesta Friday #241 by adding your link. Don't forget to link your post to FiestaFriday.net and the co-hosts' blogs, so we can feature you. Your co-hosts this week are Zeba @ Food For The Soul and Debanita @ Canvassed Recipes
If you're new to Fiesta Friday, please read the guidelines.
If you're interested in becoming a co-host, please leave me a message.

[inlinkz_linkup id=798169 mode=1]