It's all about Skye this week! It's her birthday week!
We don't know when her actual birthday is, and neither does the animal shelter we adopted her from, but since we got her in August, we decided the first week of August is the designated birth week for her.
So starting this weekend up until the end of next week, Skye will be the center of everyone's attention. As if she wasn't already, on a daily basis. She really is the baby of the family.
Unfortunately, Skye is unwell this week. She has UTI. She's responding well to the antibiotics, though. She's almost back to her normal self. Hopefully she'll be fully recovered in time to enjoy her birth week.
What presents do you give to your dog? We've done bones and squeaky toys in the past. She totally ignores the toys, except when she's upset, then she'll bite them. Yah, I know, she's weird, but she's ours and we love her. She does, however, always enjoy the bones we give her.
Here's Skye enjoying her tomahawk ribeye steak bone at Christmas.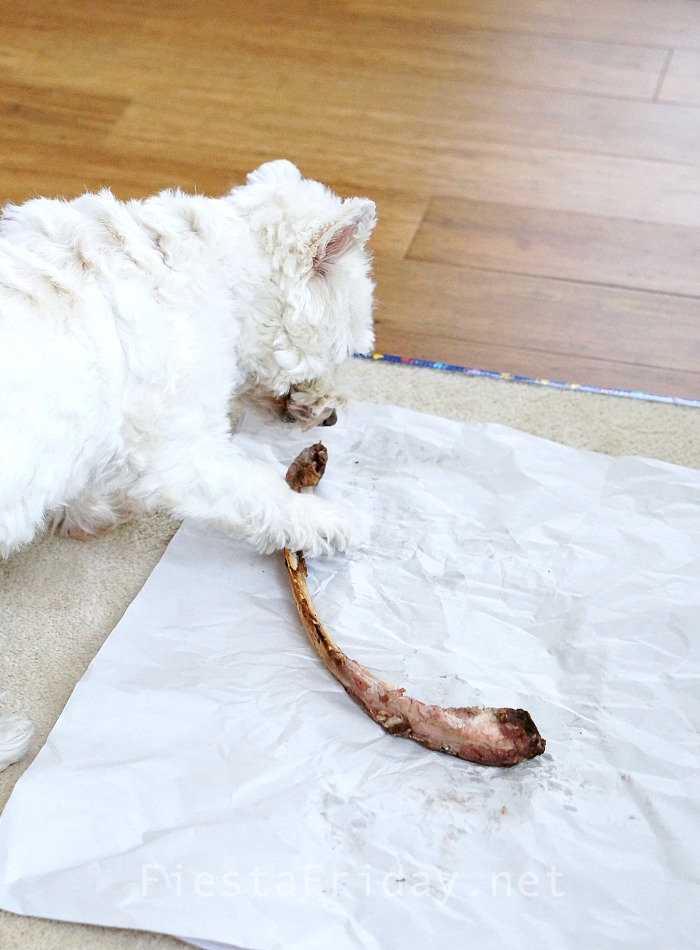 I want to do something different this time, though. I want to thoroughly spoil her, especially since she's been sick and also she was so obedient at the groomers' the other day. She didn't whine and even let herself be sprayed with perfume without rolling all over the floor immediately trying to get rid of the smell like she normally would. So I might make her a small cake of beef or chicken, we'll see. Any ideas? She's not big on sweets, she seems to only like meaty treats.
And now, features from last week's fiesta
Introducing foodbod Sourdough
"Elaine over at foodbod has just compiled ALL of her sourdough wisdom into a new blog focused on all elements of the sourdough process from start(er) to finish (ha!). Her final breads are honestly pieces of art and it's a gift that she is sharing all of her tips and tricks." — Deb
"As someone who lacks patience and struggles with keeping up with sourdough starter, I've long admired Elaine's sourdough breads. They only get better and more beautiful every time, so I'm very excited that she's started this website dedicated to all things sourdough. I can't wait to glean vital sourdough information from her new site!" — Angie
Ice Cream Cones from Kat @ The Baking Explorer
"These very clever CupCakes would be absolutely fabulous at any child's special party." — Jenny
Salty Vanilla Bean Apricot Cookies from Colleen @ Faith, Hope, Love & Luck
"These cookies are topped with a mouth watering vanilla bean apricot spread. I'm not a baker but these are something that I am pinning for the future." — Deb
Potato Emoji | Potato Smiley from Debanita @ Canvassed Recipes
"How cute are these?! I want to pick up that frowney one now and pop it in my mouth! No frowney face allowed on my plate, lol." — Angie
***
Now, let's party! Join Fiesta Friday #235 by adding your link. Don't forget to link your post to FiestaFriday.net and the co-hosts' blogs, so we can feature you. Your co-hosts this week are Mara @ Put on Your Cake Pants and Hilda @ Along the Grapevine
If you're new to Fiesta Friday, please read the guidelines.
If you're interested in becoming a co-host, please leave me a message.
[inlinkz_linkup id=792548 mode=1]