These albóndigas (Mexican Meatballs) are stuffed with jack cheese and pickled jalapeños, then simmered in roasted poblano tomato sauce. Can I hear you say Olé?!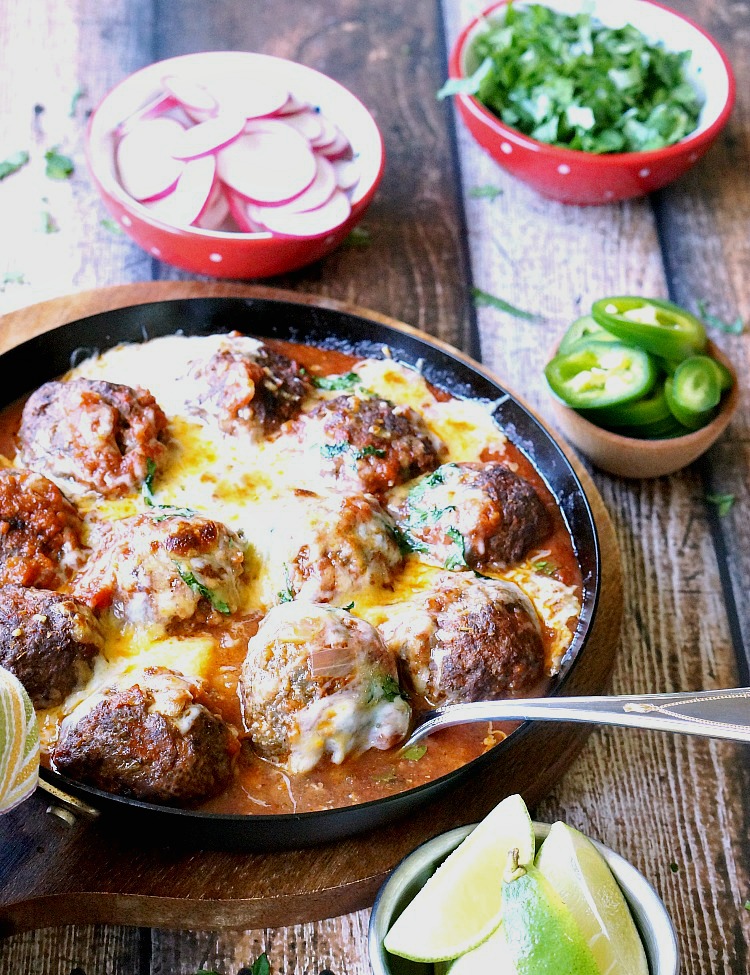 Albóndigas are meatballs. That's it. That's all it means. Prettier way to say meatballs, though, right?
And just look at these albondigas. They look innocently similar to any other ordinary meatballs.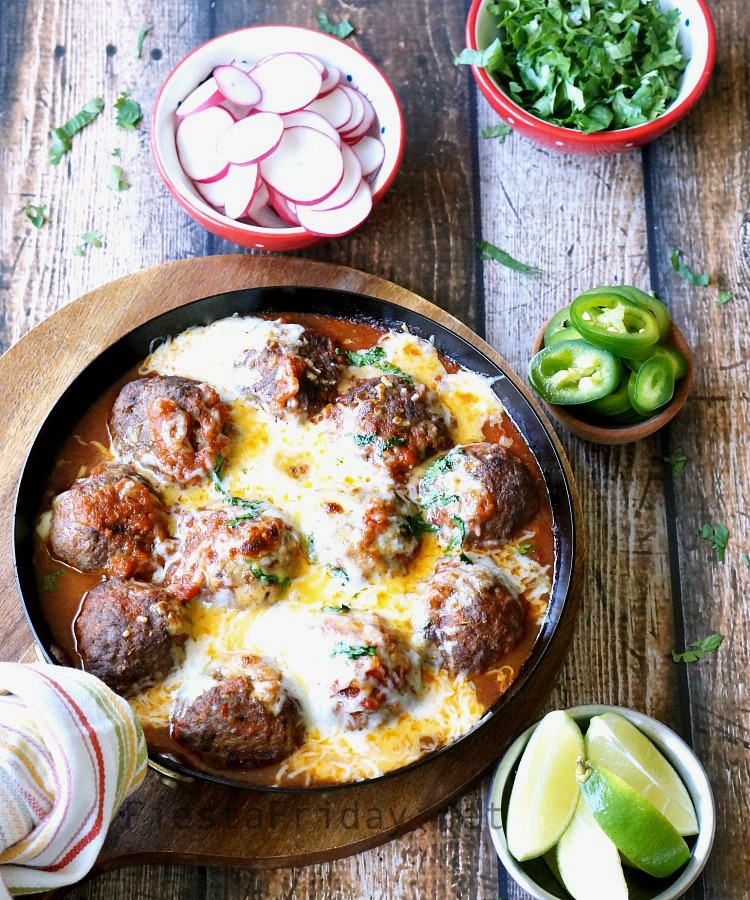 But they hold a secret inside. You know what it is now that you've read the title, but your unsuspecting dinner or Cinco de Mayo guests wouldn't. Isn't it fun to surprise people?! Say yes, please!
Anyway, I've been wanting to make these albondigas for quite some time now. Ever since I tasted my sister-in-law's albondigas soup at Christmas.
It was very good, so good that it tempted my daughter who normally stays away from anything with ground meat.
I myself enjoyed the albondigas soup very much. At the time, though, I thought that I could probably improve the recipe. This isn't my way of criticizing her cooking skills, okay?! She is a bonafide kitchen goddess, okay?!
I just do that to all recipes, period! I always look for a way to improve them. If anything, so that they suit my preferences.
Don't we all do that, anyway? Recipes are only guidelines, anyway. You do what you want to them to fit your needs.
So, the idea for these stuffed albondigas…
Specifically, these cheese-and-jalapeño-stuffed albondigas… More specifically, jack cheese-and-pickled jalapeño-stuffed albondigas… came out of my recent stuffed Italian meatballs experiment. It was such a success that I decided to repeat it with the albondigas.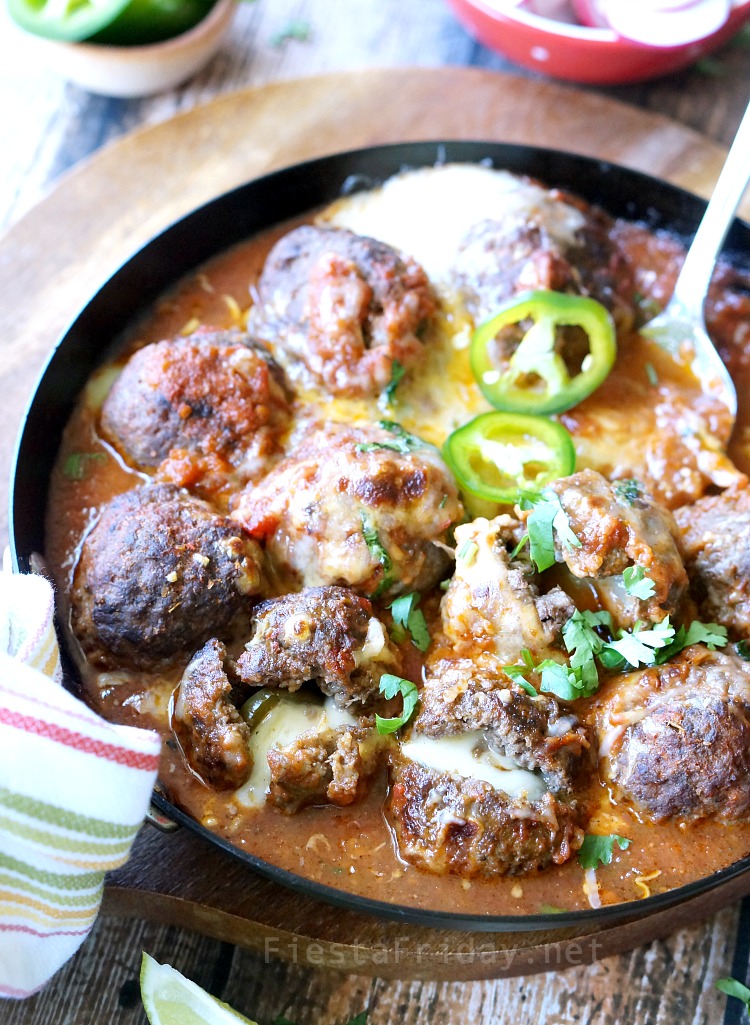 I did share a picture of the Italian meatballs on Instagram, and eventually I will share the recipe on the blog. But first, the albondigas, since Cinco de Mayo is just a few days away.
Albondigas are usually served in a soup, and they're not usually browned first. Clearly, I don't follow traditions. Not this time. I didn't serve them in a soup, and I browned them first in a sauté pan… because I'm a sucker for meatballs with beautiful brown bits on them.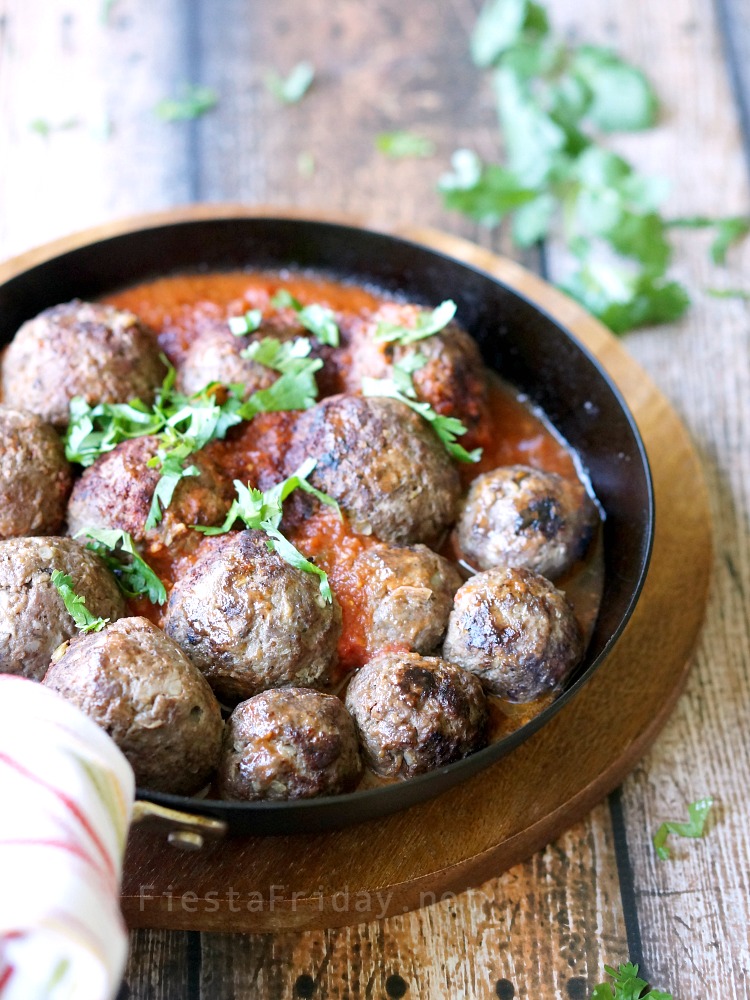 Then, borrowing yet another idea from the Italian meatballs, I topped the albondigas with extra cheese, and briefly placed the whole thing under the broiler until the cheese is all melty. Can I hear you say Olé?!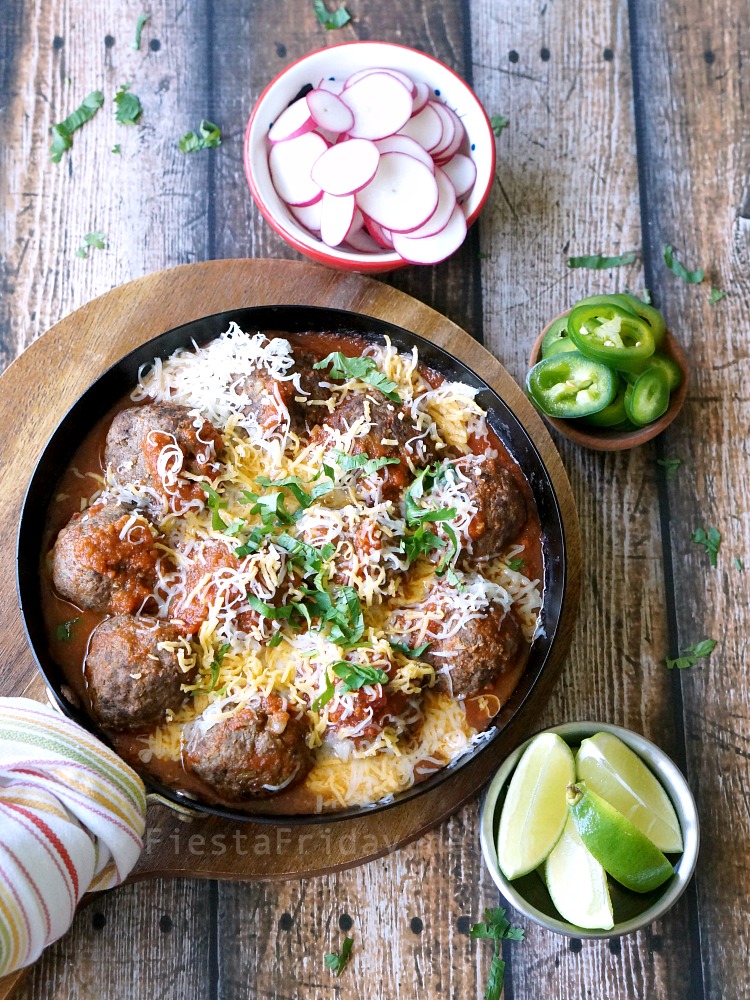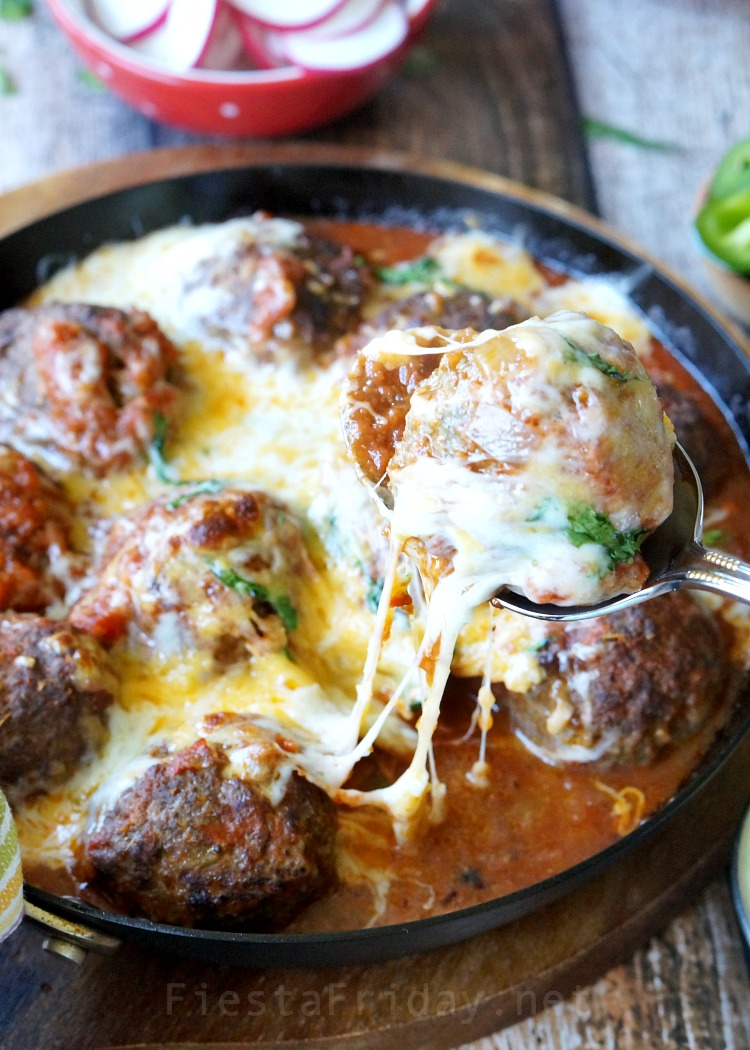 If you're looking for another recipe for stuffed meatballs, I have a great one here:
Stuffed Meatballs in Guinness Gravy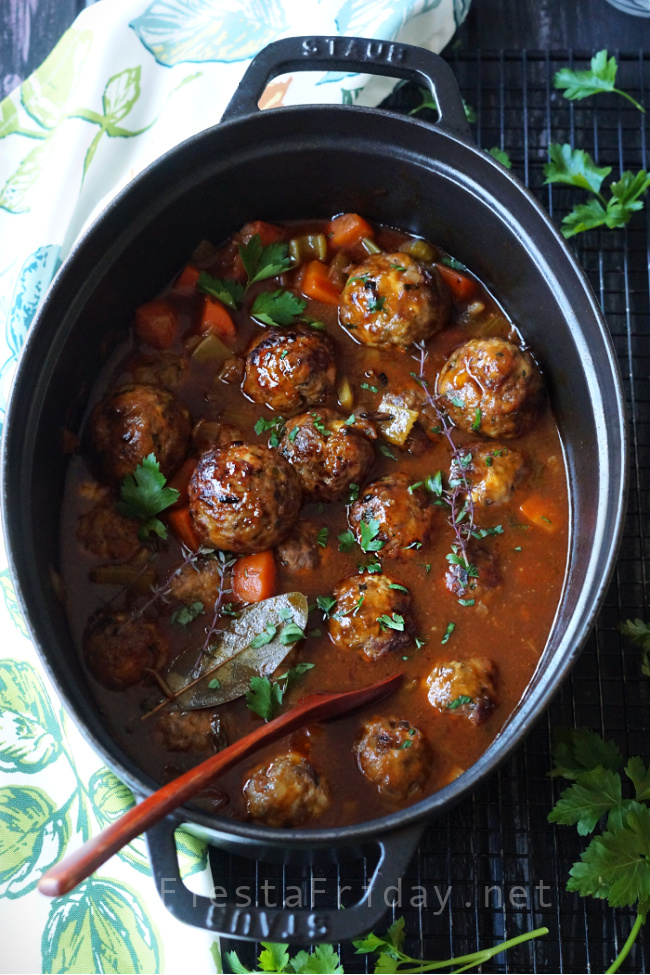 Here's the handy-dandy printable recipe for the Stuffed Albondigas:
Cheese-and-jalapeño-stuffed Albóndigas (Mexican Meatballs)
These albóndigas (Mexican Meatballs) are stuffed with jack cheese and pickled jalapeños, then simmered in roasted poblano tomato sauce. Can I hear you say Olé?!
Author:
Angie | FiestaFriday.net
Recipe type:
Entrée/Main Dish
Yield:
24 2-inch meatballs
Ingredients
For the meatballs
2 lbs. ground beef
1¼ cups fresh bread crumbs
1 small onion, grated
2 cloves garlic, grated
1 egg
1½ teaspoons salt
2 teaspoons ground cumin
2 teaspoons dried oregano
2 teaspoons sweet paprika
½ teaspoon ground cloves
4 oz. jack cheese, cut into ½-inch cubes
Pickled or candied jalapeños, drained
For the sauce
1 tablespoon olive oil
1 poblano pepper, roasted, peeled, seeded, and chopped
1 onion, chopped
3 cloves garlic, minced
1 (28 oz.) can of diced tomatoes
1 tablespoon sweet paprika
2 teaspoons ground cumin
2 teaspoons dried oregano
Salt & pepper to taste
Shredded cheese (jack or cheddar)
Cilantro
Instructions
Mix all the meatball ingredients, except for the cheese and jalapeños, in a bowl. Use your hands to thoroughly mix all the ingredients. It may seem too wet at first (the grated onion adds a lot of juice), but if you let it rest for 15 minutes, the meat and breadcrumbs will absorb the moisture and the mixture will be easy to work with.
Form mixture into 24 small patties, put 1 or 2 pieces of jalapeños and cheese in the center, then enclose meat around them to seal. Roll into meatballs. (*See how-to photo below)
Spray a skillet with non-stick spray. Brown meatballs over gentle (low to medium) heat to keep the cheese from exploding. Remove them and set side.
Wipe the skillet clean. Return to stovetop and increase heat to medium-high.
Add olive oil, let it heat up, then add onion, cook until wilted.
Add garlic, poblano, diced tomatoes, and all the seasonings. Once it comes to a boil, turn off heat. You can purée half or all of the sauce before returning it to the skillet.
Add meatballs, and on a low-heat setting, let them simmer in the sauce for about 15 - 20 minutes.
When meatballs are cooked, top them with shredded cheese, and place under the broiler for about 5 minutes, to melt the cheese. Garnish with chopped cilantro.
Serve with Mexican rice or tortillas.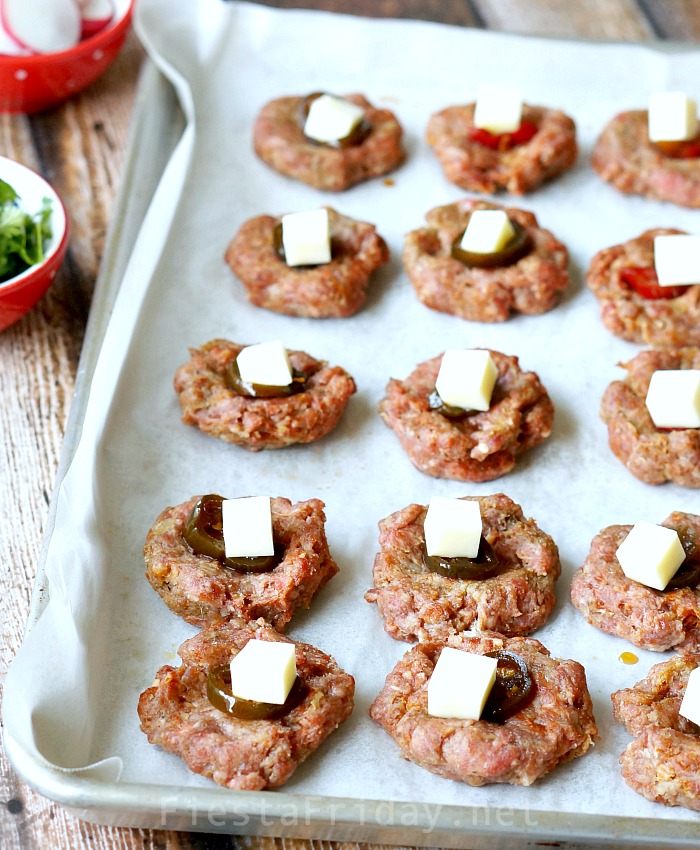 If you like this recipe, please give it a ⭐⭐⭐⭐⭐ rating in the comments section below. Thanks!
Pin This To Make Later!