Cheese-and-jalapeño-stuffed Albóndigas (Mexican Meatballs)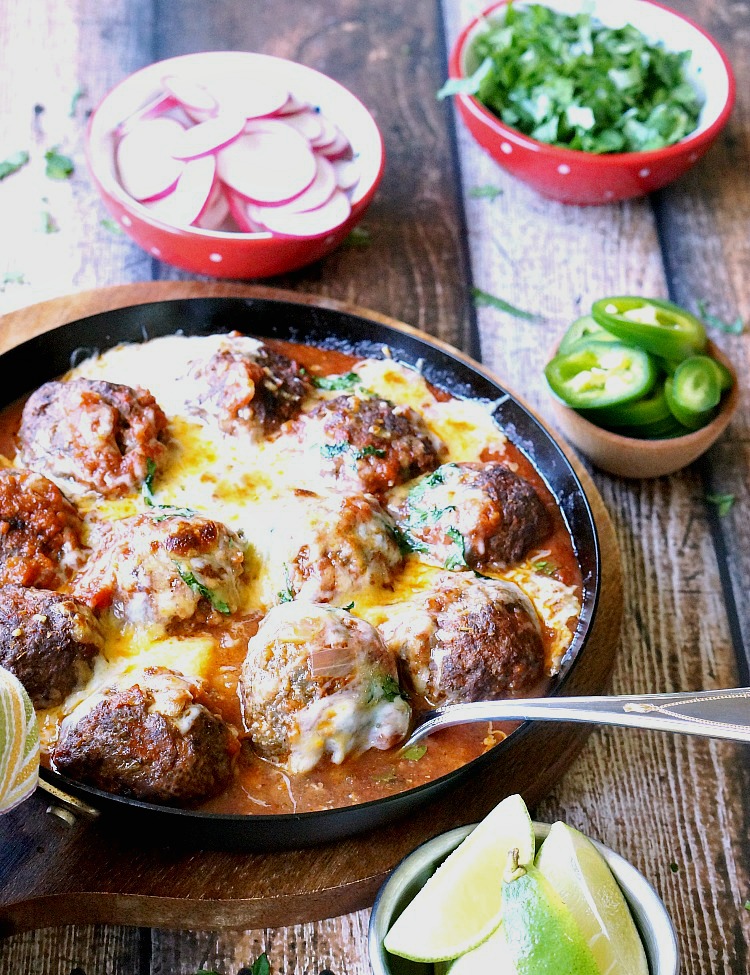 Author:
Angie | FiestaFriday.net
Recipe type:
Entrée/Main Dish
Yield:
24 2-inch meatballs
2 lbs. ground beef
1¼ cups fresh bread crumbs
1 small onion, grated
2 cloves garlic, grated
1 egg
1½ teaspoons salt
2 teaspoons ground cumin
2 teaspoons dried oregano
2 teaspoons sweet paprika
½ teaspoon ground cloves
4 oz. jack cheese, cut into ½-inch cubes
Pickled or candied jalapeños, drained
1 tablespoon olive oil
1 poblano pepper, roasted, peeled, seeded, and chopped
1 onion, chopped
3 cloves garlic, minced
1 (28 oz.) can of diced tomatoes
1 tablespoon sweet paprika
2 teaspoons ground cumin
2 teaspoons dried oregano
Salt & pepper to taste
Shredded cheese (jack or cheddar)
Cilantro
Mix all the meatball ingredients, except for the cheese and jalapeños, in a bowl. Use your hands to thoroughly mix all the ingredients. It may seem too wet at first (the grated onion adds a lot of juice), but if you let it rest for 15 minutes, the meat and breadcrumbs will absorb the moisture and the mixture will be easy to work with.
Form mixture into 24 small patties, put 1 or 2 pieces of jalapeños and cheese in the center, then enclose meat around them to seal. Roll into meatballs. (*See how-to photo below)
Spray a skillet with non-stick spray. Brown meatballs over gentle (low to medium) heat to keep the cheese from exploding. Remove them and set side.
Wipe the skillet clean. Return to stovetop and increase heat to medium-high.
Add olive oil, let it heat up, then add onion, cook until wilted.
Add garlic, poblano, diced tomatoes, and all the seasonings. Once it comes to a boil, turn off heat. You can purée half or all of the sauce before returning it to the skillet.
Add meatballs, and on a low-heat setting, let them simmer in the sauce for about 15 - 20 minutes.
When meatballs are cooked, top them with shredded cheese, and place under the broiler for about 5 minutes, to melt the cheese. Garnish with chopped cilantro.
Serve with Mexican rice or tortillas.
Recipe by
Fiesta Friday
at https://fiestafriday.net/2018/05/04/cheese-and-jalapeno-stuffed-albondigas-mexican-meatballs/