Carnitas ("little meats"), pork braised in Coca-Cola and orange juice until tender, then shredded and fried in its own fat, are perfectly brown, crisp, and flavorful little morsels of meat. Excellent for filling your tortillas. For Cinco de Mayo or any day!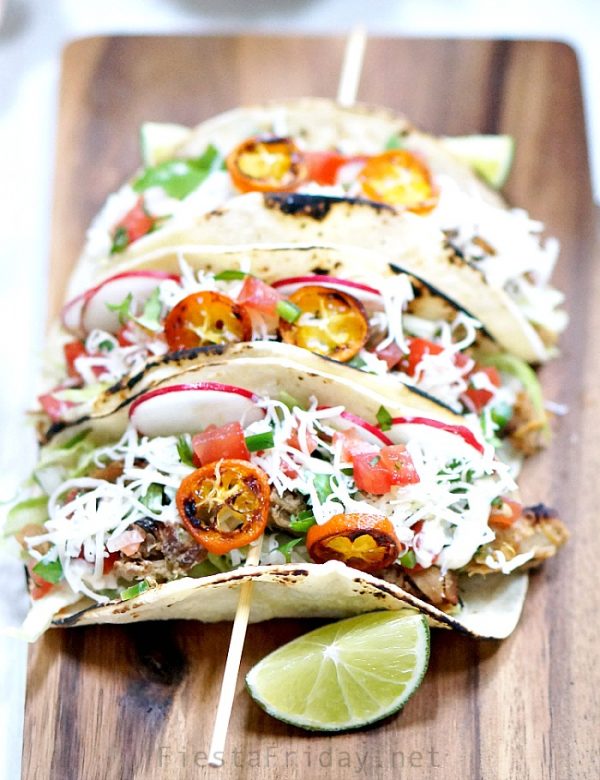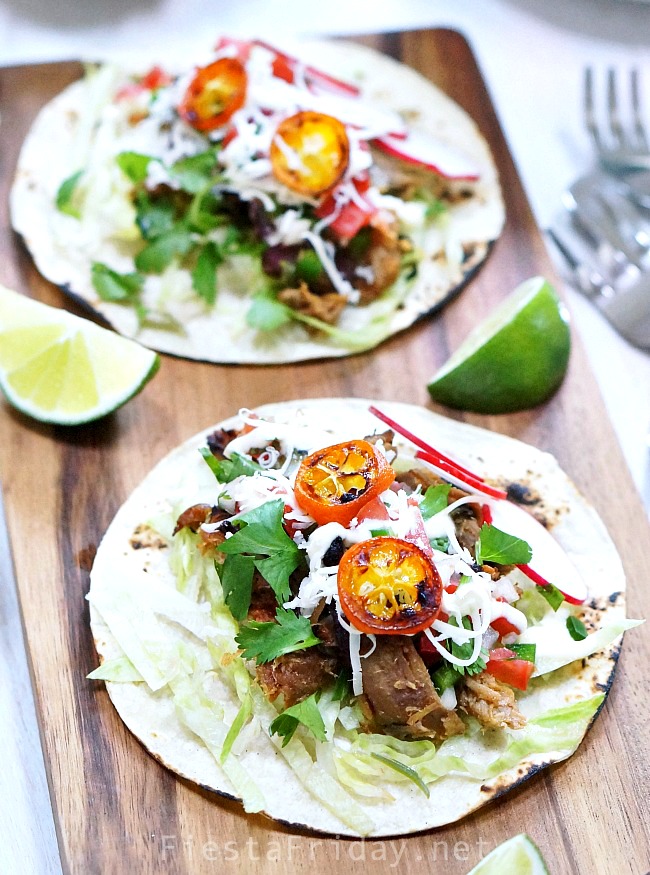 It's Cinco de Mayo night at Casa de Angie (that's me)! Except, of course, it's Tres de Mayo. And actually, this meal was served on Treinta de Abril but is shared with you today.
Look at it this way, I am at least fulfilling my duty as a food blogger. I'm giving you a recipe idea for the real event, 5/5, ahead of time. So you can prepare and plan and organize and scheme and strategize.
Well, maybe not scheme and strategize. Unless of course, that's your modus operandi. You can confess to me, my friends. The truth shall set you free!
I myself sometimes feel as if I have to scheme my way out of cooking, haha…
There's definitely nothing wrong about scheming and strategizing. A little of each, or both, never hurts anybody.
So, this Coca-Cola Carnitas! Good for any day, by the way, not just for Cinco de Mayo.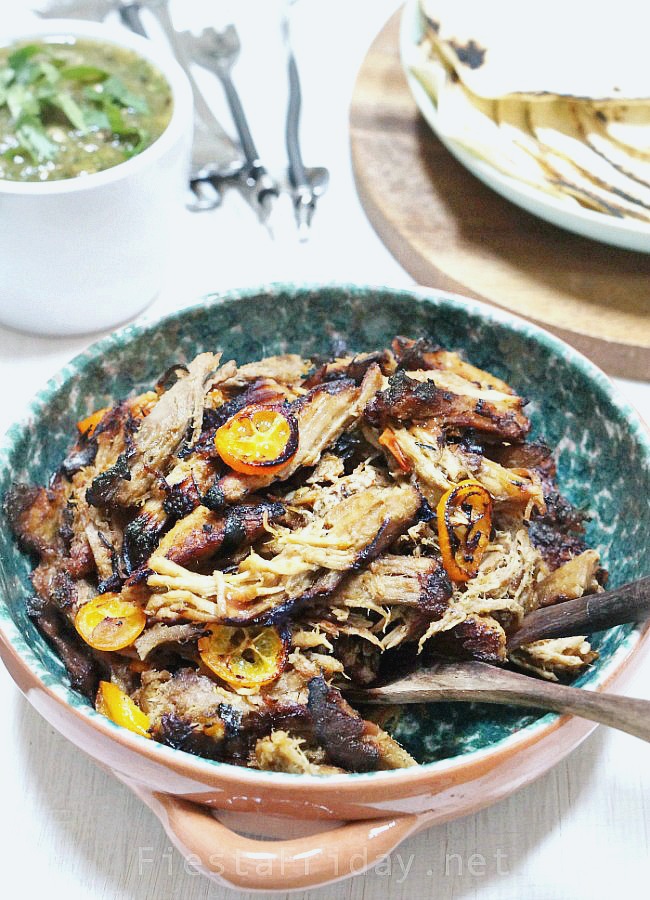 Let me start by saying that when I first heard of it, my first reaction was whaaat?! Coca-Cola in Carnitas?! Yucky, right?!
Well, it turned out I was wrong. I was so wrong! Coca-Cola Carnitas es muy delicioso! The sugar in the soda helps to caramelize the meat, and whatever else they put in the cola gives it that slight smokiness. Or maybe it's the smoked paprika that gives the smokiness. But who cares, right? All I know is that this Coca-Cola Carnitas is a keeper.
I adapted this from a Food Network recipe. I should say, heavily adapted. I use my usual Carnitas recipe that I swear by and basically just add a cup of coke in it.
And then I added kumquats, too… Whaaat?!
Oh, please, relax! It's okay! What do you have against kumquats?! They're so cute! You should start using them in your beverages, in place of the usual boring limes and lemons. Okay, limes and lemons are not boring, but kumquats are not boring-er. I think I just turned twelve.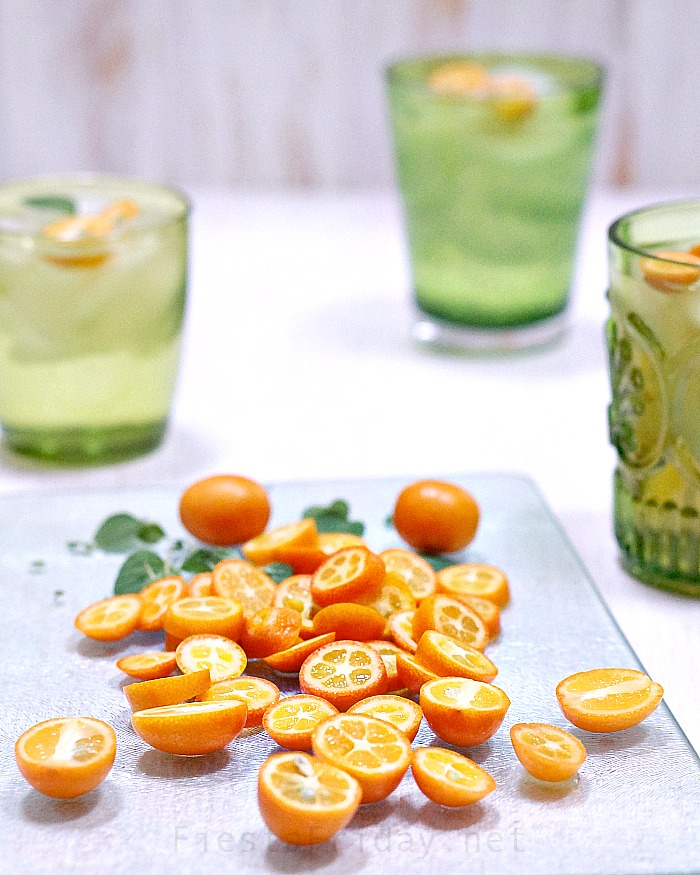 Besides, you're already adding coke in the Carnitas. Kumquats certainly wouldn't hurt. I just thought I needed to add some acidic element with all the sugary stuff. And these babies have been in my fridge for a month. You can certainly use lime juice and lime zest in place of the kumquats. Remember, it's your Carnitas!
What I wouldn't use in this dish, though, is a diet cola. It needs the sugar for the caramelization to happen. But you don't have to use Coca-Cola. Any cola soda can be substituted. I heard that the Mexican Coca-Cola works even better, since it uses pure cane sugar instead of corn syrup. So give that a try if you can find it.
Serve the carnitas with the usual suspects, i.e., corn or flour tortillas, cilantro, grated cheese, shredded lettuce, sliced avocados & radishes, salsa verde, pico de gallo, etc.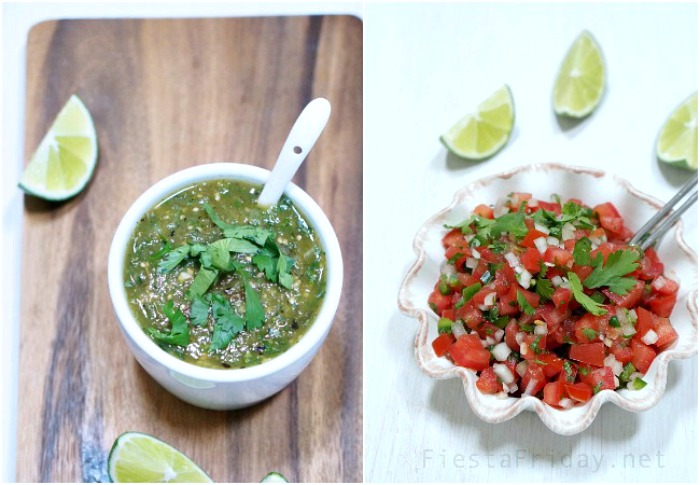 Or you could be like my son and top your carnita tacos with an unusual suspect like mayonnaise. Whaaat?!
Chillax, people! It's his tacos; I let him do whatever he wants with them.
Do yourself a favor, make this Coca-Cola Carnitas and top them with whatever you like, and have yourself a Feliz Cinco de Mayo! Can I hear you say ole'?!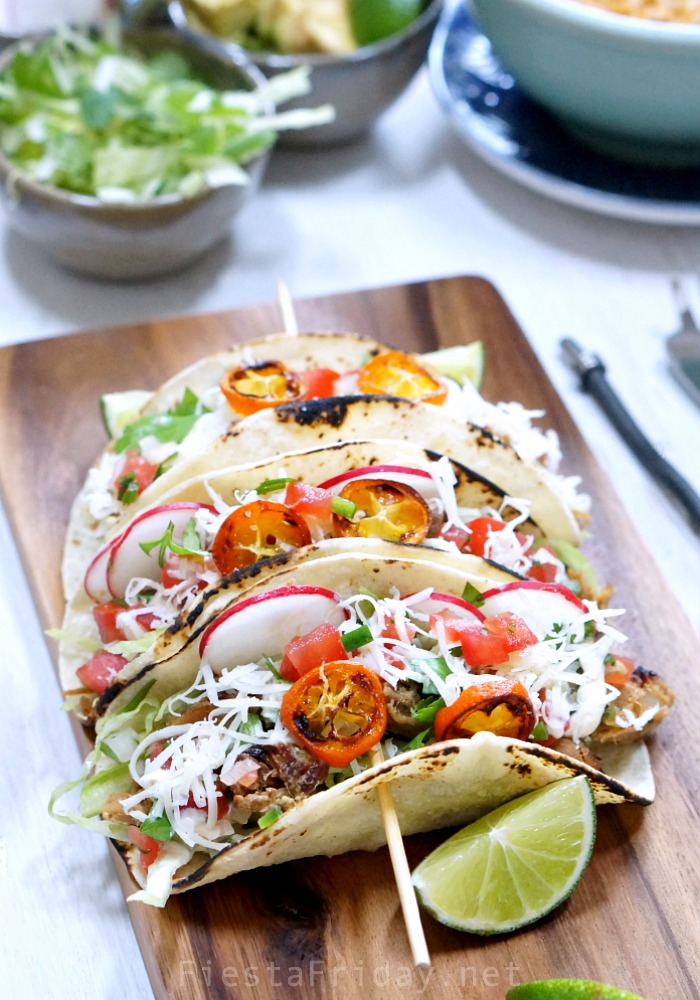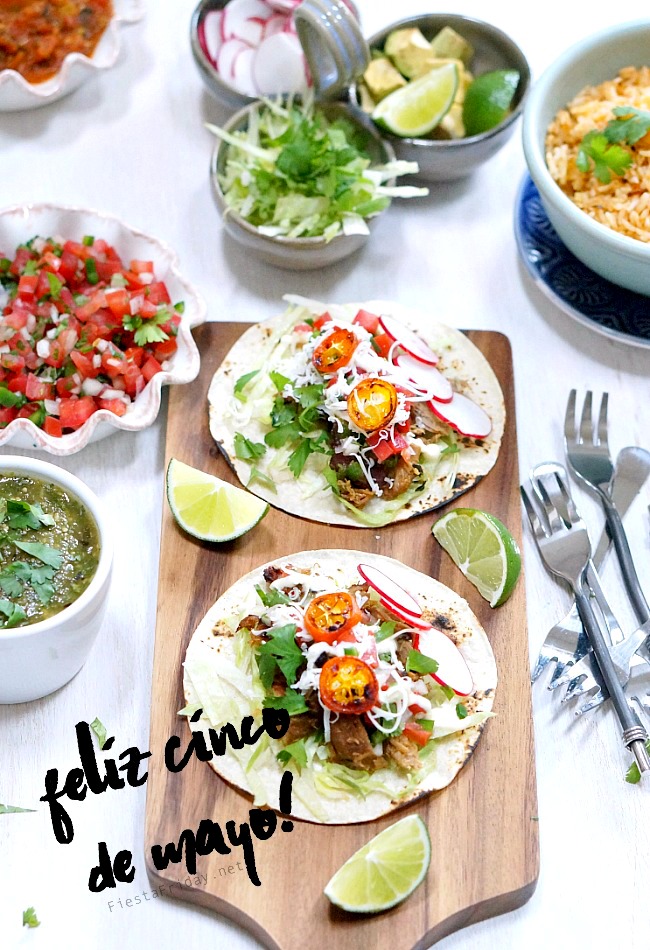 Coca-Cola Carnitas
Carnitas ("little meats"), pork braised in Coca-Cola and orange juice until tender, then shredded and fried in its own fat, are perfectly brown, crisp, and flavorful little morsels of meat. Perfect for filling your tortillas!
Author:
Angie | FiestaFriday.net
Recipe type:
Main Course/Meat/Pork
Ingredients
2 pounds boneless pork meat, cut into large chunks (See notes below)
2 teaspoons garlic powder
2 teaspoons salt
2 teaspoons black pepper
2 teaspoons smoked paprika
1 medium onion, chopped
2 garlic cloves, smashed
1 cup Coca-Cola
1 cup low-sodium chicken broth or water
½ cup freshly squeezed orange juice
2 bay leaves
Several sprigs of oregano
Several sprigs of thyme
5 kumquats (plus more for garnish, if preferred), seeds removed, sliced thinly
1-2 tablespoons of olive oil (See notes below)
Instructions
In a small bowl, mix garlic powder, salt, pepper, and paprika. Season pork pieces with the mixture.
On medium-high, heat 1 tablespoon oil in a Dutch oven or braiser. Sear pork pieces in the oil until browned on all sides. Remove and set aside.
In the same pan, add onion and garlic. Cook until onion is translucent.
Add the Coca-Cola, broth/water, and orange juice. Return meat to the pan.
Bring to a boil and reduce to a simmer. Add the herbs and kumquats.
Cover and simmer until the pork is tender, about 1½ hours. Once pork is tender, remove and shred using a couple of forks, then return it back into the pan.
There may still be some liquid left in the pan at this point. If that's the case, turn up the heat and let it boil until it's completely evaporated. This is when the carnitas will begin to fry in its own fat. Or, if you're using a lean cut of meat, you can add more oil. If you have kumquat slices reserved for garnish, add them to the pan now.
Continue frying until carnitas are well-browned and crisp on the outside.
Alternately, you can spread the shredded meat on a baking sheet and put it under the broiler for a few minutes.
Notes
I used lean pork loin and there was hardly any fat rendered, therefore I added olive oil in the end to brown the meat, but if you're using a fatty cut of meat, you may not need to add any oil.