Detox Diet anyone? It'll be so much easier done with this super delicious Chopped Salad with Almond Butter Dressing that will curb your cravings and leave you feeling satisfied.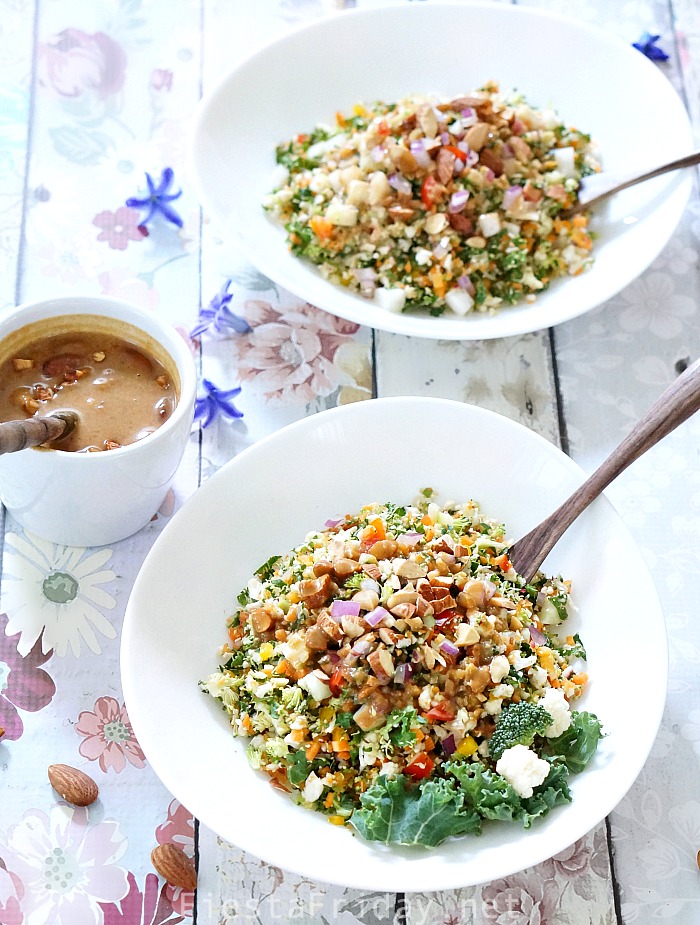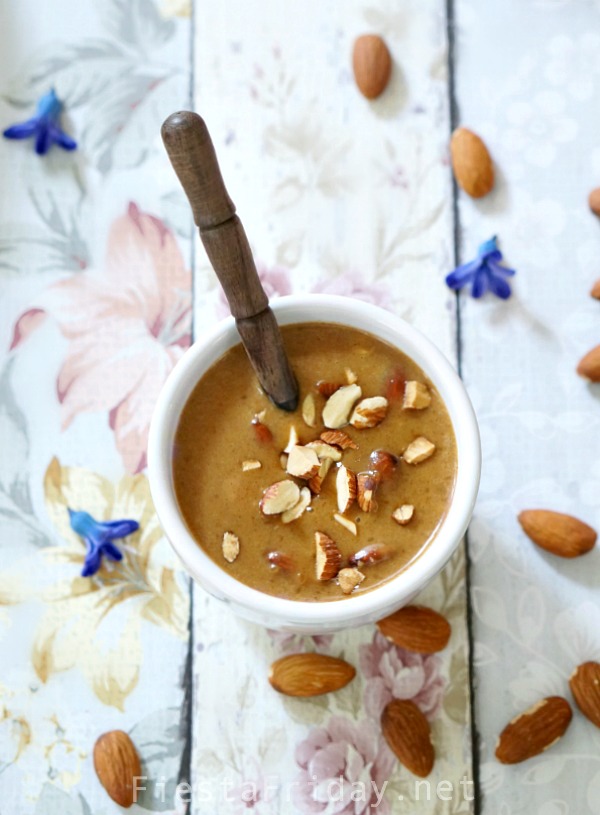 You know…I've been feeling a little sluggish lately.
Actually, more than a little.
I'm not exactly feeling sick, just a little tired. And sleepy.
And well, sluggish. That's the only way I can describe it. Kind of low-energy and slow.
Maybe I've had too much of the Amish shoo-fly pies and corn nuggets. As you know, I recently made back-to-back trips to visit the Amish country in Lancaster, Pennsylvania.
But, hey, don't blame me, those pies and corn nuggets are extremely delicious and addicting! Anybody got a good recipe for them? I need to know how to make them myself at home.
First, though, I need to go on a Detox Diet. To gain back my energy. To boost my metabolism. To spring cleanse my body.
Okay, I'm just kidding. I don't actually know what Detox means. Or what Diet means. I just want to eat healthy for a while, that's all.
Okay, to be honest, I just feel like eating a big bowl of salad, that's all.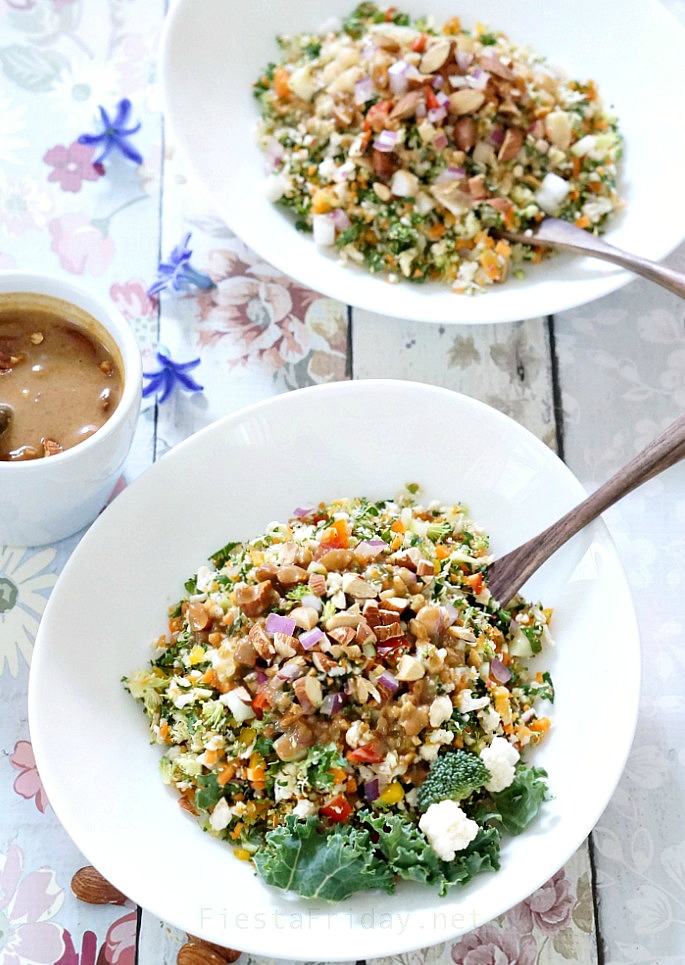 Don't you feel like that sometimes? You know, when the idea of eating a full complete meal seems overwhelming?
No?! Okay, I understand. My own husband feels the same way. He doesn't understand how it can be overwhelming to eat a square meal of a chunk of meat, a big helping of rice or potatoes, and a sprig of broccoli.
He calls that a balanced meal. Oh yeah, sure. A sprig of broccoli?! I don't think so!
My salad here is more of a balanced meal, even if he won't consider it a full meal.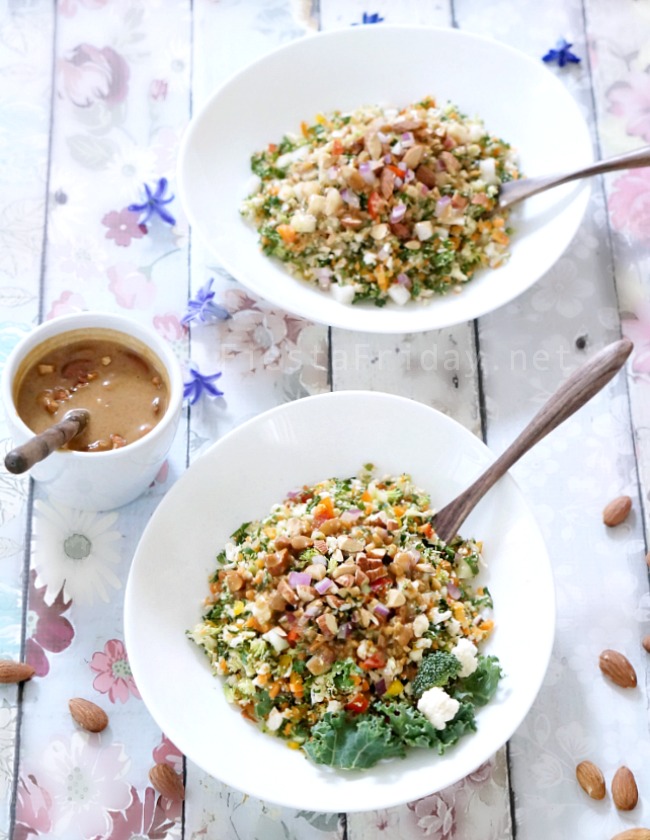 It has everything your body needs.
Protein, check. Carbs, check. Fats, check. Vitamins, check. Minerals, check. All the good kinds. Isn't that what a balanced meal is supposed to be?
And despite the fact that it's such a healthy salad filled with ingredients that can help detoxify your body, it's truly delicious in a very satisfying way.
It starts out with these nutrient-dense vegetables. Broccoli, cauliflower, and kale, in the raw. All considered detox diet foods.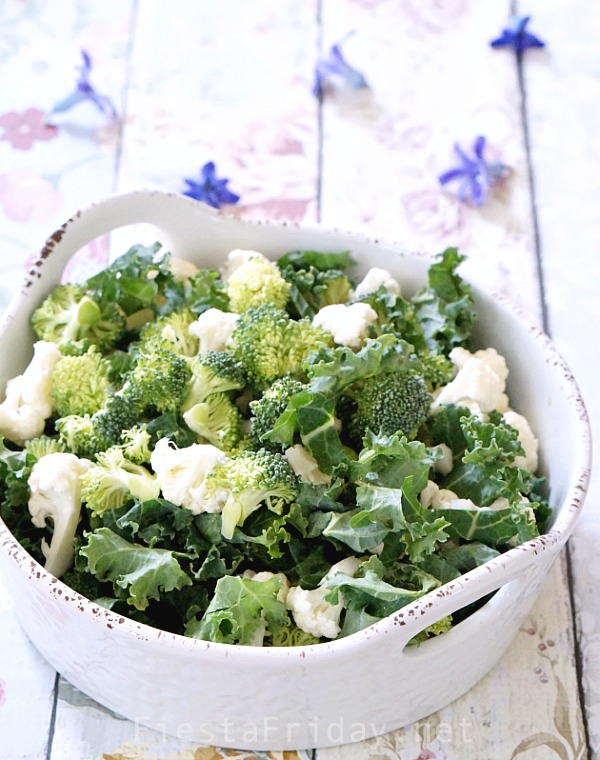 But, of course your kids and husband won't eat them in that state. That's why you break them up into smithereens.
So they won't know what they're eating.
Plus, if you do it that way, there won't be any need to massage your raw kale with oil or any other extra step to get it more palatable. Tiny pieces of raw veggies are more kid and husband-friendly, trust me!
And then you can camouflage the greenness with the more colorful and sweeter vegetables, like carrots, sweet peppers, tomatoes, radishes, sweet onions, etc.
And all of a sudden, et voilà! Your kids and husband will eat this!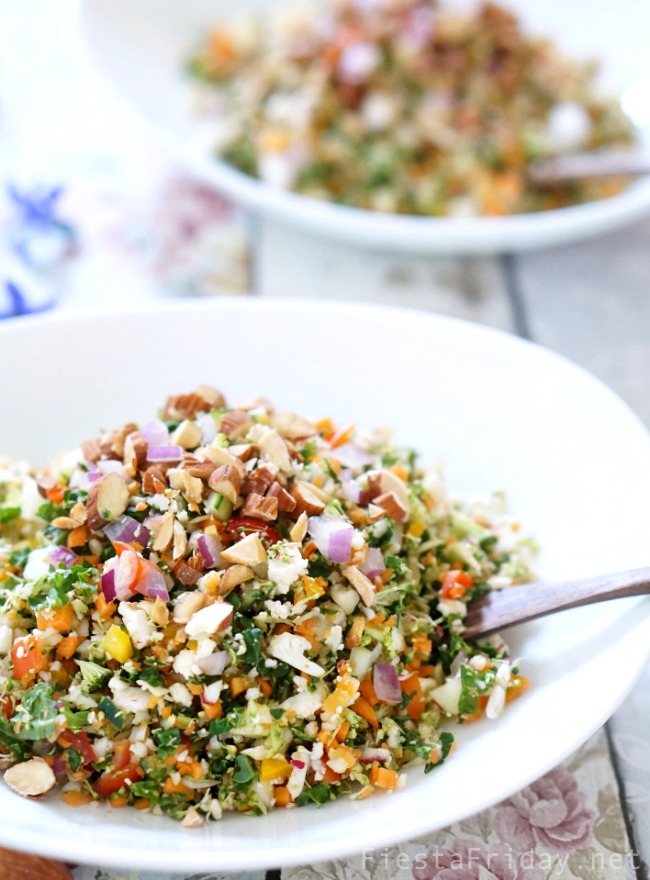 Detox Diet Salad with Almond Butter Dressing
Author:
Angie | FiestaFriday.net
Ingredients
For the salad
2 cups cauliflower florets, broken into small pieces
2 cups broccoli florets, broken into small pieces
2 cups kale leaves, torn into pieces
1 large carrot
1 cucumber
1 small red onion
1 small sweet pepper
5 small red radishes
2 Roma tomatoes, seeded and diced or several grape tomatoes
Whole roasted almond, chopped (optional)
Cooked chicken, chopped (optional)
For the dressing
⅓ cup almond butter
3 tablespoons water
2 tablespoons apple cider vinegar
1 tablespoon honey
1 tablespoon soy sauce
1 clove garlic, grated or finely minced
1 teaspoon fresh grated ginger
Salt & pepper to taste
Instructions
Finely chop cauliflower, broccoli, and kale leaves, either by hand or in a food processor. Set aside. This is the base of your salad.
Finely chop or shred carrot, cucumber, onion, sweet pepper, and radishes (You can use any vegetables of your choice). Add to the salad base.
Tomatoes are best chopped separately since they tend to release too much liquid. If using Roma or slicing tomatoes, remove seeds first.
Mix all dressing ingredients in a bowl and whisk until smooth.
Gently toss vegetables with the dressing. Top with optional almond and chicken
Pin This!