Roasted Potato Wedges coated with olive oil and fresh herbs. To make them extra special, dip them in a tangy and fresh lemon poppy-seed sauce.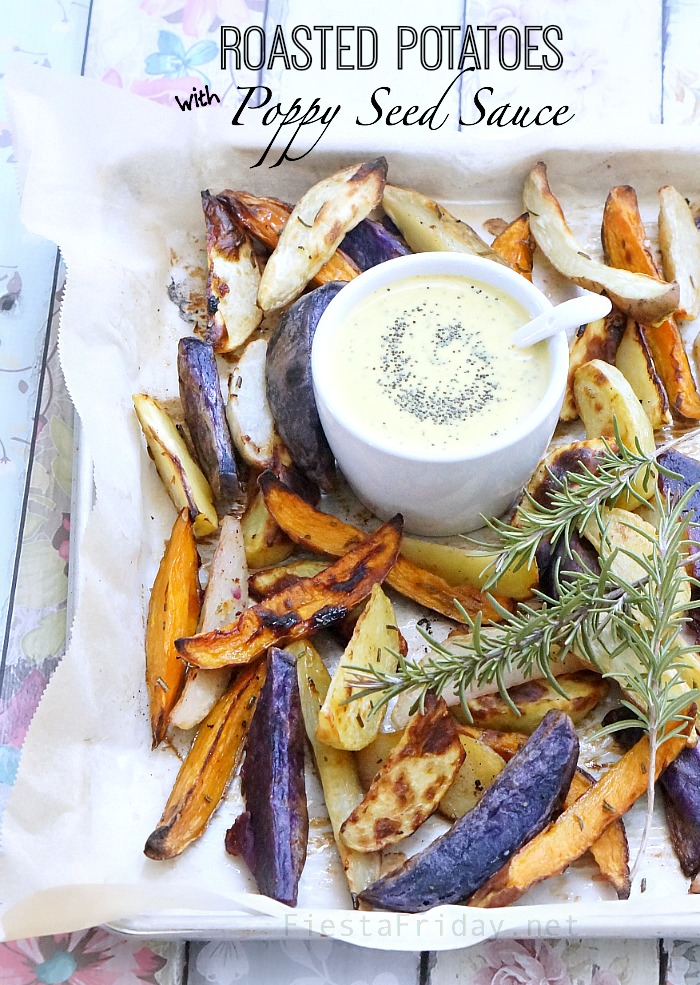 I watched The Martian and it made me want to eat potatoes.
It reminds me of the time I watched The Hunger Games and it made me want to eat potatoes.
Whaaat?! It has the word "hunger" in its title. Hunger = potatoes. Am I right?
It also reminds me of the time I watched the news, and it made me want to eat potatoes.
Whaaat?! Watching the news can be depressing. When you're depressed, you get hungry. When you're hungry, you want to eat potatoes. Right?
Anyway, whatever, do you even need a reason to want to eat potatoes? Of course not.
So, I bought these bags of potatoes. Red potatoes, white potatoes, yellow potatoes, purple potatoes, regular potatoes, sweet potatoes. You name it, I got it.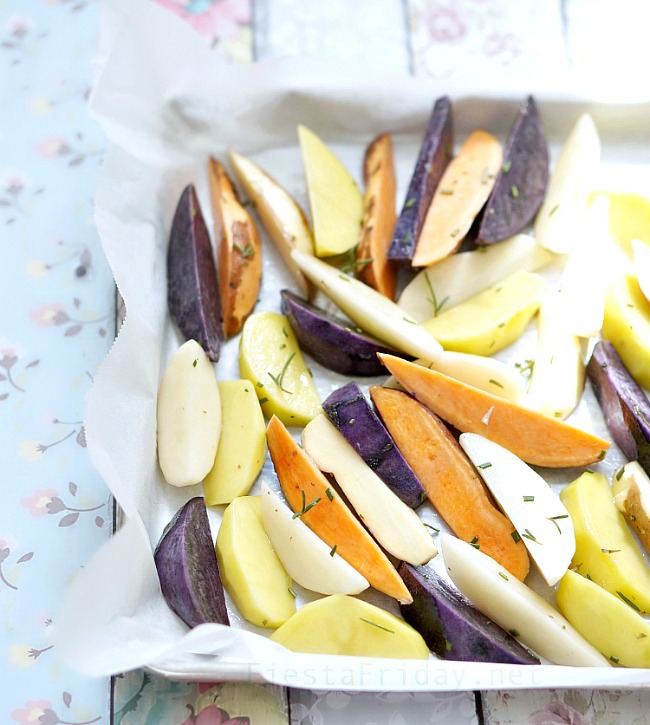 But just in case I have to give a good reason behind the hoarding of the potatoes, nobody mentions The Martian, okay? 'Coz that would make me sound juvenile. You know, to want to eat something just because I see it in a movie.
So, here goes, folks. If anyone asks why I bought all these potatoes, the answer is…
St. Patrick's Day.
Now that would make more sense, right?
The day will be here next week and when you think of St. Patrick's Day or Irish cuisine, you can't NOT think of potatoes. Am I right or am I right?
So be prepared for a whole lot of potatoes to start showing up on this space, starting with these roasted potato wedges.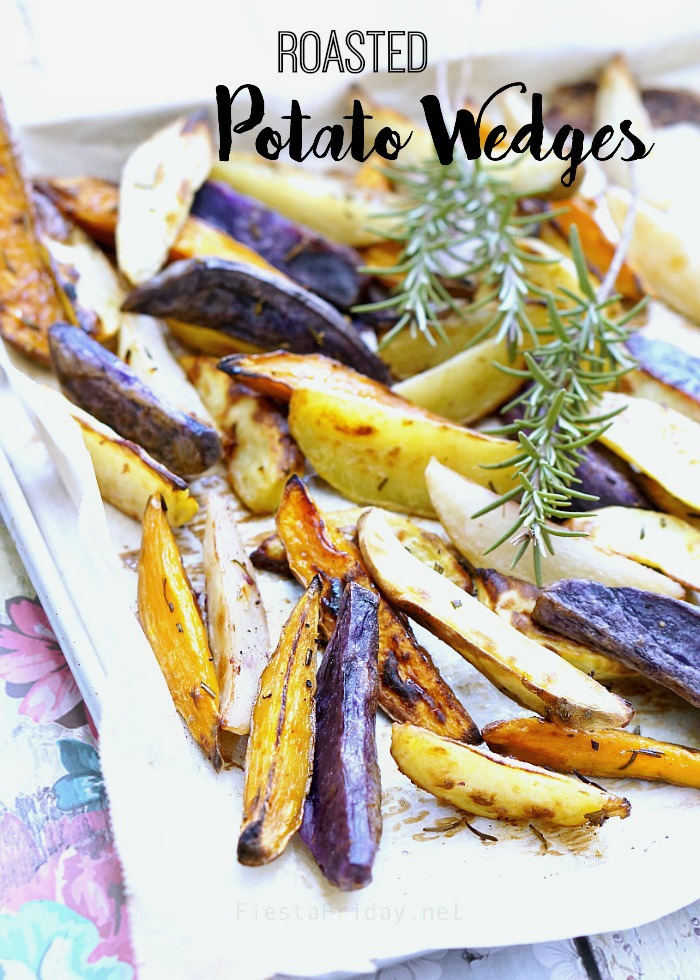 Now I'm pretty sure I've said it a million times that my MOST favoritest food of all times is French fries. I know it makes me sound juvenile, but it's the truth and I'm not afraid to say it.
And although I think French fries alone are pretty much perfect, I must have a dipping sauce. To me, that just makes eating French fries even more perfect.
And full disclosure here, I am a double dipper. One dip, one bite. Then dip again, and bite again. Everybody does that, right?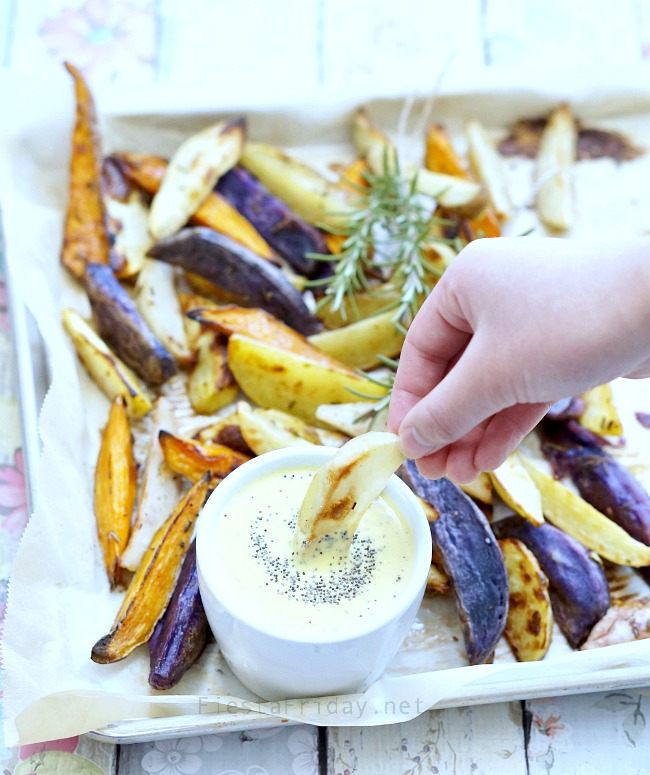 There's one drawback to French fries, though. They're deep-fried. As much as I like eating fried foods, I dislike the deep-frying and the mess and the smell that follow. Plus, of course, it's not the healthiest way of cooking.
So, after getting French fries twice this week from nearby fast-food joints, I decided that the third time I want potatoes, I should roast them instead.
And that's what I did.
It's a super simple recipe, but it's my favorite food, so I just have to put it on the blog.
To make it worthwhile for you, however, I made this awesome dipping sauce to go with the roasted potatoes. I swear I just made up the recipe. It's an Angie's original, folks! It's a lemon poppy-seed dipping sauce. And it's very, very good!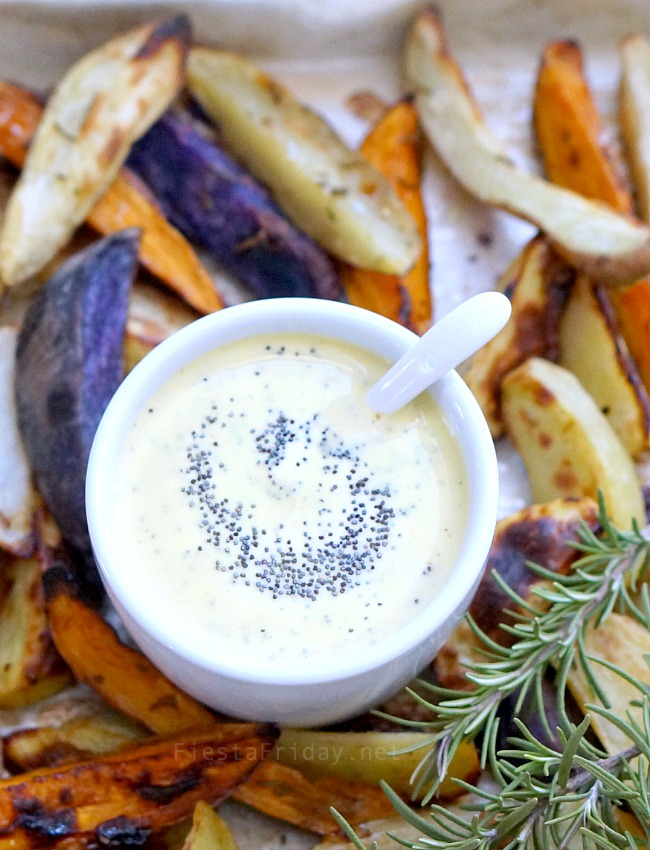 Tangy and fresh from the lemon and sweet from the honey, with a slight kick from the mustard. And then the poppy seeds give it that je ne sais quoi quality to it. Hey, we're talking dipping sauce for French fries, after all, so allow me give it a little French attribute.
It goes well with chicken fingers, too, by the way. And excellent as salad dressing. Make a lot, make a little. It's up to you. But just make it. It'll make me glad if you do, and I think you'll be, too!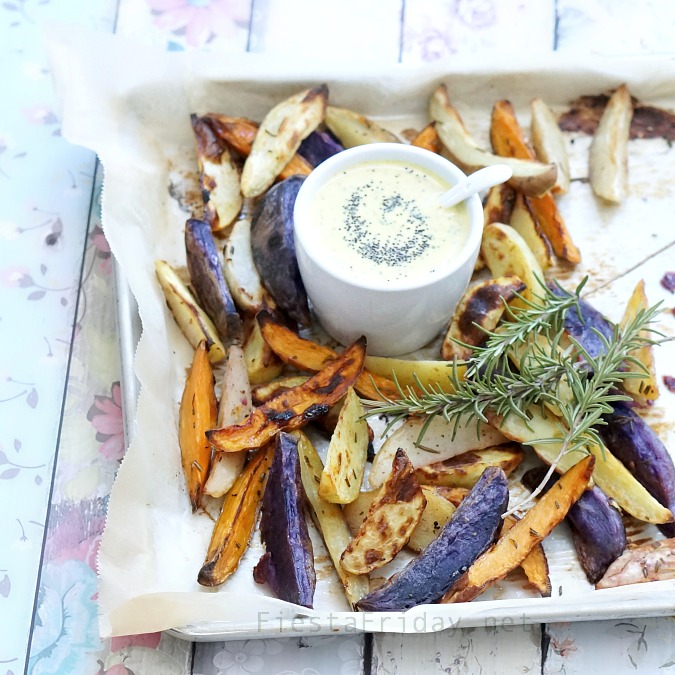 Roasted Herbed Potatoes with Poppy Seed Dipping Sauce
Author:
Angie | FiestaFriday.net
Ingredients
For the potatoes
2 pounds mixed multi-colored potatoes and sweet potatoes
¼ cup extra-virgin olive oil
1 teaspoon coarse salt
1 teaspoon freshly ground pepper
2 teaspoons chopped fresh rosemary leaves (or any herbs of your choice)
For the sauce
3 tablespoons mayonnaise
⅓ cup buttermilk
1 tablespoon honey
1 tablespoon yellow mustard
1 tablespoon lemon juice
1 teaspoon grated lemon zest
2 teaspoons poppy seeds
½ teaspoon garlic powder
½ teaspoon salt
¼ teaspoon pepper
Instructions
For the potatoes
Scrub or peel potatoes, cut into thick wedges.
Mix potatoes with the oil, salt, pepper, and rosemary.
Spread on a baking sheet in a single layer.
Roast in a 375°F convection oven for 45 minutes, flipping potatoes once halfway through roasting time (see note below).
For the sauce
Mix all ingredients in a bowl, and whisk until smooth.
Notes
If using a regular oven setting, roast potatoes at 400°F for up to 1 hour.