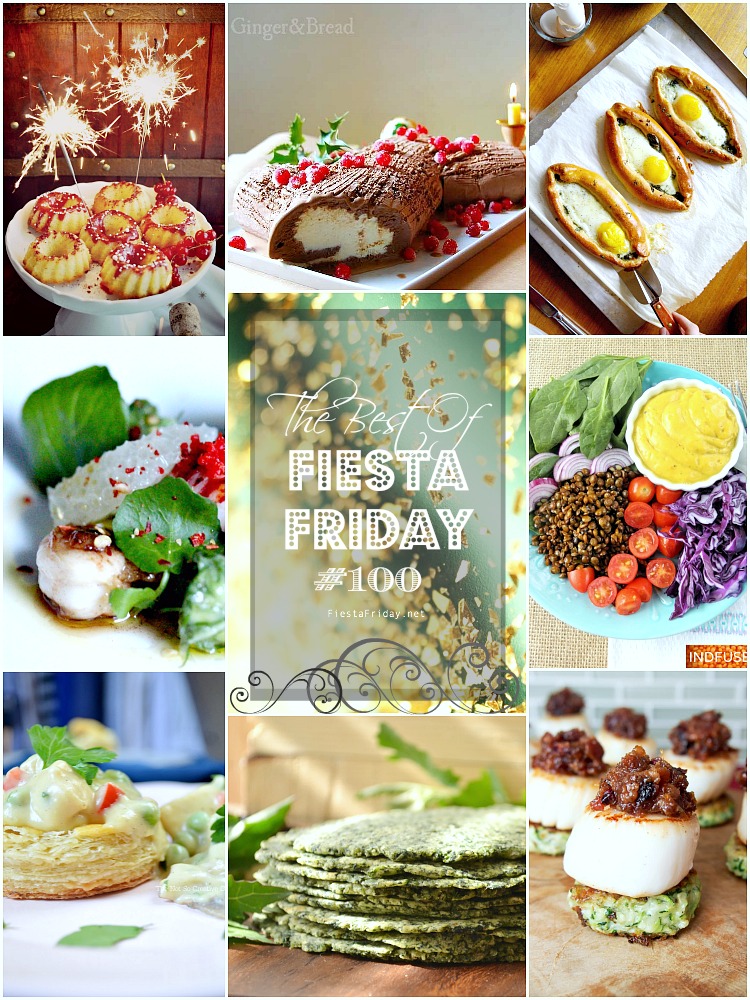 After a protracted decision-making marathon, my co-hosts and I are pleased to present to you The Best Of Fiesta Friday #100. These are some of the most exquisite recipes you'll find online.
Share them, please, with your readers by posting the collage on your Facebook page, pinning on Pinterest, and/or tweeting and instagramming about them.
You can also blog about them or reblog this post. You have my permission to reblog the post in its entirety. Start spreading the news…
The Best Of Fiesta Friday #100
Ice Cream Yule Log from Steffi @ Ginger & Bread
"The Ice Cream Yule Log was The Most Viewed link of Fiesta Friday #100. It should not come as a surprise. The Yule Log is a beloved Christmas classic, but this comes with a twist, and the most wonderful twist it is. Surely, there is nothing better than ice cream as far as desserts are concerned. To have it served in the form of a Yule Log is something special. Bravo, Steffi!" — Angie
"Steffi brought us her version of the traditional Yule Log or Buche de Noel if you are French, served only at Christmas. Instead of a sponge cake Steffi made hers with chocolate and vanilla gelato. How yummy – I love ice cream any time of the year. The Yule Log Cake dates back hundreds of years ago to Europe's Iron Age when the first known recipe appeared. Well, I am impressed!" — Judi
Mini Kransekage Bundt Cakes from Naina @ Spice in the City
"Such beautiful little cakes! They look festive and sound delicious." — Suzanne
"I wasn't familiar with these little cakes baked with marzipan – but I know it is going to be a recipe I'll try and probably make over and over. They are so festive and presented beautifully!" — Mollie
Spinach and Egg Breads from Laurie @ tentimestea
"Most Inspired Way With Eggs! They look just too delicious! Laurie is another very thoughtful and insightful blogger whose posts I am always looking forward to read. I particularly loved the attention to detail: the way the breads are rolled up from the side, I just want to take a bite and check it out for myself." — Steffi
"These caught my attention in many ways: 1) They have eggs, a most favorite ingredient 2) They come in a most creative shape; they're like bread bowls, vessels for any desired filling 3) They're adapted from an Ottolenghi recipe, and that's always a good start. And then you read the post, and you GET it! It's an overall successful post!" — Angie
Lime Candied Prawns and Lobster from Petra @ Food Eat Love
"[This is] gorgeous and creative, with flavor jumping all over the place! It's like something I'd expect at a five-star restaurant, exclusive spa or a cruise! I was wowed by the recipe and the photos!" — Mollie
"Petra brought us an elegant starter (could be a main dish too) with her prawns and lobster dish. Her food styling, preparation and recipe sold me; besides I love lobster and prawns. I also like to learn about different ingredients such as the green grapefruit, Oro Blanco which is sweeter and not so bitter that she used in her salsa. How different but knowing Petra, delicious!" — Judi
Warm Lentil Salad with Mango Ginger Dressing from Sandhya @ INDFUSED
"As we start a new year many of us are leaning towards "healthier recipes". When I saw this colorful salad bursting with flavor from Sandhya I knew this would be a winner. This beautiful warm salad with curried lentils and a lovely dressing with mango and avocado sounds delicious to me; just need to find ambe haldi pickle. As Sandhya said "a true winter bliss salad". — Judi
"[It's the] Most Convincing New Year's Resolution Food! Probably the most delicious way to stick to my resolutions of living a healthier life: the combination of different flavours and textures blows your mind away! I can't wait to give this a try. — Steffi
Chicken à la King Vol au Vents from Jhuls @ The Not So Creative Cook
"Yes, Chicken ala King with homemade puff casings! Wow! They are beautiful and I love Chicken ala King and often make it after a turkey dinner! The puffed pastry elevates it all." — Mollie
Tortillas de Quelites from Gerard @ Bread and Tortillas
"I loved the pictures of sun-drenched fresh herbs – it's what I am craving in the middle of Winter. I love his curiosity and his trust in our Fiesta Friday community: he knew that someone will tell him what those herbs are called (and I'm not surprised it was Hilda). And as a bonus, those tortillas look and read delicious." — Steffi
"In Steffi's words, this won the "Best Tortilla of the Fiesta" Award! What's a fiesta without tortillas, eh? And these tortillas are très cool! Anytime wild weeds and fresh herbs are involved, I come running!" — Angie
Scallops with cranberry bacon jam from Caroline @ Caroline's Cooking
"Absolutely elegant and I would gladly serve these at my holiday party." — Suzanne
*****
It's been a pleasure partying with you all! Amidst the merry-making for the last two years, we've made friends, gotten to know one another better, swapped hundreds of recipes, and most importantly, learned about different cultures and cuisines. But we want more! So, onward we march! Fiesta Friday #101 is ON!
Your party coordinator,
Angie XOXO