Anybody out there?
Or is everyone at Black Friday? It wouldn't surprise me. My own husband is there.
Or is everyone outside putting on their Christmas lights? It wouldn't surprise me. My neighbors are.
Or is everyone half-dead after downing the obligatory 4,500 calories yesterday?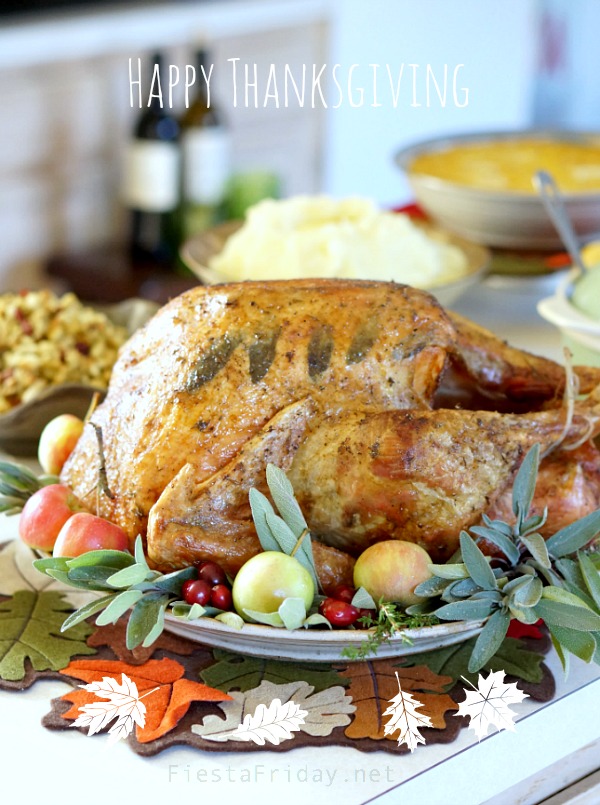 It wouldn't surprise me. I am barely alive myself.
Which explains why this post came so late. Sorry about that! I couldn't wake up!
But now I have to stay awake. I have half a turkey to deal with.
Hmm…what to do, what to do?
***
Now, look at these! Even with all the Thanksgiving leftovers around me, they still make me drool!
Butterflied Roasted Chicken with Spiced Butter Rub from Vasun @ Cupcakes & Curries
"Vasun has presented us with a wonderful twist on the traditional Thanksgiving feast. I imagine if you weren't feeding a multitude of people, this would be the perfect meal for two or three. I like the idea of butterflying the bird too, it takes less time in the oven, and look at all those amazing flavors – Madras curry powder, garlic and onion? Now why didn't I think of that? The crispy exterior with the fried onions, curry leaves and sea salt sets the bird off beautifully as does her presentation." — Loretta
Pumpernickel – German Rye Bread from Steffi @ Ginger & Bread
"This pumpernickel sounds absolutely heavenly. What a recipe and baking it for 14 hours! I will daydream of this bread with smoked salmon, Parma ham, cheese, you mention it I know it will be delicious!" — Petra
Coconut, Orange and Olive Oil "Squares" from Margy @ La Petite Casserole
"When I saw this recipe, I wanted to make it right away. These are wonderful ingredients you would have in your pantry. I was sold when I read olive oil. With the addition of coconut and the orange zest and juice, this cake I imagine would be beautifully moist and because of the olive oil, you could eat more than one slice at a time and not feel the guilt. Love the pictures and the presentation too, just beautiful!" — Loretta
Flatbreads Aplenty from Elaine @ foodbod
"As much as I love meat and seafood I love my vegetables. This is a perfect way to add even more veg to your daily meal and it looks so delicious! I think it would make anyone happy to bite in to one of those breads and just enjoy. The only downside to these is that I am not sure I would be able to stop myself once I got started!" — Petra
***
Now, let's party! Join Fiesta Friday #96 by adding your link. If you're new to Fiesta Friday, please read the guidelines.
We'll be voting for our favorite links this week. Don't forget to come back on Tuesday to cast your votes!
[inlinkz_linkup id=585665 mode=1]