Paris on my mind these days…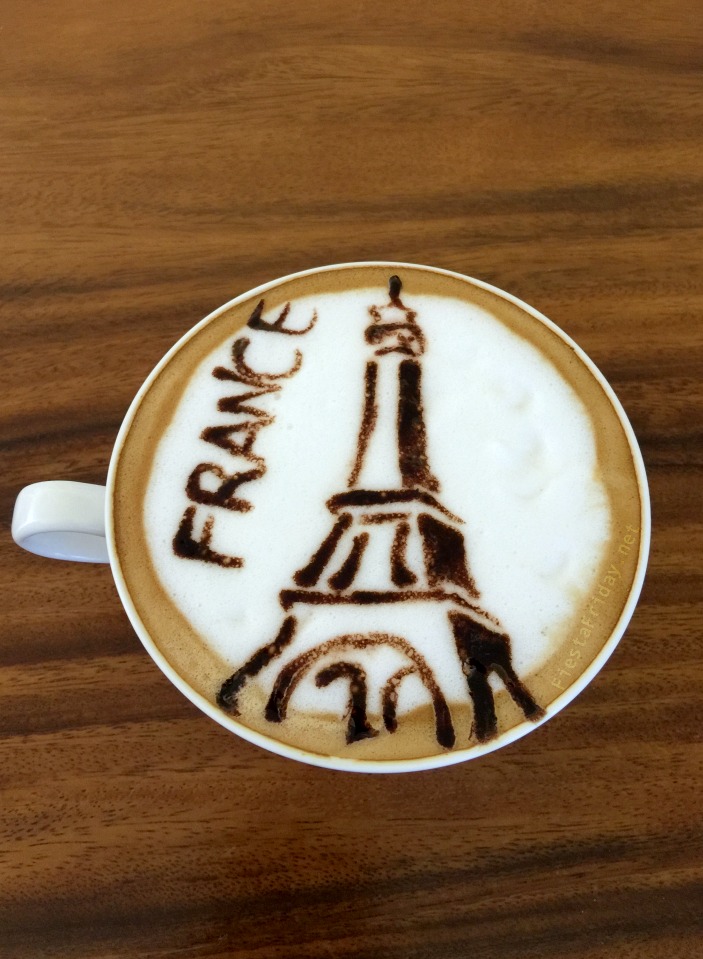 Latte art by my sister. She's quite the barista.
There's a lot I don't know…
I won't pretend to understand the human psyche that drives anyone to such violence…
I can't explain if global politics or socio-economic status was at play with what happened…
I don't know anything…
But I know one thing for sure…
Everyone wants and needs to feel safe…
This father and his precious little boy said it best…
Wishing you all a Happy and Safe Thanksgiving! I have a lot to be thankful for…
***
Last week's outstanding posts are:
Roasted Pears with Lemon Cream & Maple Caramel Sauce from Mollie @ The Frugal Hausfrau
"Does this dessert make you hungry or what? A real show stopper with roasted pears in a rich maple syrup/apple juice mixture where the sauce caramelizes towards the end of the cooking time. To serve, Mollie made lemon cream with lemon curd, yogurt and whipping cream that she dolloped around the pears. To top it off, how about some scrumptious Almond Praline. I need to make this soon, how about you?" — Judi
"I really don't know what else to say about this other than "Yummy, get in my belly!!" Poached pears are awesome and the combination with the lemon cream, maple caramel syrup and almond praline just have me wishing I taste through the computer screen!" — Stef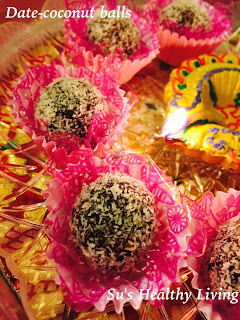 Date-coconut Balls (Khajoor laddoos) from Suchitra @ Su's Healthy Living
"The Indian community has recently been celebrating Diwali,or the festival of lights, which is an ancient Hindu festival. It is similar to Christmas with lots of shopping, fireworks and families display lights in and out of their homes. A lot of sweet and savory dishes are made and Su brought us these sweet, but healthy, balls made with dates and coconut and no baking
involved. Su presented her own festival of lights in her pictures with the pink wrappers – mesmerizing don't you think?" — Judi
Stuffed Crust Cheddar Salami Pizza from Shani @ The Weekend Sugar
"Every since I was little I have always loved stuffed crust pizza, you can never have too much cheese when it comes to pizza!! I love the way this recipe is so simple to follow and with the video instructions!" — Stef
Fall Apple/Pear Tart from Suzanne @ apuginthekitchen
"Suzanne shared one of her sweet tarts with a flaky, buttery crust. Don't you just love the leaves she made for the top of her tart? Almost too pretty to cut into! Pears and apples mixed with some brown sugar and for me, I prefer the Poire William liqueur added to mine. You're right Suzanne, this tart just says home and comfort." — Judi
"Gasp! I just LOVE this! So beautiful! I'm going to copycat…okay, okay…I'm going to emulate. There, does that sound better now?" — Angie
***
Now, let's party! Link up, please! Not just to this site, but to your co-hosts as well, Loretta @ Safari of the Mind and Petra @ Food Eat Love.
If you're new to Fiesta Friday, please read the guidelines.
[inlinkz_linkup id=583943 mode=1]