You know what? I just realized I don't have a picture to set as the featured image on here. We haven't been selecting features.
So I'm posting this picture, instead.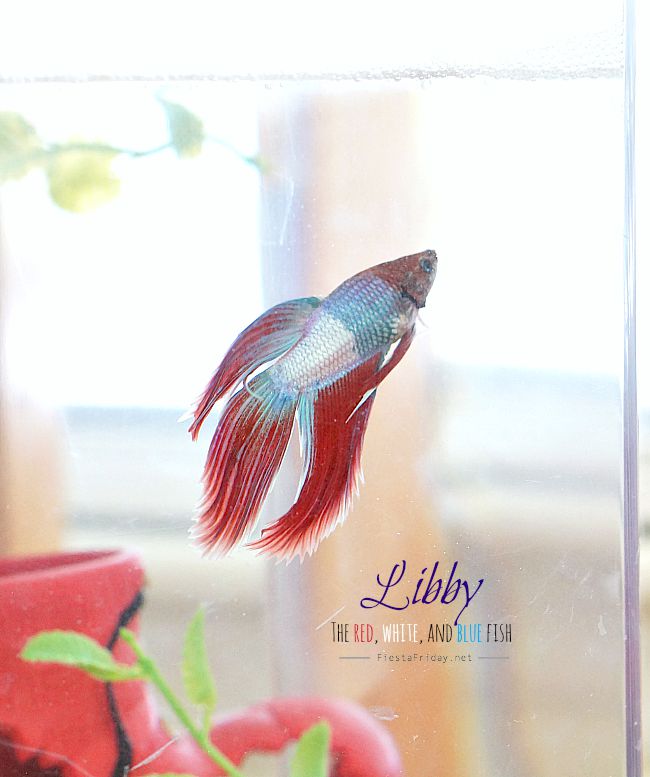 It's our new baby.
We got him on the 4th of July, so we've christened him Liberty, shortened Libby for everyday conversation.
It's a girl's name for a boy fish, but the truth was we had no clue at the time that we bought a boy fish.
At any rate, the daughter felt that we've liberated him from a depressing life of being stuck in a cup on a store shelf. And besides, he's red, white, and blue. So, the name stays.
Oh, how my kids love Libby! They've been deprived of a pet for so long that even a pet fish is enough to get them so happy.
For now, at least…
Yesterday I overheard their whispered conversation. They're plotting to steal the neighbor's cat…
***
Fiesta Friday #78 is live. Your co-hosts are Judi @ cookingwithauntjuju and Petra @ Food Eat Love. It's Petra's first time co-hosting. Welcome her, please, with open arms!
Tell us what tickles your fancy this Friday. Share with us what you've been cooking, eating, doing, dreaming of, etc. Fiesta Friday is not limited to only recipes. We want to get a little glimpse of your life. The parts you're willing to share, of course.
Join Fiesta Friday #78 by adding your link. To add your link, click on the blue "Add your link" button below. If you're new to Fiesta Friday, please read the guidelines
[inlinkz_linkup id=548013 mode=1]