Hey, guys!! I feel like I haven't been here for a loooong…time! Remnants of TS Bill (maybe? or maybe it was just a regular old tornado) visited us and I had to deal with 2 days of no power and internet service. Aaand…a refrigerator + freezer full of melting mess. Aaand…a yard full of scattered debris and fallen trees. Aaand…a hole in the fence…and so on…
Anyway, things are starting to get back to normal, which is a relief. And most importantly, everybody in the neighborhood is safe!! Although it looked like a war zone around here for a while.
Consequently, I didn't have much time to visit your posts. I'll make up for it this weekend, ok? I intend to party 'til I drop! Are you with me?! I know our co-hosts are! They're Loretta @ Safari Of The Mind and Caroline @ Caroline's Cooking.
Please link your posts to their blogs as well as this post. That way you'll be considered for features. Like these posts from last week's party: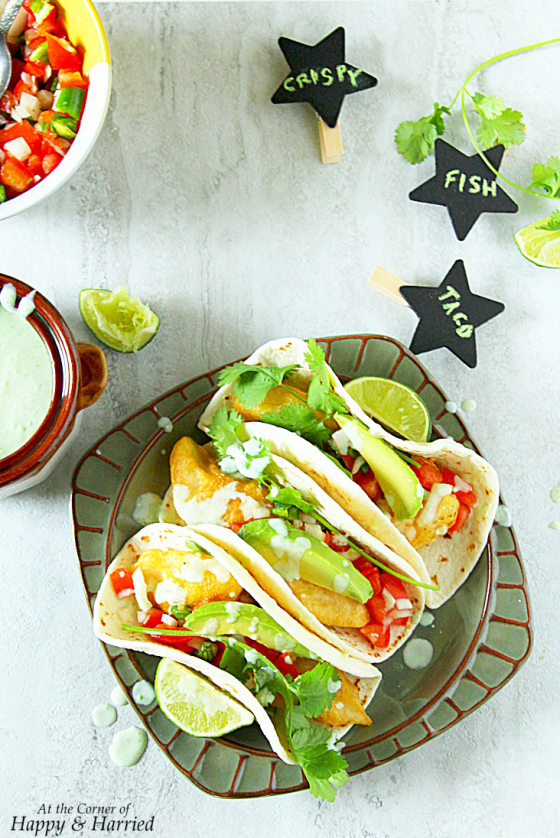 Crispy Fish Tacos With Jalapeno-Cilantro Yogurt Sauce from Anjana @ At the Corner of Happy and Harried
"Anjana shared her scrumptious looking crispy fish tacos. Her pictures and presentation just make you want to have them for dinner too! I try to stay away from fried foods but I will make an exception here as these tacos are just too special. I mean fried fish, a jalapeno yogurt sauce, pico de gallo and even some avocados – now who's not to like this dish. No wonder she had trouble keeping her husband and son away from eating those fried bits of goodness. I mean she had to get her pictures!" — Judi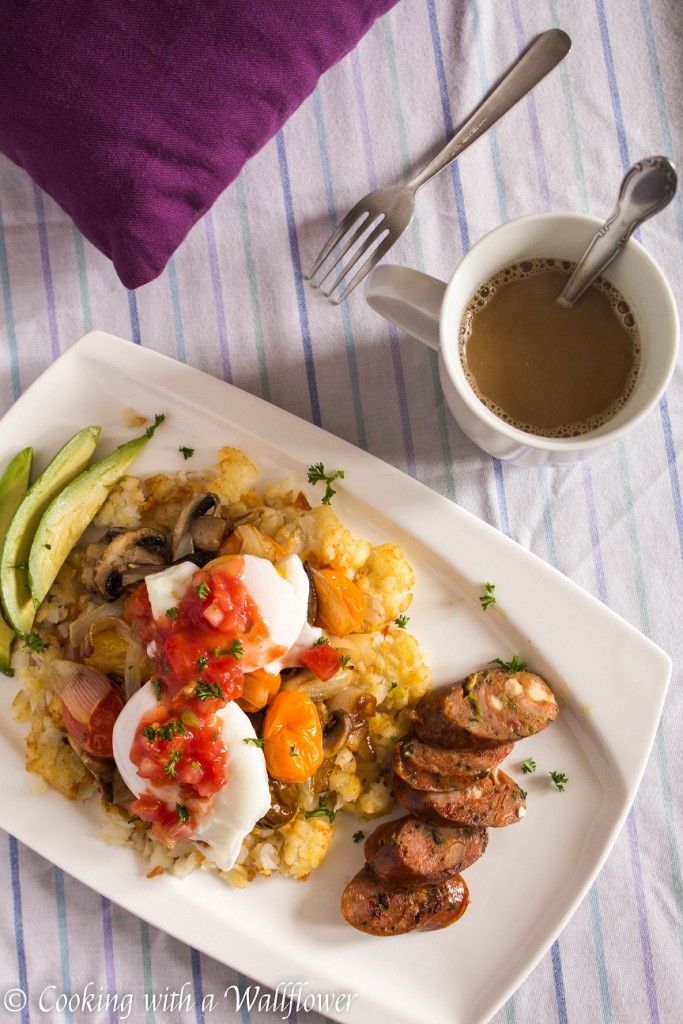 Poached Eggs over Smashed Tater Tots from Andrea @ Cooking with a Wallflower
"I love breakfast food, but I rarely eat at breakfast time – I could definitely be persuaded to eat in the morning if somebody brought me this dish from Cooking with a Wallflower – so many delicious flavours and textures, forget breakfast – I'm making this for dinner!" — Michelle
Lemon Dill Rolled Cake from Laurie @ tentimestea
"I can't host FF and not pick a cake in my features, that would be madness and you'd probably think I was sick! Even without my major sweet tooth, this cake takes a top spot for me this week! I love herby cakes and the way the dill is added to this cake is just too beautiful. With such fresh flavours, I could almost pretend this is good for me!" — Michelle
Pork Tenderloin with Warm Harissa, Couscous & Roasted Vegetable Salad from Josette @ thebrookcook
"Josette brought one of my favorite cuts of meat, pork tenderloin. But this is no ordinary dish as she adapted it from Martha Stewart, so we know it has to be good. Look what's included, harissa paste (just love all of the spicy ingredients), couscous and roasted vegetables that are tossed with a warm salad which includes herbs, tomatoes and onions. Then the pork slices are added to this very appetizing meal. Even though summer has started and I think of this kind of dish in terms of "Fall" I am looking forward to making this regardless of the weather – I can always grill the pork!" — Judi
*****
Now let's party! Join Fiesta Friday #74 by adding your link. To add your link, click on the blue "Add your link" button below. If you're new to Fiesta Friday, please read the guidelines
[inlinkz_linkup id=539327 mode=1]