A perfect Cinco de Mayo appetizer, crisp on the outside and soft on the inside, boat-shaped Sopes can be topped with literally anything you like!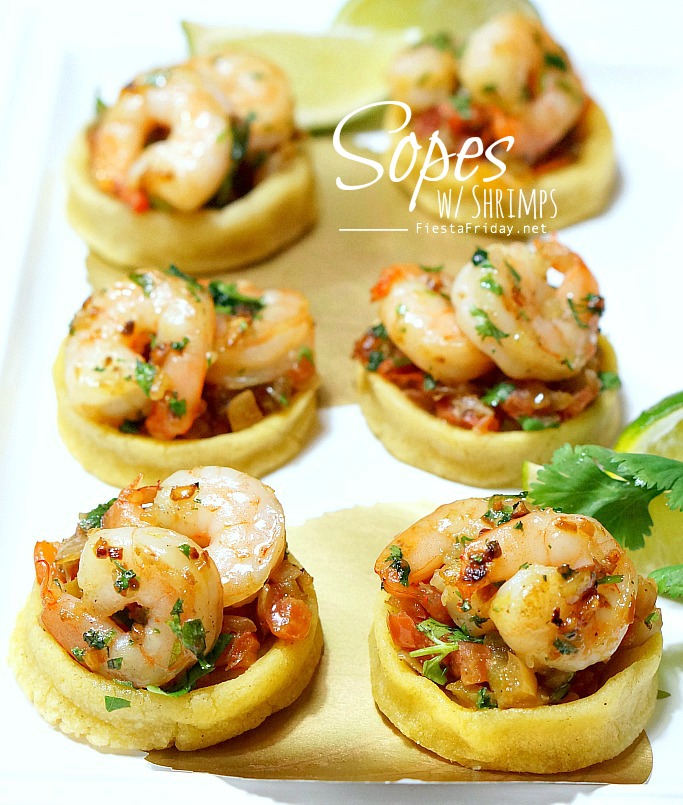 I find it baffling that Cinco de Mayo will be here tomorrow! Last time I checked the calendar, I swear it was Cinco de Marzo!
But no complaining allowed! It's Cinco de Mayo, which means it's fiesta time, olé!
And fiesta time calls for special fiesta fare. Like Sopes con Camarones a la Mexicana! It's really just Sopes with Shrimps a la Mexicana. A la Mexicana is really just anything with onions, tomatoes, and chiles. But I just love saying things en Español. Especially for Cinco de Mayo.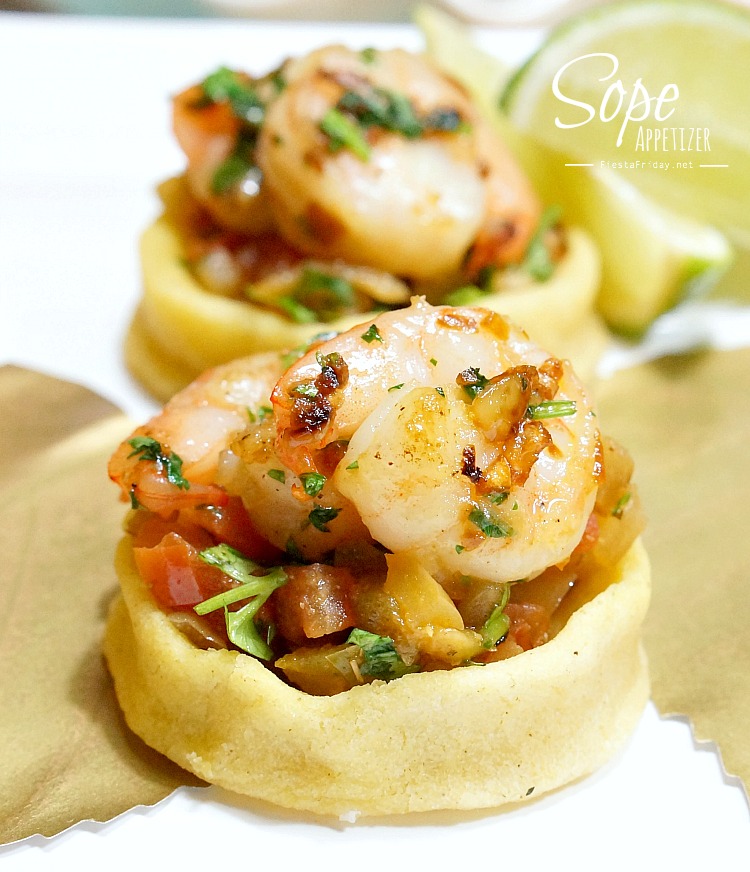 So, Sopes (pronounced "so-pays"). I first found out about them while watching Martha Stewart. What else is new? I get ideas and learn new things from her all the time.
This renowned chef Rick Bayless was demonstrating how to make these little boat-shaped appetizers he called sopes. I was wide-awake with intrigue. I had never heard of sopes before.
Apparently they're considered street food in Mexico, but I think they also make the perfect appetizer for a fiesta.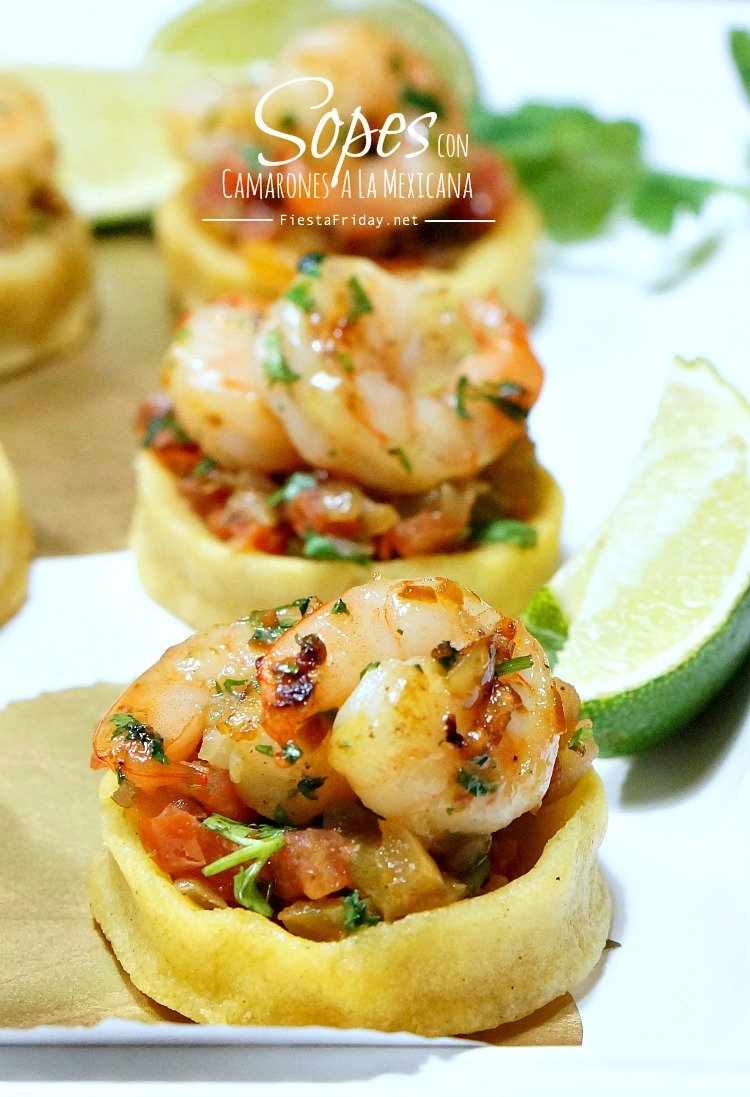 Traditionally they're made with masa harina, but Chef Bayless added mashed potatoes in his, which make these sopes fluffy and light.
Watch how he created these sopes in the video. He later deep-fried them in oil. The video seems to have been cut short but I remember the episode quite well.
Well, well…I take exception to that, Rick Bayless! First of all, there's an easier way to form this little boats. And it doesn't involve burning your fingers, which was what happened to me the first time I tried his method!
Secondly, there's no need to deep-fry. Let me show you.
How To Make Sopes
Clearly, the best method to form sopes is by using a biscuit/cookie cutter. You just drop your dough balls and press them against the cutter while giving them indentation in the center.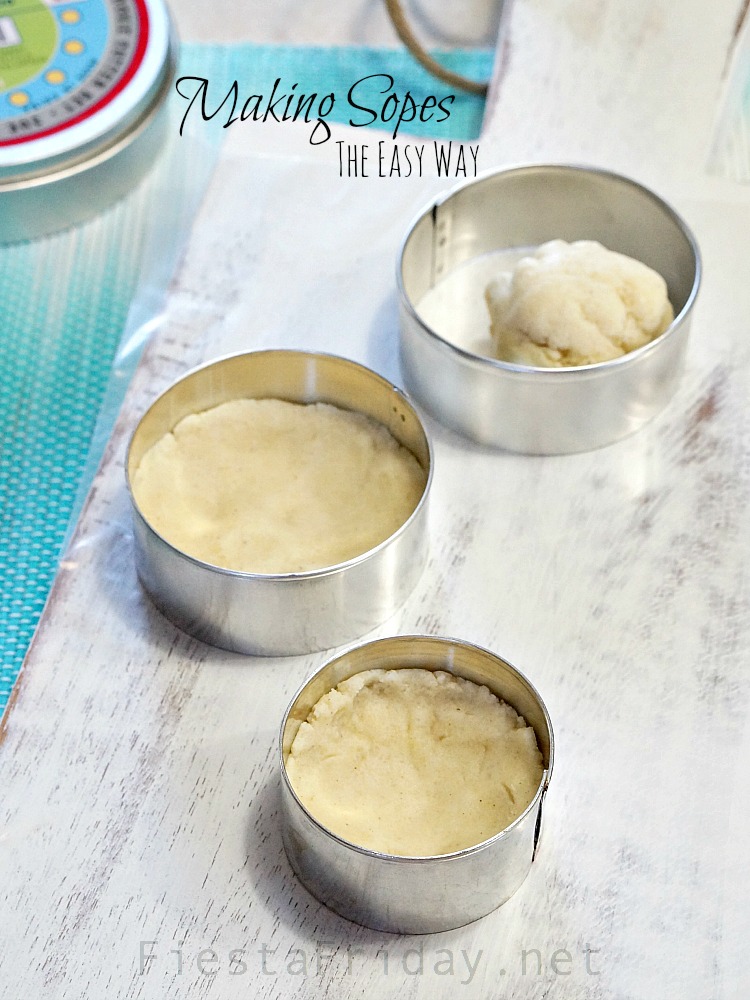 Then just pull off the cutter. You may have to push down the sopes gently as you pull up the cutter, but they come off easily.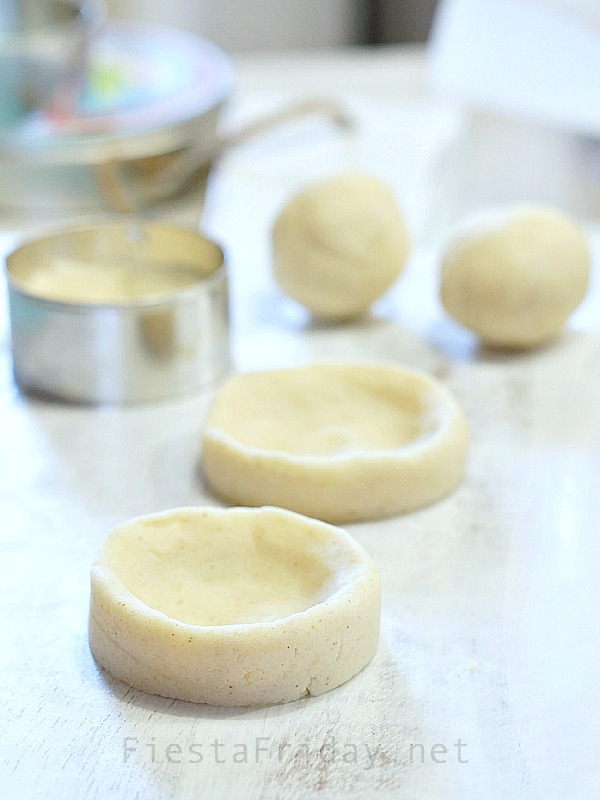 See, you get perfect rounds every time!
Then you line them up on a cookie sheet that's been sprayed with non-stick cooking spray. Or in my case, one that's been used to roast potatoes. Brush them with melted butter and stick them in the oven.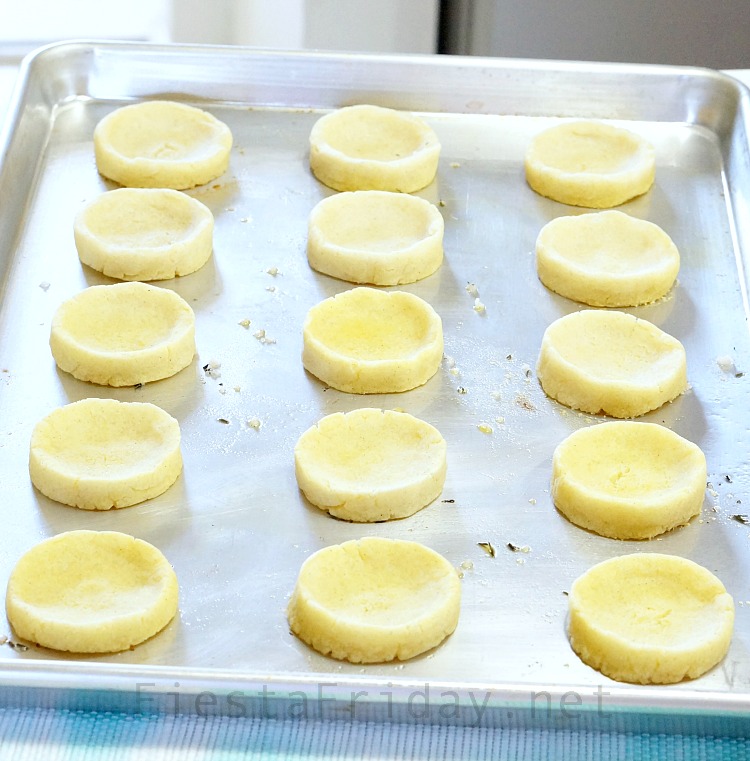 See, they turn out perfect! Crisp on the outside and soft on the inside, just what sopes are supposed to be.
The toppings can vary. You can make these sopes vegetarian or carnivorous. Is that the right word? Who is the English expert here? They really are versatile little appetizers.
You can top them with salsa or cheese or salsa and cheese. Or shredded chicken, beef, or pork. Or chicken, beef, or pork with salsa and cheese. Anything!
Including shrimps, which I thought have more of a fiesta feel.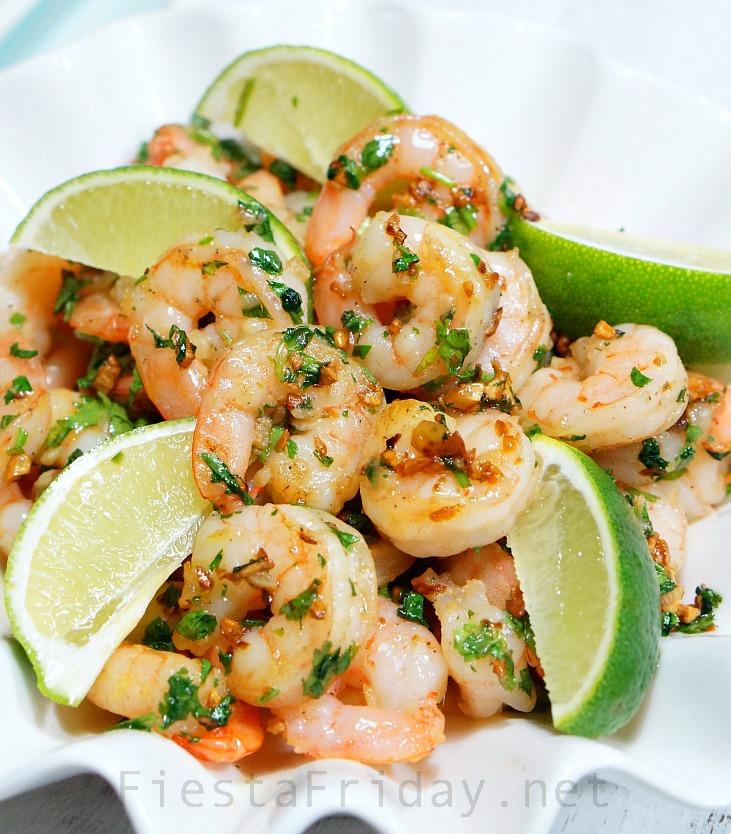 Feliz Cinco de Mayo, todo el mundo!
Sopes for Cinco de Mayo
A perfect Cinco de Mayo appetizer, crisp on the outside and soft on the inside, boat-shaped Sopes can be topped with literally anything you like!
Author:
Angie | FiestaFriday.net
Ingredients
For the sopes
1 cup masa harina
1 medium potato, boiled and mashed (about ½ cup)
1 cup hot tap water
2 tablespoons melted butter
1 teaspoon salt
For the shrimps
1 lb medium shrimps (about 30), peeled and deveined, patted dry
2 cloves garlic, finely minced
1 onion, chopped
½ green bell pepper, chopped
1 jalapeño pepper, chopped
3 plum tomatoes, seeded and chopped
1 teaspoon cumin powder
1 teaspoon dry oregano
1 teaspoon paprika
Salt & pepper
2 tablespoons olive oil
Liberal amount of chopped cilantro
A wedge of lime
Instructions
For the sopes
Mix all ingredients together to make a stiff dough, the consistency of cookie dough.
Form into a log, cut 15 equal portions and form each portion into a ball.
Line your work surface with a piece of plastic such as a freezer bag. There's no need to cut the bag. Just use the whole bag and when you're done, you can still reuse the bag.
Using a 2-inch round cookie cutter, form the sopes by pressing the dough balls inside it, giving them indentation in the center.
Gently push off the sopes to release them from the cutter.
Place them a baking sheet and bake at 375°F for 20 minutes. Keep warm while you make the topping.
For the shrimps
Fry onion in a skillet with 1 tablespoon of the oil, until translucent.
Add the peppers and tomatoes and continue cooking until vegetables are cooked.
Add seasonings. Remove from heat and add chopped cilantro (2-3 tablespoons). Set aside.
In a separate skillet, heat the other tablespoon of oil.
Add garlic and fry until golden. Keep a close eye on it. It goes from golden to brown (aka burned) very quickly!
Add shrimps, salt and pepper.
Cook until shrimps are pink (about 4-5 minutes). Remove from heat, sprinkle more chopped cilantro (2 tablespoons) and squirt a little lime juice.
To assemble the appetizers
Place 2 teaspoons of the tomato sauce on each sope, followed by 2 shrimps. Best served immediately.
Notes
Sopes do freeze well. You can make them ahead of time, freeze, then reheat in a microwave prior to serving. You lose some of the crispness but they still taste delicious.