When I complained about my not-so-positive Pinterest experience last week, I may have given you the idea that Pinterest is not a good company or a worthy social platform. I actually think otherwise.
I think Pinterest is worth investing your time in. If I had extra time, I would devote it on Pinterest ahead of any other social media. You know why? Because of this: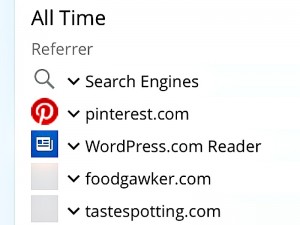 This is the summary of the top referrers of my other blog TheNoviceGardener. I'm using TheNoviceGardener as an example since it's an older site than FiestaFriday.net and therefore gives a more accurate measure on its statistics.
Do you see who my top referrers are? The #1 top referrer for TheNoviceGardener is "Search Engines" (the bulk of which coming from Google) and that is to be expected.
But do you see who is in the #2 slot? Not WordPress Reader! That is shocking to me, too! The second top referrer for my blog is Pinterest!
I find that very interesting, especially since I only opened a Pinterest account in the second half of TheNoviceGardener's 2-year life span. Yet already it has referred more views than WordPress Reader!
My direct contact with them has also been positive. Their customer support is very attentive and helpful. They will actually reply to your questions directly. Ever heard from a Facebook staff or for that matter, WordPress, directly?
Actually, I'll take the latter back. I did hear from a couple of Happiness Engineers. But Facebook is apparently faceless. I have yet to get help in solving my problems. I don't get newsfeed and I sometimes can't share anybody else's posts! But that's another discussion for another day.
For now, though, if you haven't tried Pinterest, I think you should. And please invite me to follow you, because I will.
*****
Now it's time to fiesta! I'm excited to announce a brand-new co-host for us, Anna @Anna International! And what a trooper she is! I didn't have time to find a second co-host and she has agreed to do it solo!
By the way, if any of you are interested in co-hosting Fiesta Friday, I'm accepting applications. No, really, we can use the help, so please let me know. It'd be nice to have a long list of future co-hosts so I don't have to scramble every week.
Now let's take a look at this week's featured posts: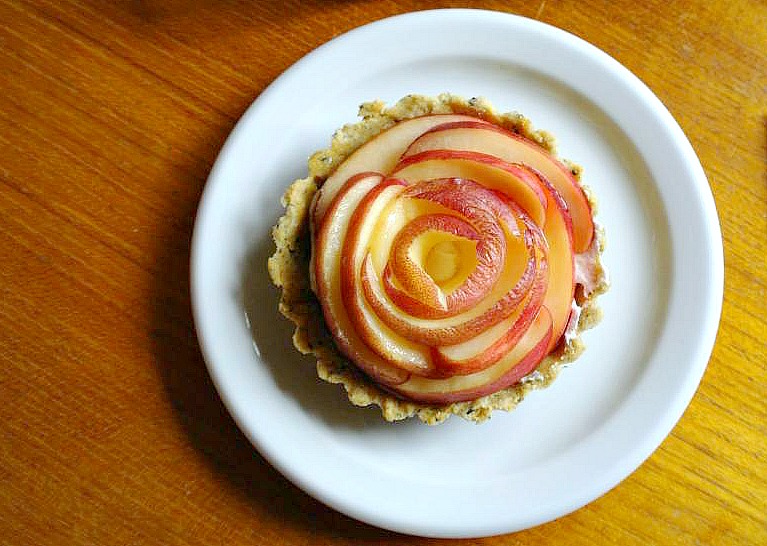 White Nectarine Black Sesame Mochi Tart from ten.times.tea.
"I loved everything about this post – the recipe, the presentation, the beautiful pictures and the story. I can relate to reading with an 'aggressive fury', and I could so see this kind of a tart being described by Murakami himself in one of his wonderfully bizarre stories. The delicate sesame tart pastry filled with mochi, cream and nectarines is unique but comforting all at once. I really want one!" — Effie
"This is simply incredible!! I love ice cream-stuffed mochi (green tea is my fave), but I never even thought you can make mochi at home. And here is ten.times.tea making mochi tart! I'm having a hard time wrapping my head around the idea. I need to spend a whole weekend to duplicate this since I'm beyond intrigued! — Angie
Lemon Macaroon Kataifi Tarts from Julianna @Foodie on Board.
"I think this is the first set of food I have seen at FF # 65 and I immediately ran into her – I just couldn't let her pass without me taking some of these amazing sweets. They look like macaroon in a nest. The Kataifi still amazes me although I have tried them before. These literally made my mouth water." — Jhuls
"Well, thank goodness, finally here's a recipe worthy to use my kataifi for. I bought that thing so long ago I can't remember when and it's been sitting in my freezer since. I've been looking for a perfect recipe for it and I think this is IT! Thank you, Julianna!" — Angie
Pansy and Herb Ice Cooler from Juju @Cookingwithauntjuju. https://cookingwithauntjuju.com/2015/04/22/pansy-and-herb-ice-cooler/
"Aunt Juju got so creative with this awesome cooler. I mean, isn't is so beautiful?? I don't drink alcohol, but I don't think I have to drink to appreciate it. Besides, you can use any bottled drink here, yes? Those pansies are just so gorgeous!" — Jhuls
"Gasp! Love it! The prettiest use for your Spring herbs and flowers, for sure! Just beyootiful, Juju!" — Angie
Hot and Sweet Chilly Prawns from Sadia @Savory and Sweet Food
"I couldn't help but have a little giggle when I saw Sadia's stripy bowl – I have the same one! But just look at all those beautiful photos, the prawns haven't just taken on the colour of the marinade, you can actually see the marinade sticking to the prawns. It's lovely, colourful and inviting, and paired with the noodles a yummy bowl of comfort." — Effie
"Mouth-watering sweet and spicy prawns! Perfect bite-sized morsels for nibbling or popping in your mouth! Would make an excellent appetizer, too, I think." — Angie
*****
It's time to party! Join Fiesta Friday #66 by adding your link. To add your link, click on the blue "Add your link" button below.
If you're new to Fiesta Friday, please read the guidelines
[inlinkz_linkup id=521577 mode=1]