Why is it that time always moves too fast when you're on holiday? I've been on Spring Break and the concept of time completely escaped me. All of a sudden, it's Friday again! The good news is that I get to party all day long with you guys. I won't have to go back to work until Monday. Woohoo!!
Meanwhile, this self-hosting deal is getting way too interesting for me. I find myself getting completely fascinated, then frustrated, by the many facets of trying to put together a website that is appealing and reader-friendly.
And nooo…I'm not going to pay for services I can do myself, no siree! If it's going to take a year to complete this site, let it be! We're going to build this site from the ground up, together.
I'm designing my own header, learning about SEO and HTML and the best plugins there are, etc., etc. I'm in it for the long haul, as long as you stay with me. You with me?
Now, let's take a look at last week's outstanding posts, shall we? Then you can party all day with me! And Jess @Cooking Is My Sport! And Prudy @Butter, Basil and Breadcrumbs! Make sure you link your posts to our sites. You want to have the chance to be featured, don't you?
Gianduja Truffles from Ginger @Ginger&Bread.
"Words fail me! They are stunning! Ferrero Rocher had better watch out!!" — Selma
"Did someone say truffles? Where, where?! Oh, there they are, Gianduja truffles! That sounds so special. Gianduja! I love the way that rolls off my tongue. Of course I probably say it wrong, but I know a great truffle when I see one. I've been well-trained since I was wee wittle girl! And these are great!" — Angie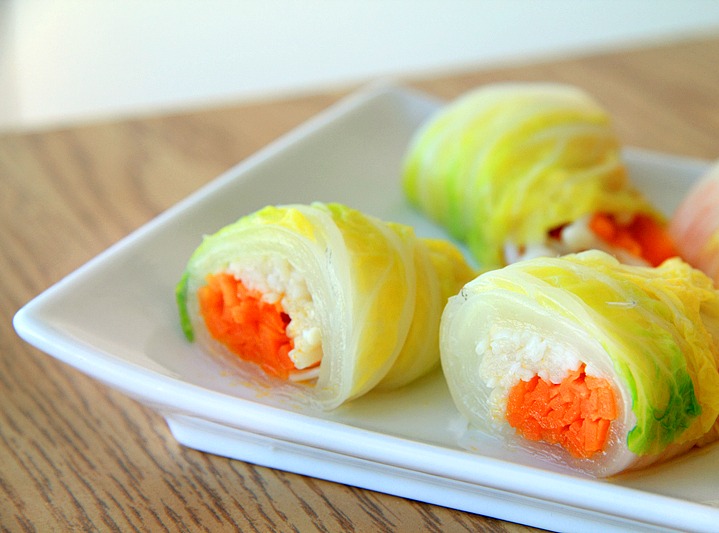 Jade Cabbage Rolls from Jing @Daily EZ Cooking.
"So, I love, love summer rolls! I crave them winter, spring, summer, or fall…all you have to do is call…seriously, I can eat summer rolls anytime! Problem is…I'm so bad at rolling them, so I always have to travel half an hour away to the nearest restaurant selling summer rolls. But I think you've given me a solution, Jing! Surely it'll be easier to make cabbage rolls! I can still fill them with whatever I want, right? And dip them in that addicting hoisin peanut sauce if I want to, à la summer rolls?" — Angie
Kung Pao Beef from Jhuls @The Not So Creative Cook.
"While I was reading this recipe, I was thinking…hmm, Jhuls can make me eat anything! I don't feel like eating meat lately, but after this looking at this dish, I might start eating it again!" — Margy
"She made me order Chinese takeout, that Jhuls, with those mouth-watering photos! And of course I ordered Kung Pao Beef! Pretty sure what I had was nowhere near as good as hers. Wish I could be her neighbor!" — Angie
Hashbrown Omelette from Ms. Frau @The Frugal Hausfrau.
"If looking at that Hashbrown Omelette doesn't make you hungry, I don't know what does! I want to dig in! Right now! With two forks! Oh. My. God!" — Angie
Spring Wreath from Sarah @Flourish & Knot.
"Sarah's Spring Wreath is very pretty and I loved seeing the process of addition and elimination that got her there." — Selma
"I was reading…and feeling totally en compasión (I hope that means sympathetic, 'coz that's what I'm trying to say) to Sarah having frozen her butt trying to make the wreath outdoors…until I hit the Jane Austen part! Rewind, rewind! What's that? Those paper flowers are made of the pages of Jane Austen novels? Now I want one! I want one with flowers made of the pages of Pride & Prejudice, please! Specifically that page where Elizabeth unexpectedly saw Mr. Darcy at Pemberley!" —Angie
It's time to party! Join Fiesta Friday #62 by adding your link!
Click on the blue "Add your link" button on the bottom of the page.
If you're new to Fiesta Friday, please read the guidelines.
[inlinkz_linkup id=512623 mode=1]