Chicken Cordon Bleu is married to Fried Wontons, and you get the most delicious offspring – Chicken Cordon Bleu Wontons. It's THE perfect appetizer!
The other night we were watching TV, the hubs and I. Of course, we were watching sports, what else? When that man has the TV on, it gets stuck on ESPN. I wasn't exactly watching closely; I also had my iPad with me, to check on emails and such. So I almost had a heart attack when all of a sudden, he jumped up!
"Crikey! It's March Madness in a week!"
Well, he didn't really say "Crikey!" We're not British, that's not part of our vernacular. But I just always wanted to say "Crikey!" myself. Especially since I have two British "blokes" co-hosting my Fiesta Friday this week. Well, they're not "blokes" either, they're "sheilas". But I just always wanted to say "blokes" and "sheilas".
And now I'm totally confusing my countries and continents. I don't think "sheilas" are British. What are "sheilas"? And can you use "blokes" like we use "guys"? You know, kind of unisex? Questions, questions, always questions! You don't have to answer if you don't want to.
Anyway, back to the husband. He most likely said something like this, "O ma gawd! I can't believe it's March Madness in a week!" And put his hand on his forehead like it was close to the end of the world. Not the end of the world yet, just close. If it was the end of the world, you wouldn't be hearing him say this next.
"Can you make appetizers? And I'm rooting for your Jayhawks this year."
Now you see what's in that man's mind? Sports and food all the time, apparently. (Sorry, hon, not making fun of you, just trying to get a post published, that's all, kiss…kiss!) If you wanted to know, I happen to be married to the smartest guy on earth. He does something like rocket science stuff for work.
And what he meant to ask was for me to make some snacky foods for his March Madness Marathon, which will start next week. And no, he doesn't have to bribe me, either. He really does like the Jayhawks. Although his heart will always bleed Bruin blue.
So, I've been trying out a few appetizer recipes to make sure my favorite scientist will have something good to munch on while he watches the games. These wonton appetizers are one of them.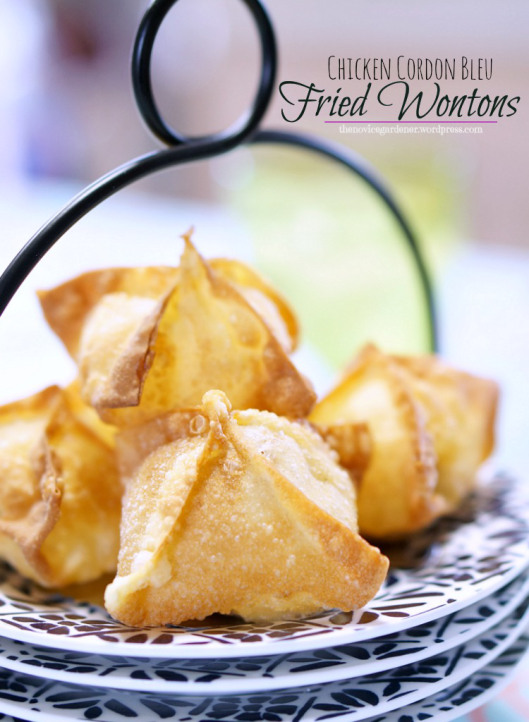 Chicken Cordon Bleu Wontons
Chicken Cordon Bleu is married to Fried Wontons, and you get the most delicious offspring - Chicken Cordon Bleu Wontons. It's THE perfect appetizer!
Ingredients
8 oz. cream cheese
1 cooked chicken breast (about 2 cups), diced
1 cup diced ham
1 cup grated Gruyère cheese
3 cloves garlic, minced
3 green onions, sliced thinly
Salt & pepper
1 egg, beaten
Cooking oil
Wonton wrappers
Instructions
Mix all filling ingredients together in a bowl until combined.
Place about 1 tablespoon of filling on center of each wonton wrapper.
Dip your finger into the beaten egg, then "paint" the edges of the wontons with the egg.
Pinch two opposite corners together.
Now bring the two remaining corners to the center and pinch to seal. Seal all to form an "x". (See how-to photos below)
Fry in hot oil for one minute, or until golden brown. Drain on paper towels.
Or you can bake them. Pre-heat oven to 400°F. Line a cookie sheet with parchment paper or spray with cooking spray. Line wontons evenly, and bake for 10 minutes, or until golden brown.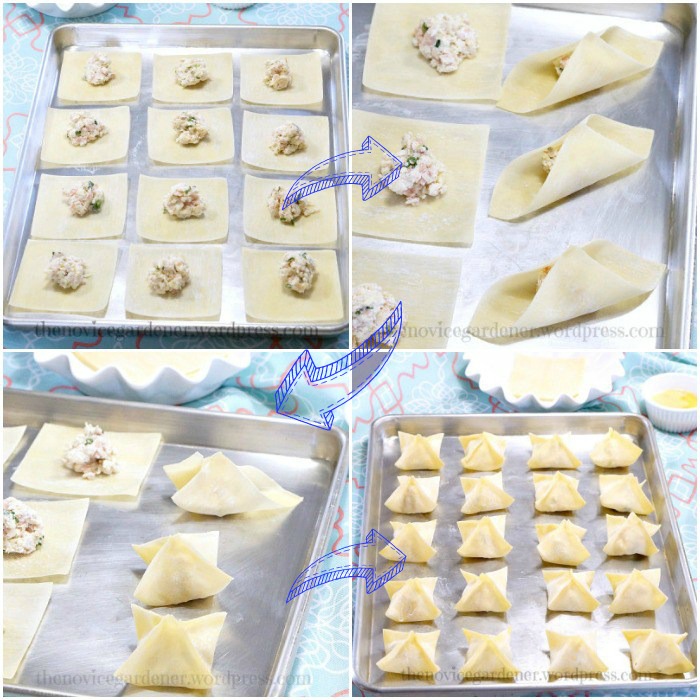 We love these dipped in homemade honey mustard sauce (just mix mayo + mustard + honey), but sweet and sour sauce would be great, too!
Although you have the option of baking these, I'm not going to lie to you and tell you that they're every bit as good as the fried version. I think you deserve my honest opinion. If you really want to enjoy these, you want them deep-fried. But of course, if you're watching your diet, try them baked.
They look prettier baked, actually.
But they taste superior fried.
Plus I love how they puff up like balloons when they're fried.
Okay now, all you blokes and sheilas, make these! And tell me what you think!
Pin This To Make Later – Follow me on Pinterest