It's a week away from Easter and I don't have any pretty pastel Eastery stuff to show you! Partly because we'll be away that weekend, so there won't be any Easter celebration in the house. Therefore, I haven't bothered putting up decorations or planning a menu.
It just so happens that Easter coincides with my school's Spring Break this year so I'm opting to celebrate the latter first, then maybe, once I get home from the short getaway, if I feel like it, I'll think of putting together an Easter brunch.
I did, however, make something prettyish early this week that may be suitable for an Easter meal.
It's this Hash Brown Crusted Veggie Quiche.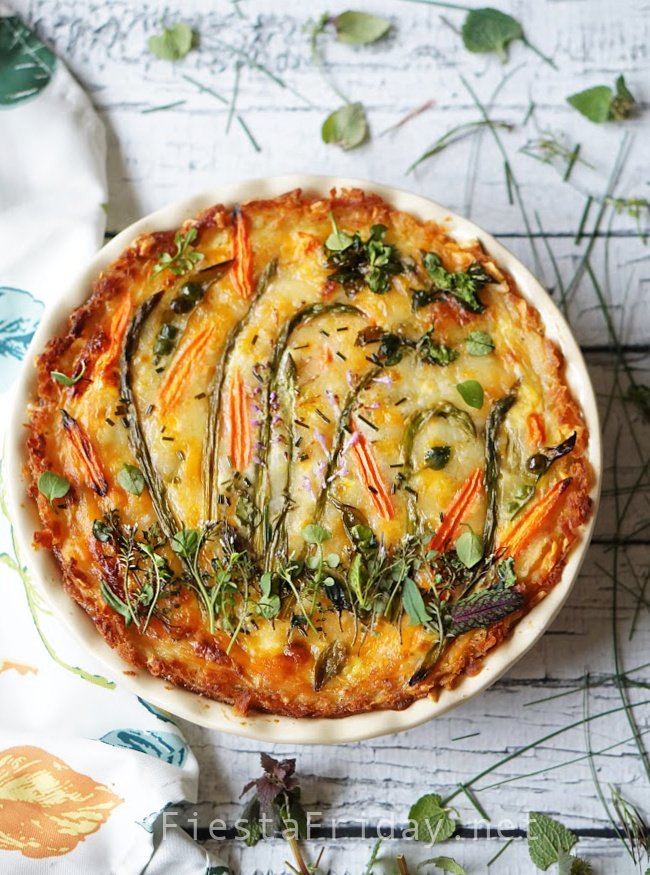 Spiked with weeds growing thickly in the area of the garden left un-mulched. Not THAT weed! I'm talking about edible garden weeds. They're just free veggies, IMO. Some of them are quite tasty. Especially in a quiche. Give it a try!
Maybe one of these days I'll write about these edible weeds that show up on my dinner plate every now and then.
But For Now, Look At These!
Bliss Balls 3 Ways
"I'm in a healthy snack/dessert phase these days and these healthy bliss balls would be perfect to munch on!" — Jhuls
"Ditto, Jhuls! Healthy bliss balls are indeed perfect for munching!" — Angie
9 Different Ways To Make Pizza
Red Glutinous Rice Wine Chicken Mee Sua
"This is such an intriguing dish! I've never even heard of some of the ingredients mentioned in the recipe, i.e., wine lees and red glutinous rice. I hope I can find those ingredients; I'd really like to give this a try." — Angie
Secret Ingredient Chili
"Cocoa powder in chili! Why haven't I thought of it?! I need to remember to add it to my chili from now on!" — Angie
***
Now, let's party! Join Fiesta Friday #478 by adding your link(s). Don't forget to link your post to FiestaFriday.net so you can be featured.
If you're interested in becoming a cohost, please let me know.
If you're new to Fiesta Friday, please read the guidelines.
You are invited to the Inlinkz link party!