Skye Update… Skye Update… Skye Update…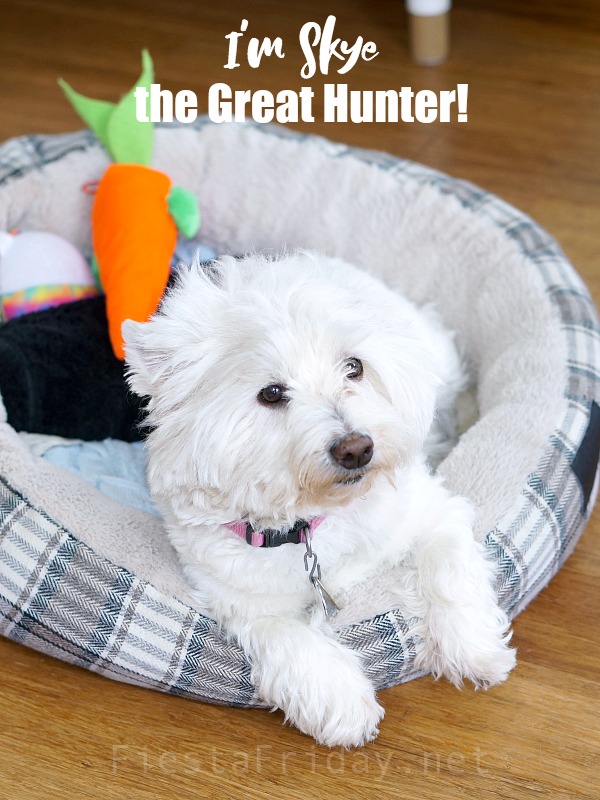 It's a triumphant week for Skye, yay!
She finally got the mole! And successfully hunted a partial animal!
The husband was walking her along the lawn strip behind the house the other day. He told me that all of a sudden in the middle of the walk, Skye just froze, with her nose on the ground. Then out of the blue, she yanked something dark out of the ground and flung it away.
The husband couldn't get a good look at it, but determined that it must have been a mole. It was small and dark and furry, he said. And Skye had killed it because the thing wasn't moving. Skye didn't go after it either. She just sort of looked at it from far, then turned the other way. Job's done!
Then, a few days later, she went lurking under the bushes in the front yard, and caught something! She immediately ran back into the house with the prized kill in her mouth. We couldn't exactly see what it was since it was already dark.
I wanted to make sure it wasn't something that would harm her, so I made her stop at the doorway to inspect. I saw some feathers sticking out of her mouth! I had to pry the whole thing out of her mouth. It wasn't easy. She really wanted to keep it.
When I finally got it out, I saw that it was a wing, almost as big as a chicken's! But it wasn't fresh; there was no blood. How it got under the bushes remains a mystery. Maybe some feral cats in the area had caught a bird and was enjoying it under the bushes, leaving the wing there. Who knows.
The point is, it was gross! Of course, I tossed it in the trash can. I wasn't going to let her eat THAT! But to reward her, I gave her the usual triple-flavored rawhide kabob stick that she loves.
Here she is looking all satisfied.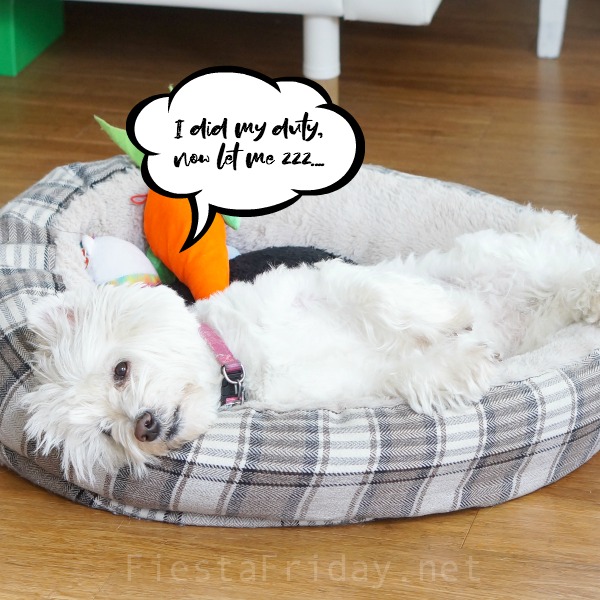 Now, take a look at these yummies
Apple Moscow Mule Mocktail from Kit @ The Kittchen
"It's been so warm lately. Is this what you call autumn?! Consequently, I'm constantly thirsty. And when I saw this drink, I came to a screeching halt. How utterly refreshing and thirst-quenching it looks!" — Angie
Peanut Butter Chocolate Reese's Birthday Cake from MarEliz @ Kocina De Pinay
"Such a beautiful cake for many reasons: Reese's peanut butter cups for garnish are my favorite candy bar, a choco cake with a peanut butter frosting – oh my, a chocolate ganache drizzle and last my birthday was the 22nd and MarEliz daughter's was the 23rd – lucky her to have such a thoughtful mom." — Judi
Halloween Cookies from Jenny @ Apply to Face Blog.
"Loved the colorful cookies with Halloween special eyeballs & spider webs. Lovely presentation & great recipe for Halloween parties." — Debanita
Pumpkin Crumble Muffins from Nicole @ Mama of Many Blessings
"Fall is all about pumpkins and I do love them in muffins especially with a sweet crumble topping. The typical seasonal spices are evident making them delicious treats for 6 of Nicole's blessings – her children. She certainly has the taste testers to give their approval, including her husband of course." — Judi
***
Now, let's party! Join Fiesta Friday #245 by adding your link. Don't forget to link your post to FiestaFriday.net and the co-hosts' blogs, so we can feature you. Your co-hosts this week are Liz @ spadesspatulasandspoons.com and Deb @ Pantry Portfolio
If you're new to Fiesta Friday, please read the guidelines.
If you're interested in becoming a co-host, please leave me a message.
[inlinkz_linkup id=802111 mode=1]