Update: Your cohosts this week are Diann @ Of Goats and Greens and Shinta @ Caramel Tinted Life. Sorry for the confusion earlier.
Time is moving even faster in 2018. Do you feel it? It's already almost mid-January!
The good thing is, at this rate, it'll probably be spring next week. Then summer the following week.
I can live with that. I live for summers. That's when I don't have to go to work, and therefore life begins.
If only I could be so lucky as to have summer year-round, sigh…
As it is, even though time seems to fly right this moment, usually some time in May, it just stops and refuses to go anywhere… Why is that?! Please let me know if you have the answer.
I have another question needing an answer. Do dogs cry happy tears? Look at this photo here of my Skye.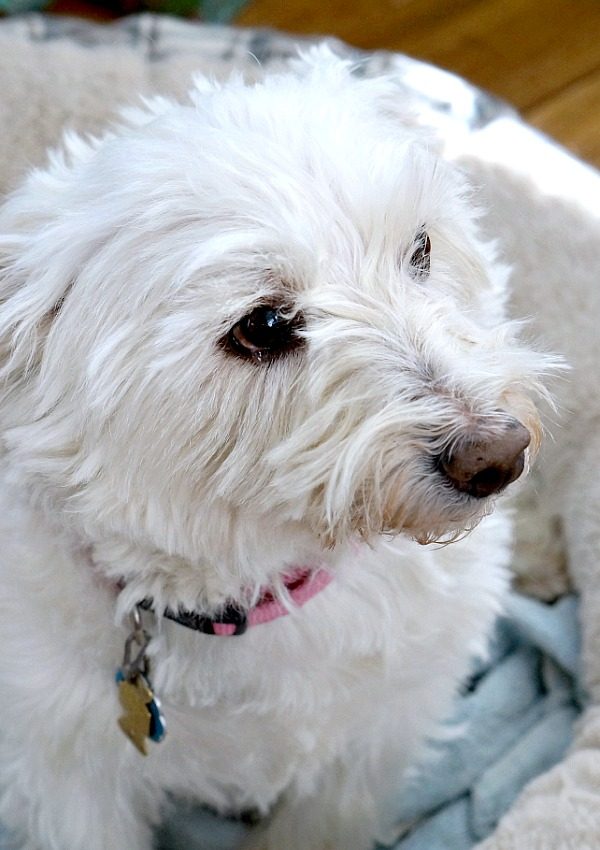 She was overwhelmed when we came back from our California trip and was so excited when we picked her up from her sitter's house. But it was her reaction when she realized she was back home that was priceless.
She ran around the yard several times while barking and yelping at the same time, rolled around on the grass, and sniffed all the bushes before going inside. Then she jumped into her bed. That's when we noticed her tears. Aaw…
Now, features
Panko Fish Tacos With Sriracha Lemongrass Sauce from Joanne @ No Plate Like Home
"Crispy fish in soft tacos, with Sriracha lemongrass sauce and slaw, I am there! With a big plate and a big appetite! Simply delicious." —Petra
Meringues Tabula Rasa from Ann @ Grubbs n Critters
"I love the Meringues Tabula Rasa, so simple, so light and so pretty! A perfect dessert to start the new year with." —Mollie
Shrimp Moqueca from MB @ Bourbon and Brown Sugar
"Fresh, beautiful flavors; just a bit of heat tamed by coconut." —Mollie
Spicy Vegan Gobi Kurkuri from Vanitha @ Curry and Vanilla
"I love cauliflower almost no matter how it's cooked but this sounds amazing. Crispy, fragrant, vegan… and that coriander chutney, I wonder if there is room at Vanitha's table for me?!" —Petra
***
Now, let's party! Join Fiesta Friday #206 by adding your link. Don't forget to link your post to FiestaFriday.net and the co-hosts' blogs, so we can feature you. Your cohosts this week are Shinta @ Caramel Tinted Life and Diann @ Of Goats and Greens
Btw, who wants to cohost next week?
If you're new to Fiesta Friday, please read the guidelines.
[inlinkz_linkup id=760578 mode=1]