So, it's been a whirlwind week here at Casa de Angie.
One child flew the coop and another came…
Here's the full story…
The day my son was to leave for college (THE very day!), a local animal shelter called to say they had a puppy matching our wishes (small, non-shedding, hypoallergenic). Would we like to get acquainted?
Now, this is the one and only call we've ever received from anyone in the last two years, despite having applied to 3 shelters and 2 online adoption sites. So, of course we said yes!
We rushed to see the puppy. It was an 8-year-old white Westie named Skye, a little chunky, scared nervous trembling thing, with not so fresh breath. She was not that small, not non-shedding but low-shedding, and not hypoallergenic. But what the heck, we decided we were in love… Yes, we would take her!
Can the shelter hold her for a few days until we come back from moving our son to college?
The answer is no… They can hold her only for one day; that's the shelter's policy. But we'll be gone for 3 days! Can we sign the adoption papers and pay for the fee now? It's not about the money, they said. Of course, of course…
Well, if it was meant to be, she'd still be here when you come back, they kindly pacified. Of course, of course…
So we left, a little more depressed than we already were… you know, because the son was moving…
While we were gone, we called the shelter daily, to see if Skye was still there…
Oh, today Skye had another family getting acquainted with her and they have a day to make their decision… Our collective heart fell…
Oh, the family decided against Skye… Our collective heart grew. But we'll take her to Petsmart today… Our collective heart fell again… We felt certain that Skye would go home with another family. Surely there would be someone who would take her…
Well it turned out no one did!
Skye is considered a senior at that age and the shelter said it is always hard to place older dogs. Well, Skye… we don't really care how old you are, we want you…
So we're now proud parents and siblings to a wonderful girl! Everyone, meet Skye!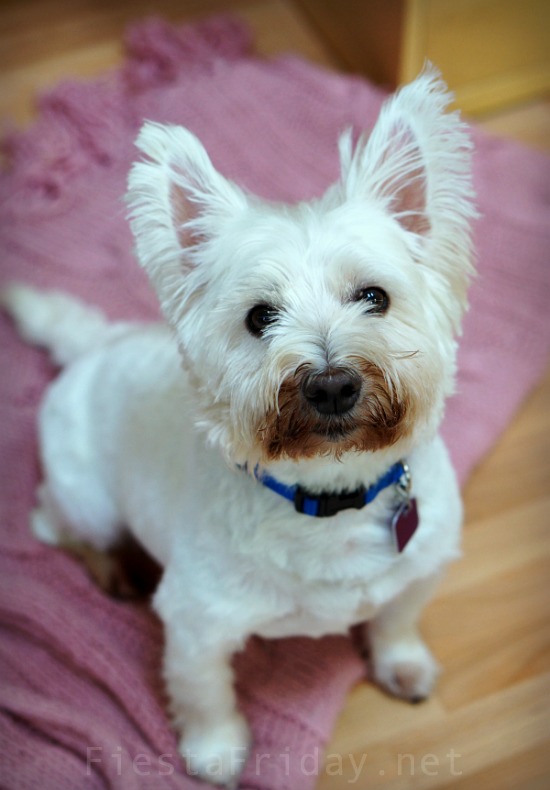 ***
So, just so you know how much of a whirlwind this week is for me, I'm also entertaining guests from out of town at the moment. That completes the story totally, doesn't it? So you'll forgive me, won't you, if I didn't have the chance to ask for cohosts? We'll just vote again, okay?
Please come back on Tuesday to cast your vote. Voting will start at noon EST on Tuesday 8/30.
I'm asking for volunteer cohosts for the next week and beyond, though. Please leave me a comment if you would like to help. Thank you very much!

***
Now, Features!
Swiss Chard, Beet Greens and Ricotta Gluten-Free Muffins
***
Now, let's party! Join Fiesta Friday #134 by adding your link. If you're new to Fiesta Friday, please read the guidelines.
Don't forget to come back on Tuesday to vote for your favorite links! To cast your vote, click on the heart icon located on the upper right hand corner of the links. You may vote up to five favorite links.
[inlinkz_linkup id=658257 mode=1]