Roasted strawberries add such a rich flavor and just the right amount of tartness to these dairy-free coconut corn muffins!
Happy Tuesday, guys! Is there such a thing? A happy Tuesday?
All I can say is that at least it's not Monday. That was when I was sick. Actually, I was sick all weekend. And still a little sick today, too, but I'm finally well enough to not be in bed all day long.
And now that I'm feeling better, I feel like chewing and eating something solid. I was pretty much living off broth, juice, and tea the last couple days, with a few pieces of fruits here and there. Always just about the only things I can tolerate when I'm not feeling well.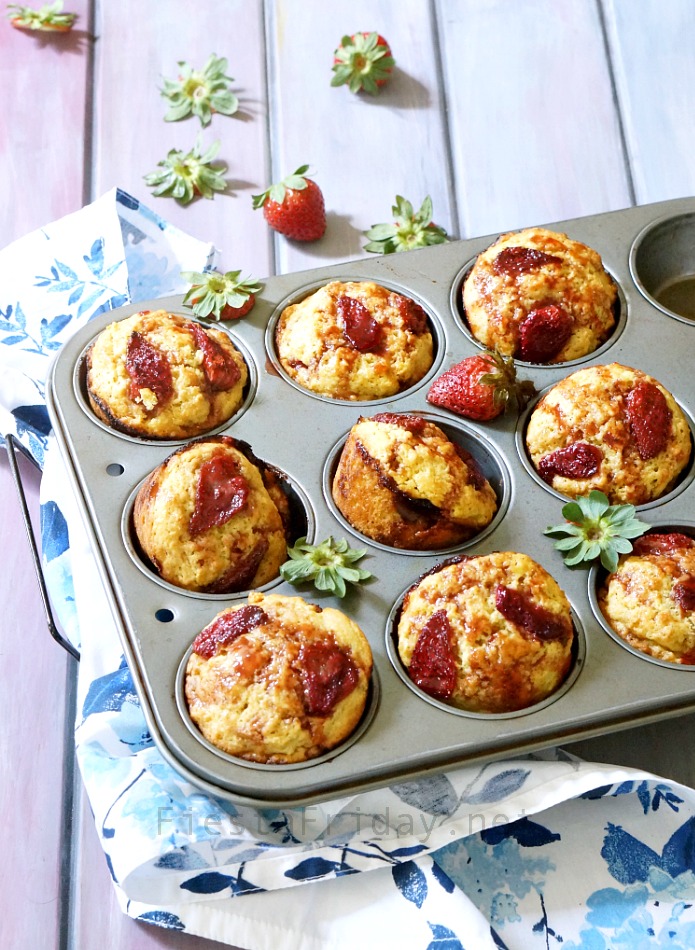 This morning I started off easy and made myself a smoothie bowl, with lots of fruits and seeds and nuts. Oh, it was so awesome! It made me feel exactly 93% better. Not 100% yet, just 93%.
In our school district, 93% and above is considered an A. And that smoothie bowl was definitely an A.
Unfortunately, I didn't take any pictures. I was too busy being sick. But, don't worry, I think I remember what I did. I'll try to write the recipe as soon as I can. If anything, so I can make it again for myself.
Now that my body stops rejecting solids, I'm thinking I can move on to muffins. Nothing too sweet, relatively healthy, and most importantly, they must be fruity.
Thankfully I have lots of strawberries. Which find themselves being roasted. Since they are a little on the sour side.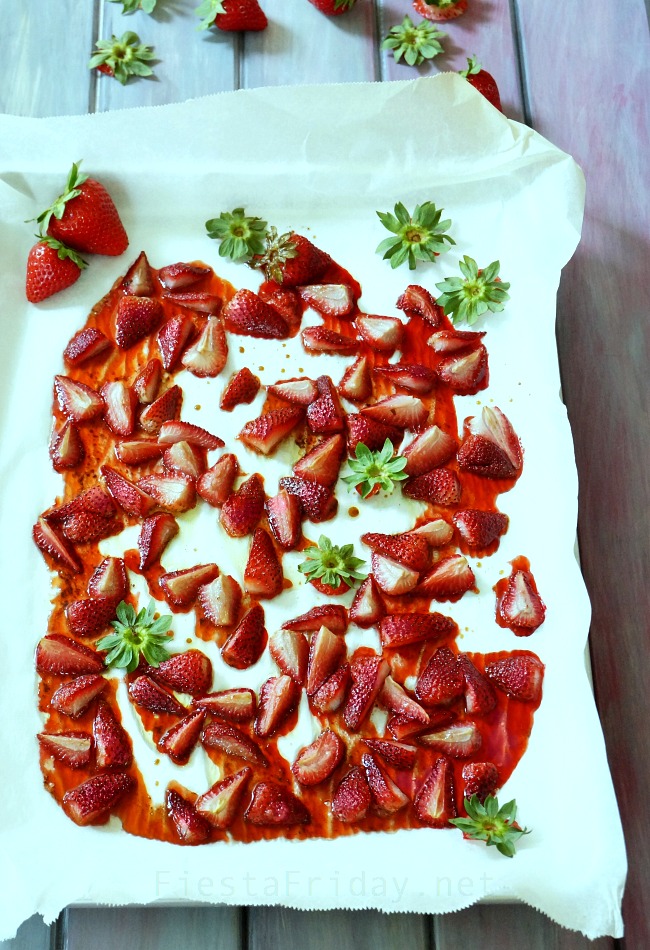 Roasting them with honey concentrates their sweet flavor. If you haven't done this, do it soon. You'd be surprised how good they are. And strawberries are plentiful right now.
And since I'm still avoiding dairy, I'm using coconut oil and coconut milk instead of my usual butter and milk. I have to say I'm very pleased with the result.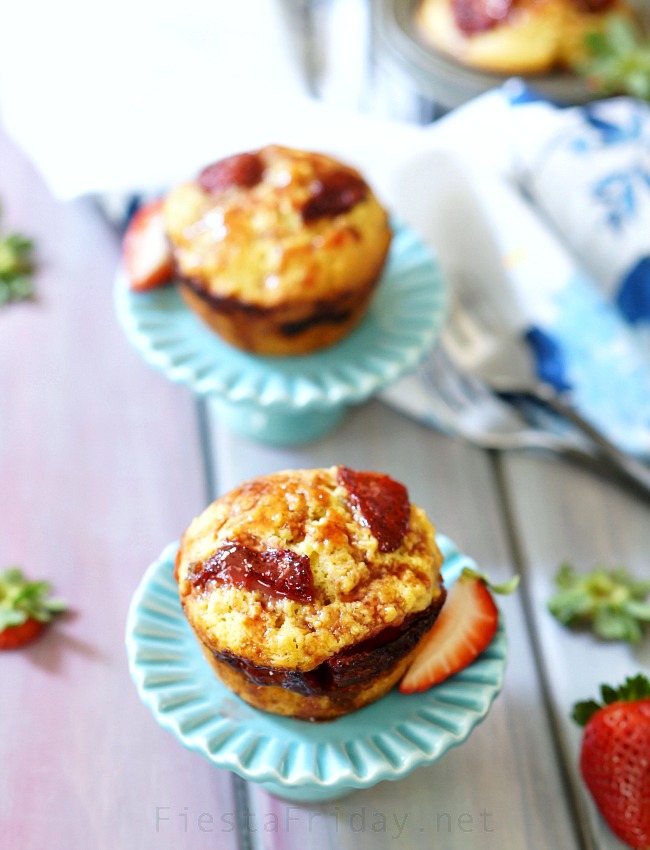 Roasted Strawberry Coconut Corn Muffins
Roasted strawberries add such a rich flavor and just the right amount of tartness to these dairy-free corn muffins!
Author:
Angie | FiestaFriday.net
Recipe type:
Breakfast/Muffins
Ingredients
1 pound strawberries
2-3 tablespoons honey
1 tablespoon extra-virgin olive oil
1 teaspoon balsamic vinegar
½ teaspoon Fleur de Sel or kosher salt
1 cup all-purpose flour
½ cup yellow cornmeal
½ cup quick-cooking oats
¼ cup granulated sugar
¼ cup brown sugar
2 teaspoons baking powder
½ cup extra-virgin coconut oil, melted (liquid)
2 large eggs
¾ cup coconut milk
Instructions
Heat oven to 350°F
Hull strawberries and cut into halves or quarters.
Whisk together honey, olive oil, Fleur de Sel, and balsamic vinegar. Toss into strawberries.
Line a large rimmed baking sheet with parchment paper. Spread the strawberries on it.
Bake for 45 minutes. Remove and set aside.
Increase oven heat to 375°F.
In a large bowl, combine flour, cornmeal, oats, sugars, and baking powder. Whisk to mix well.
In another bowl, combine coconut oil, eggs, and coconut milk. Whisk to blend. Pour into flour mixture. Whisk just until everything is blended.
Grease muffin tin. Pour about 2 tablespoons of batter into each cup, top with about a tablespoon of strawberries, and then cover with 1-2 tablespoons more batter. Press a few more pieces of strawberries on top.
Bake for 25 minutes. Remove from the oven and drizzle with syrup (juice) left from the strawberries. Best served warm.
If you like this recipe, please give it a ⭐⭐⭐⭐⭐ rating in the comments section below. Thanks!
Pin This To make Later!