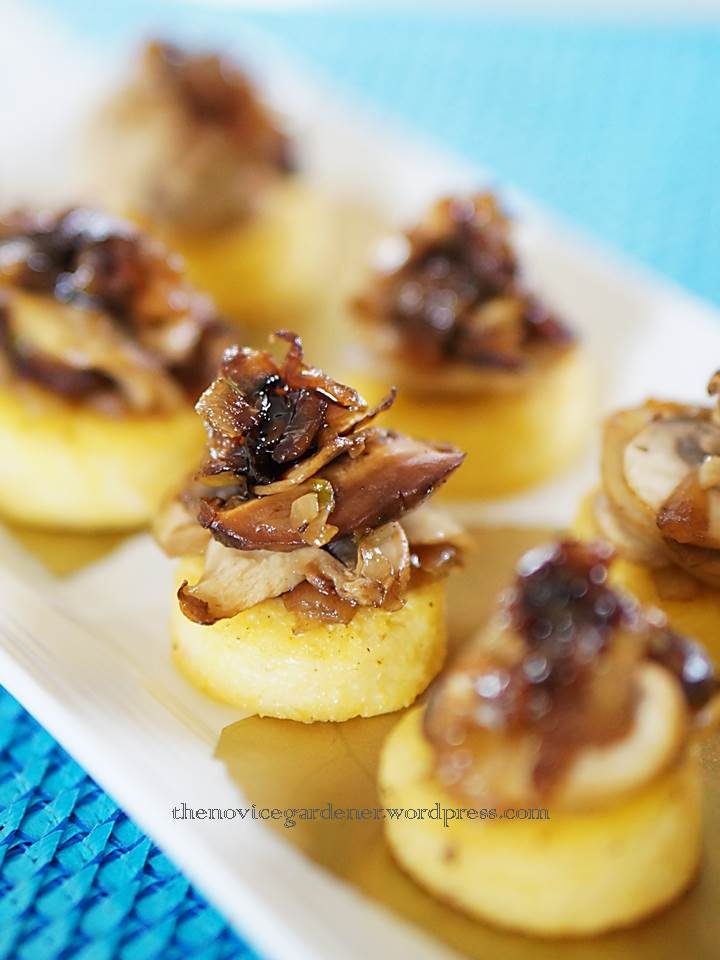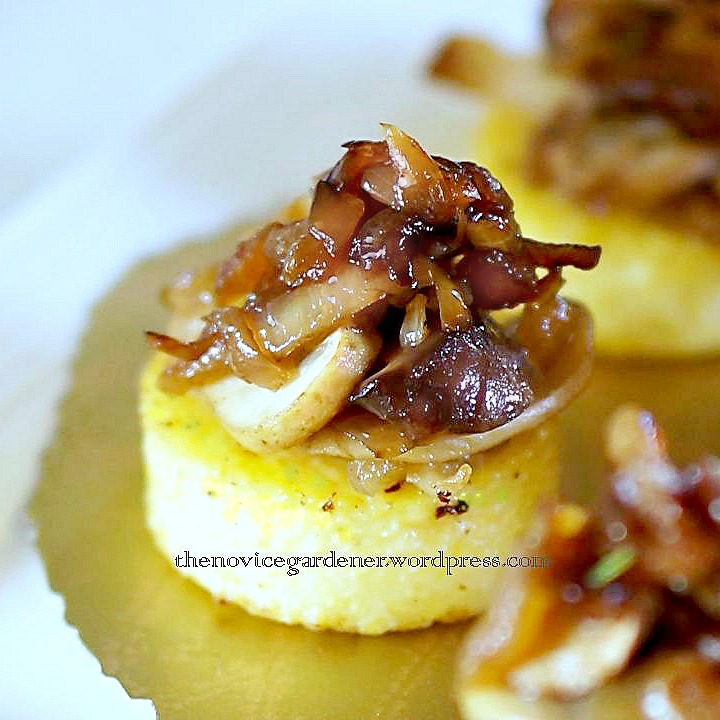 I came home from food shopping with a couple of lobsters in tow. I was going to make paella to ring in the new year.
When hubby saw the lobsters, however, he looked alarmed. Definitely not the reaction I was expecting to see.
"What are you going to do with those?"
"I thought I'd make paella."
"You didn't tell me you were making paella. I thought you're making appetizers."
"Don't you want paella?"
"I do, but I got us a reservation in the city, maybe take the kids skating, see the fireworks."
"Why didn't you tell me? I'm making all this food, and nobody's going to eat it?"
"I didn't know you were making paella!"
Grr…paella, appetizers, what's the difference, they both require time and effort. Maybe hubby doesn't think appetizers are food.
He meant to surprise me and the kids, of course, but still…tell me in advance next time!!
Yes, I know that's not how a surprise is supposed to work!!
Sorry, didn't mean to yell at you. I am so easily annoyed these days, ay ay ay.
Not because I'm tired or anything, but a stressful situation recently came up, making me all frazzled. Someone had posted a photo and an original recipe from my blog without my permission. I asked him/her to take them down, but no answer yet so far.
The whole situation has left me feeling discouraged. What's the point of coming up with ideas, developing recipes, writing and editing and writing and editing (yes, I said that twice), taking picture after picture to get that one good one to post, if someone else is going to simply copy and make money off the whole thing? Someone, please tell me! It's just not right!
Anyway, enough with the whining. That's my last whine for the year, I promise. Let's start the new year with a good, clean slate, shall we?
***
We had a wonderful time in the city. It was a little chilly, actually a lot chilly, brr…but we all came home happy. I'm feeling optimistic about the new year.
We saw the 6 pm fireworks, which was awesome. It put us all in a cheerful mood. Then, we had dinner at a Japanese steakhouse. Filet mignon and lobster, the very things I had waiting at home! Oh, well, we'll just repeat our dinner tomorrow. Can never have too much surf and turf!
We're spending the rest of the night hanging out with Mr. Cooper. Anderson that is. And Ms. Kathy Griffin.
Snacks are plentiful.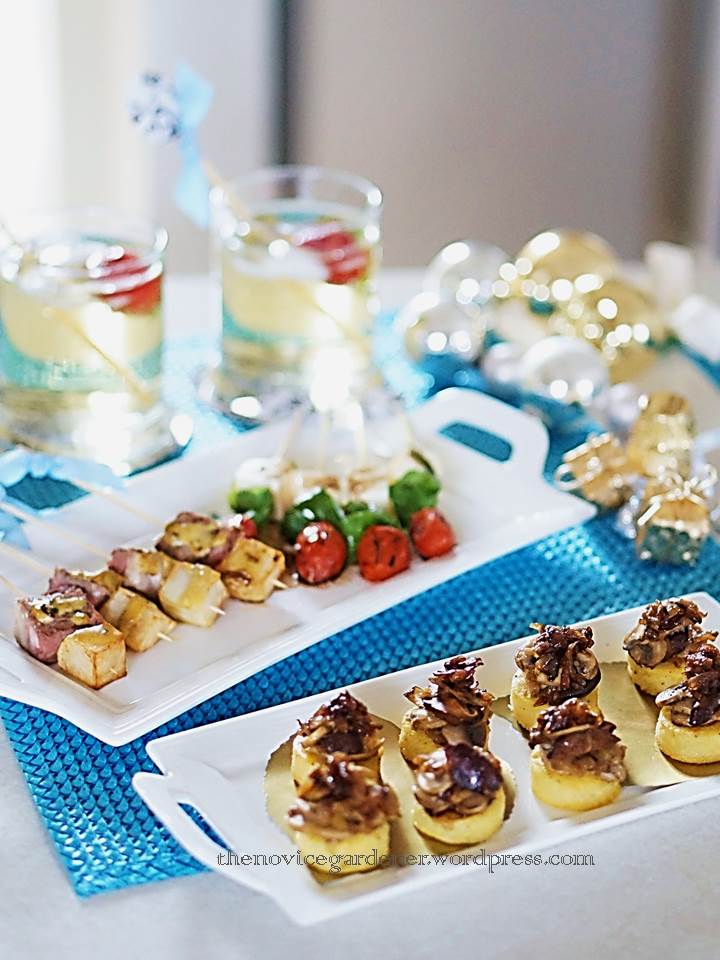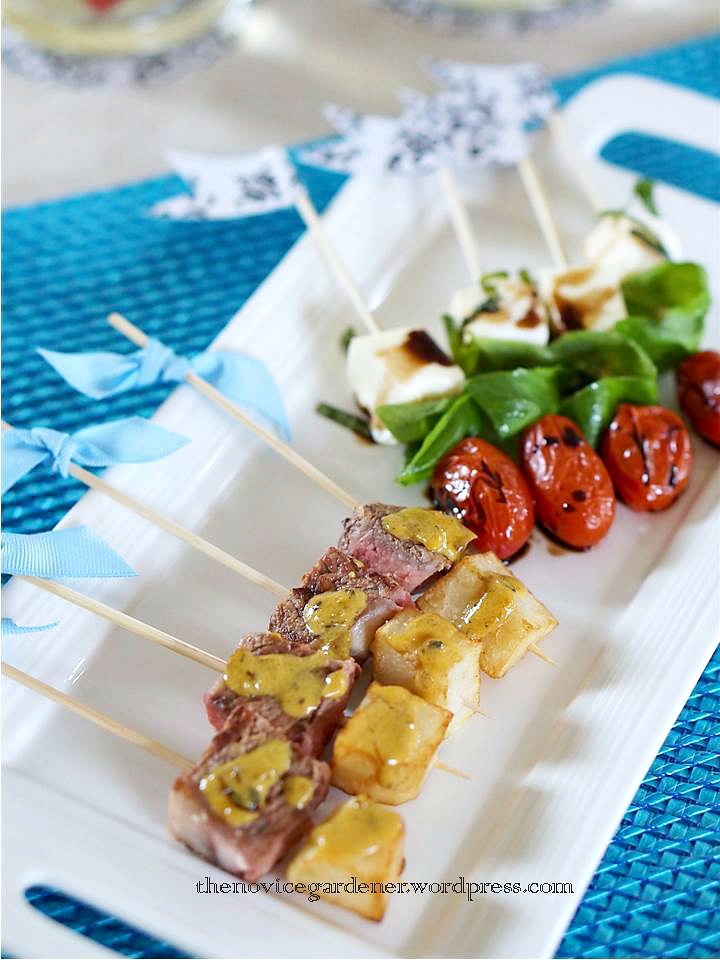 "Wow, Mom, these are the fanciest snacks," the wonderful, angelic son said. Aaw…, now why can't he be like this all the time?
Fancy snacks fit the bill very nicely. It is, after all, our anniversary, too. That's right, we got married on New Year's Eve. With our own private fireworks overlooking a lake, courtesy of our brother-in-law. Thank you, Frank, for the memories!
***
I started making this last night, along with other appetizers, not knowing that we were going to spend half the day away from home. No big deal, the night is young. There'll be hungry tummies yet later as the night wears on.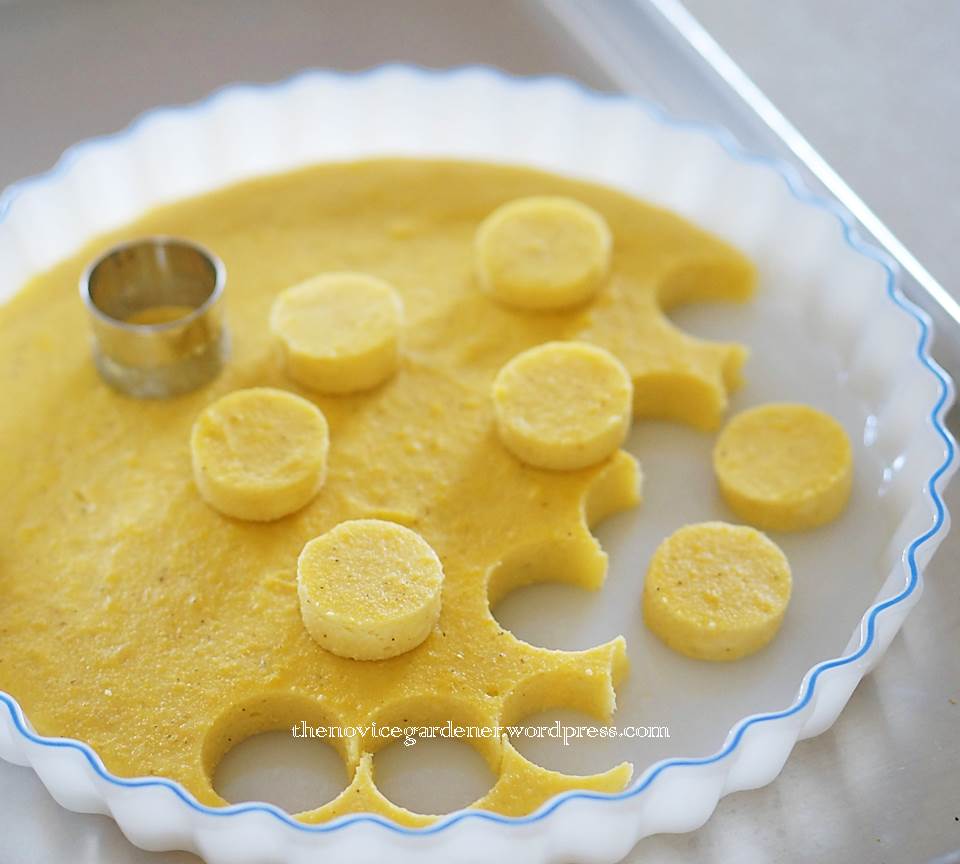 Polenta Mushroom Canapé
Recipe type:
Appetizer/Snack
Ingredients
For the polenta
6 cups water (or stock)
A pinch of salt (optional for those watching their salt intake)
2 cups yellow cornmeal
2-3 tbsp butter
Grated Parmesan cheese (optional)
For the mushroom ragout
2 cups sliced mushrooms (a mixture of shiitake, white button, and baby bella mushrooms)
1 tbsp olive oil
½ cup chopped onion (about half medium-sized onion)
2 cloves garlic, minced
1 tbsp balsamic vinegar
1 tsp fresh rosemary, finely chopped
1 tbsp fresh parsley, finely chopped
Salt & pepper
For the caramelized onions
2 medium-sized onions, sliced thinly
1-2 tbsp olive oil
1 tbsp balsamic vinegar
2 tsp agave nectar (or 1 tbsp sugar)
Salt & pepper
Instructions
Bring water to a full boil. Add the salt, if using.
Pour cornmeal slowly into the water in a steady stream, while continuously stirring with a whisk, to prevent lumps.
Once mixture thickens, switch to a wooden spoon. Lower heat to simmer and continue to stir, for 15-20 minutes.
Stir in butter and cheese (if using).
Spread polenta mixture into a shallow dish and chill for several hours before cutting. Cut into any shape you like (see photo above).
Just before serving the canapé, cut polenta and either grill, broil, or fry in butter briefly. Top with mushroom ragout and caramelized onions.
For the mushroom ragout
Heat oil over medium-high heat. Sauté onion until translucent.
Add shiitake, if using. It cooks a little longer than the white button. Cook just until shiitake starts to brown.
Add garlic and the white button mushrooms. Continue cooking until mushrooms are brown.
Add the balsamic vinegar and the herbs. Season with salt and pepper.
Spoon over polenta slices. Top with caramelized onions
For the caramelized onions
Heat 1 tbsp oil over medium-high heat. Add the onions and cook, stirring occasionally, until onions are brown.
Add more oil, if necessary. It might take from 20-30 minutes for onions to brown.
Add balsamic vinegar, agave nectar or sugar and salt & pepper. Cook for a several more minutes, until mixture is thick and dry.
Notes
This recipe makes enough polenta for at least 8 servings. You can prepare the polenta up to 2 days in advance.
If you like this recipe, please give it a ⭐⭐⭐⭐⭐ rating in the comments section below. Thanks!
Pin This To make Later!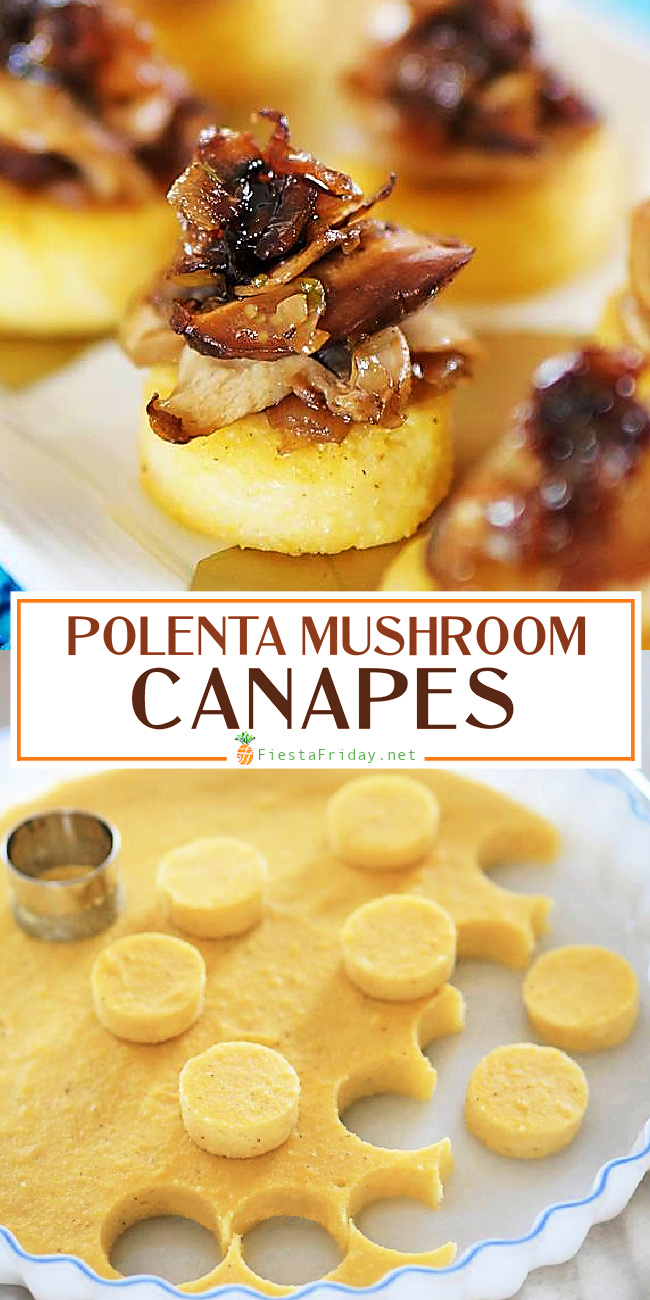 This slideshow requires JavaScript.
Happy New Year, everyone! Here's to another phenomenal year filled with good health, prosperity, joy, and most importantly, good blogging times, minus the frustration!
Love,
Angie