Pineapple Margarita Chicken Quesadillas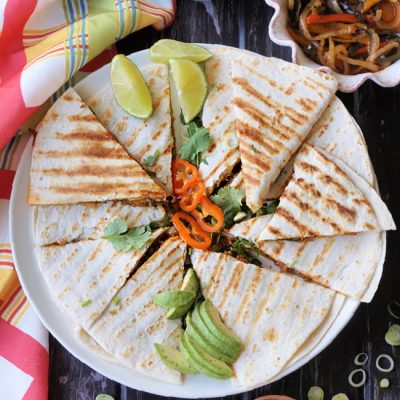 Author:
Angie | FiestaFriday.net
Recipe type:
Appetizer or Entrée/Main
Yield:
4 large quesadillas
2 large chicken breasts (or 2 leg quarters if you prefer dark meat)
½ cup pineapple juice
3 tablespoons lime juice
2 tablespoons triple sec
2 tablespoons white/silver tequila
1 tablespoon olive oil
1 teaspoon salt
2 garlic cloves, minced
1 teaspoon dry oregano
1 teaspoon cumin powder
2 tablespoons chile powder
1 tablespoon olive oil
1 large white/yellow onion, sliced thinly
1 or 2 poblano peppers, cut into strips
Several colorful sweet mini peppers or 1 red bell pepper, cut into strips
½ teaspoon cumin powder
1 teaspoon dry oregano
Salt & pepper
8 large (10-inch) flour tortillas
8 oz. jalapeño jack cheese, shredded
Chopped cilantro
Chopped green onions
Place chicken in a large Ziploc bag, pour marinade over and marinate overnight in the refrigerator.
Remove chicken from the marinade before baking. Save the marinade *See Notes
Place chicken on a sheet pan that's been sprayed with cooking spray, and bake in 350° F for 35 minutes. Let it cool slightly, then shred. Set aside.
Pour the saved marinade (or extra marinade) into a sauté pan and place it on medium heat. Boil marinade for about 5 minutes, or until it's reduced and thickened into a syrup consistency. Add shredded chicken, stir until sauce is completely absorbed by the chicken. Set aside.
In a large skillet, on medium-high heat, heat oil, then add onion and peppers. Sauté until the vegetables are softened, about 10 minutes. Add cumin, oregano, salt and pepper. Remove from heat, set aside.
Heat a stove-top grill pan or a frying pan on medium heat. Place a tortilla in the pan, then start layering the fillings on the tortilla. It helps to start with a little bit of cheese first, then the rest of the fillings (chicken, onion & pepper medley, cilantro, green onions), then cheese again on top of everything.
Place another tortilla to cover the fillings. Press slightly with a spatula.
Once the bottom tortilla starts browning and the cheese starts to melt, flip the quesadilla. Brown the other side. It should take about 2 - 3 minutes each side on medium heat.
Place quesadilla on a plate, then cut into wedges. Serve with optional salsa, lime wedges, avocado slices, and sour cream on the side.
If you don't find the idea of using the saved marinade appealing, you can always double the amount of the marinade. Use half to marinate the chicken and the other half for the sauce.
Recipe by
Fiesta Friday
at https://fiestafriday.net/2021/05/04/pineapple-margarita-chicken-quesadillas/