Dutch Crunch Sourdough Bread, Stuffed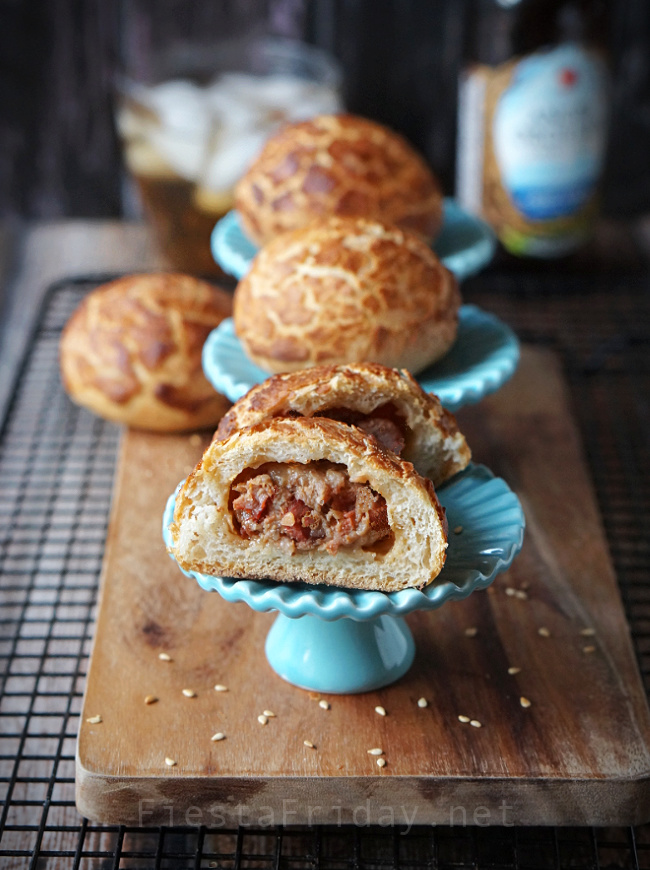 Author:
Angie | FiestaFriday.net
Cuisine:
American/European
150 g (3/4 cup) warm milk or water
300 g (2½ cups) bread or whole wheat flour
100 g (1/2 cup) sourdough starter (active and recently fed)
1 egg
3 g (1/2 teaspoon) salt
55g (1/4 cup) softened butter
⅓ cup warm water
½ cup rice flour
1 tablespoon brown sugar
1 teaspoon dry active yeast
¼ teaspoon salt
1 tablespoon olive oil
1 teaspoon sesame oil
The night before baking, start making the bread dough. In the bowl of your stand mixer, add the warm milk/water, flour, sourdough starter, and egg.
Using the dough attachment, start mixing and kneading the dough until the liquid is completely absorbed into the flour. The dough will look very sticky.
Continue the kneading process, adding salt, and softened butter, one tablespoon at a time. At first, the butter may look like it wasn't going to mix, but eventually, it'll blend in with the dough, which should form into a glossy ball. This should take about 5 minutes or so.
The dough will be sticky to the touch. You can add 1 - 2 tablespoons of flour if you feel that it's too sticky.
Use a dough scraper to transfer the dough into a buttered bowl. Cover with a tight-fitting lid or plastic wrap and place in the fridge overnight. The dough will rise slowly, developing its sourdough flavor.
The next day, when you're ready to bake, take the dough out. It should be close to double in size. You can work with it while it's still cold; it's less sticky that way. But you can also let it rest to come to room temperature before handling it.
Scrape the dough onto a floured surface and divide into 10 equal portions. Roll them into balls. You can stuff them with the optional stuffing ideas. * See Notes
Place balls on a baking sheet lined with Silpat or parchment. Cover and let them rise until they're nearly doubled in size, about 1 - 2 hours.
Before you're ready to place them in the oven, make the topping paste by mixing all the ingredients together. Let it rest for several minutes to activate the yeast.
Heat your oven to 400°F.
Using a spoon or brush, "paint" each dough ball with the paste, spreading it all around (See photo in the post). Place in the oven, and bake for 20 minutes, or until the topping looks brown and crackly. Serve warm.
You can stuff your bread with: 1) Leftover corned beef (sliced thinly) + sauerkraut + Swiss cheese (shredded or sliced) OR 2) Ground meat seasoned to your liking, or the meatball mix recipe shared in my
Stuffed Meatballs
recipe.
Recipe by
Fiesta Friday
at https://fiestafriday.net/2021/03/18/dutch-crunch-sourdough-bread-stuffed/