Stuffed Meatballs in Guinness Gravy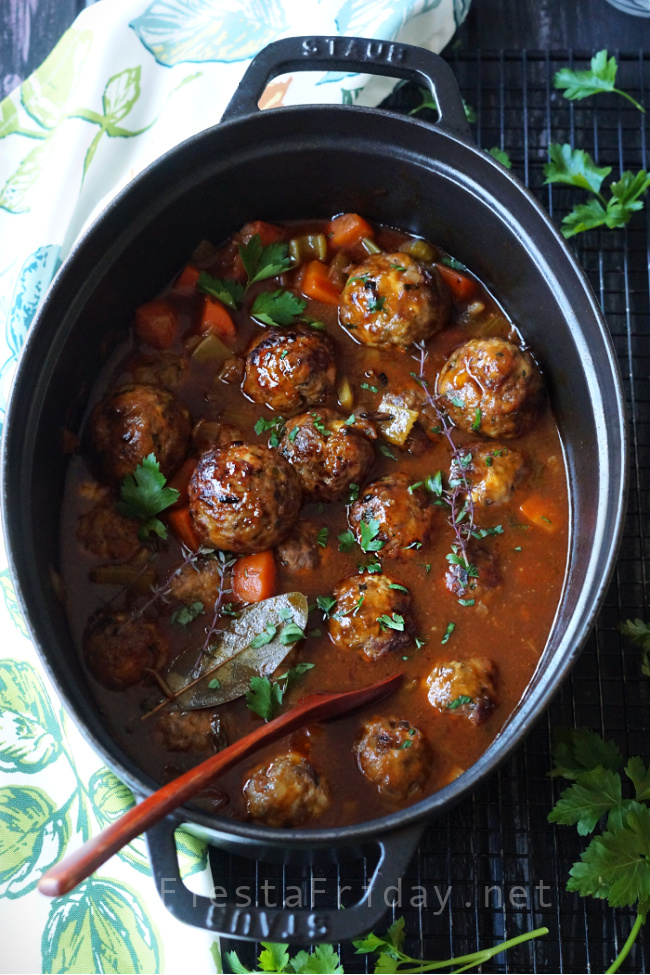 Author:
Angie | FiestaFriday.net
1½ lbs. meatloaf mix (or ground beef/lamb/pork)
1 medium-sized onion, diced finely
3 garlic cloves, minced
3 tablespoon chopped parsley
1 teaspoon kosher salt
½ teaspoon black pepper
1 tablespoon Worcestershire sauce
⅔ cup panko breadcrumbs
4 oz. Dubliner cheese, cut into small cubes
1 onion, chopped
2 carrots, chopped
2 celery stalks, chopped
4 garlic cloves, minced
2 bay leaves
4-5 sprigs of fresh thyme (or 1 teaspoon dry)
2 tablespoons tomato paste
¼ cup toasted flour
1 envelope unflavored gelatin powder
2½ cups low-sodium beef or chicken stock
2 tablespoons Worcestershire sauce
1 (330 ml) bottle Guinness Blonde
2 teaspoons brown sugar
Salt & pepper
Sauté the diced onion in a little bit of oil until soft (about 5 minutes). Let it cool completely.
Once the onion is cool, mix it with the rest of the meatball ingredients (except for the cubed cheese) in a large bowl.
Use clean hands to really mix the ingredients well together. Divide into 20 equal portions.
Flatten each portion into a patty, place 1 or 2 cheese cubes in the center, and enclose the meat around the cheese, forming it into a ball.
Brown meatballs by pan-frying until nice and browned, or baking in 400° oven for 15 minutes.
Whisk the gelatin powder into the beef or chicken stock to let it dissolve and bloom. Set aside.
Sauté all the chopped vegetables (onion, carrot, celery) in a tablespoon of olive oil. Once they're soft, add the garlic, herbs, tomato paste, and toasted flour. Stir and scrape the bottom of the pan to release the fond as it forms, for a few minutes, or until everything looks nicely brown and toasty.
Add the stock and Guinness. The Guinness will froth, stir it down. Add the rest of the ingredients and turn down the heat to simmer.
Once the gravy thickens slightly, add the meatballs. Continue cooking until meatballs are fully cooked and gravy looks glossy and thickened to your liking. Taste and adjust seasonings, if needed.
Best served hot over Colcannon or mashed potatoes.
Recipe by
Fiesta Friday
at https://fiestafriday.net/2021/03/09/stuffed-meatballs-in-guinness-gravy/