Sourdough Discard Buckwheat Poffertjes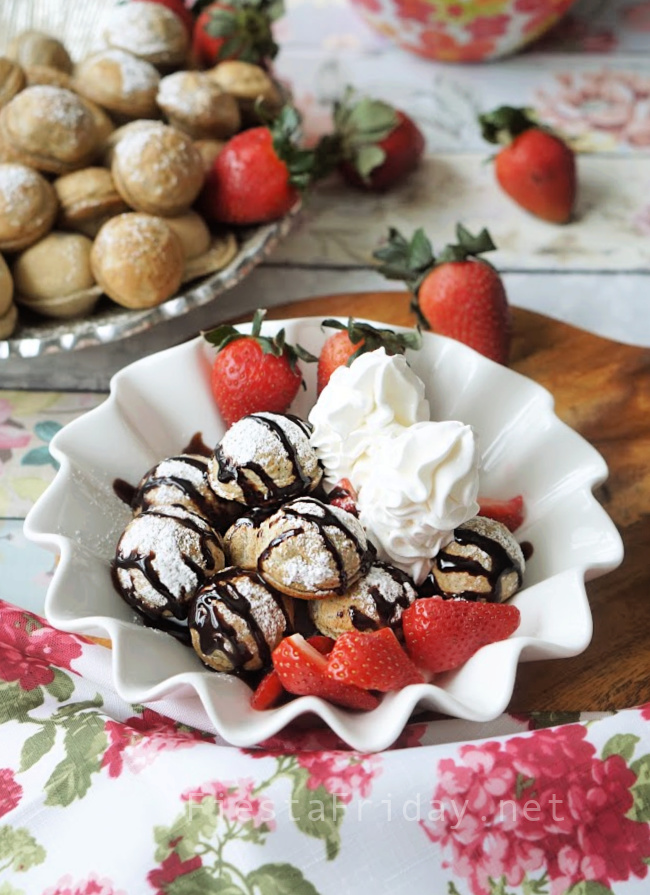 Author:
Angie | FiestaFriday.net
Recipe type:
Breakfast/Snack
Cuisine:
European (Dutch)
1 cup all-purpose flour
½ cup buckwheat flour
1 tablespoon sugar
1 teaspoon baking soda
½ teaspoon salt
¾ cup sourdough starter (or discard)
1 cup milk
2 eggs, beaten
Browned butter, melted
In a large bowl, place flours, sugar, baking soda, and salt. Mix with a whisk.
In another bowl, beat the eggs, then add the sourdough starter and milk. Whisk to blend.
Pour the liquid mix into the flour bowl. Whisk to mix everything. The batter should the consistency of a thin pancake batter and it should bubble up nicely. Transfer into a cup that has a pour spout.
Turn on your electric cake pop maker. When it's sufficiently heated, brush each cavity with browned butter. Pour batter into each cavity about ⅔ to ¾ full. Don't overfill. Remember, we're not making cake pops; we're making poffertjes.
Lower the lid of the cake pop maker, bake for about 1 minute. Open the lid, flip poffertjes using a bamboo skewer, bake for another minute.
Remove poffertjes using the skewer. Keep them in a warm oven while finishing the rest of the batter.
Brush with more browned butter before serving, then sprinkle with lots of powdered sugar. Serve with chocolate or maple syrup, fresh fruits, and whipped cream. Or you can serve them with a fruit (cherry/strawberry/lingonberry) sauce.
Recipe by
Fiesta Friday
at https://fiestafriday.net/2021/02/19/sourdough-discard-buckwheat-poffertjes/