Salmon Soy Sauce Garlic Butter Noodles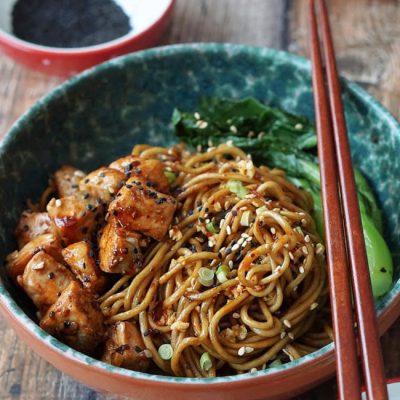 Author:
Angie | FiestaFriday.net
Recipe type:
Fish/Seafood, Noodles/Pasta
2 portions (4 oz. each) of Homemade Noodles
1 tablespoon olive oil
4 - 6 garlic cloves, minced
½ teaspoon red chili flakes (optional)
2 salmon fillets (3 oz. each), cut into bite-size pieces
2 tablespoons light or low-sodium soy sauce
1 tablespoon dark soy sauce
1 tablespoon oyster sauce
1 teaspoon brown sugar
2 - 4 tablespoons butter
Up to ½ cup of warm chicken stock or the water from boiling the noodles
1 bunch leafy green vegetable (bok choy, choy sum, or spinach) or broccoli
In a big pot, bring 10 cups of water to a boil.
Meanwhile, in a big skillet or wok, heat oil on medium-high. Add garlic, stir and cook until it's golden and slightly crisp. Watch closely so you don't burn the garlic.
Sprinkle chili flakes, let them sizzle in the oil for just several seconds.
Add the salmon pieces, cook, turning once, for about 1 minute on each side, until they just turn opaque, but are still pink in the middle. They will continue cooking and will be perfect by the time the rest of the ingredients are mixed in. Push them to one side of the skillet/wok.
Now add all the sauces, then the sugar. The sauce will be thick. Add a couple of tablespoons of chicken stock or the boiling water from the noodles to thin it. Turn down the heat to low and keep the sauce warm.
Boil noodles in the boiling water for just 1 minute. Strain and add them to the sauce. Toss the noodles in the sauce, adding butter 1 tablespoon at a time, until they're coated nicely with the sauce and look glistening. If sauce is too dry, add more chicken stock/boiling water as needed.
While noodles are cooking, blanch vegetables or you can boil them in the same pot that's been used to boil the noodles in.
Serve the noodles with salmon pieces on top and vegetables on the side.
Recipe by
Fiesta Friday
at https://fiestafriday.net/2021/02/11/soy-sauce-garlic-butter-noodles-with-salmon/