Homemade Chinese Noodles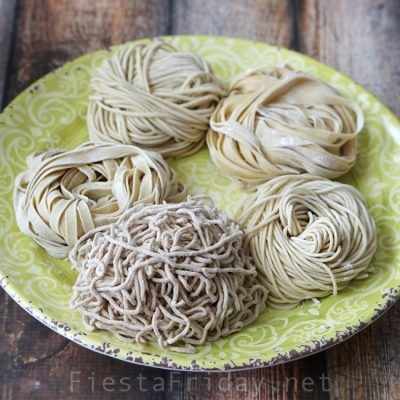 Author:
Angie | FiestaFriday.net
Recipe type:
Noodles/Pasta
2 cups bread flour
½ cup water or 2 eggs + enough water to make ½ cup
½ teaspoon salt
1 teaspoon lye water or baked baking soda
A spray bottle filled with water
Put flour in a large bowl.
In a measuring cup filled with the water, stir and dissolve salt, then add lye water or baked baking soda. Alternately, if using eggs, beat eggs in the cup and add enough water to make ½ cup, then add lye water.
Pour liquid into flour, stir with a fork, cover bowl, and let it rest for 30 minutes.
After 30 minutes, knead dough into a ball. Rest for another 30 minutes if dough is too crumbly and hard to knead. You can mist it with a spray bottle to soften it.
Flatten dough into a disk with a rolling pin, then divide into 3 equal portions.
Working with 1 portion at a time, feed dough into pasta roller, using the widest setting.
Fold dough in half or third and roll again. Do this for several times until the dough becomes smooth. Dust with flour, as needed, to keep it from sticking to the pasta roller. Or spray with water if it's too dry.
Progressively feed the dough into narrower setting until the desired thickness is achieved.
(Optional) If the dough sheet is ragged on its edge, you can trim it with a pizza cutter.
When the desired thickness is achieved, dust the dough sheet lightly with flour, then feed it through the cutting attachment.
Finally, dust the noodles with a little bit of flour or corn starch to prevent them from sticking to each other.
Your noodles are now ready to use. If you want to use them at another time, coil them into nests, place them in a plastic container, and store them in the freezer.
To cook them, bring water to a hard rolling boil, boil noodles for 1 minute, stirring with a fork to keep them separated. Drain.