Chocolate Chip Carrot Coconut Cheesecake Cake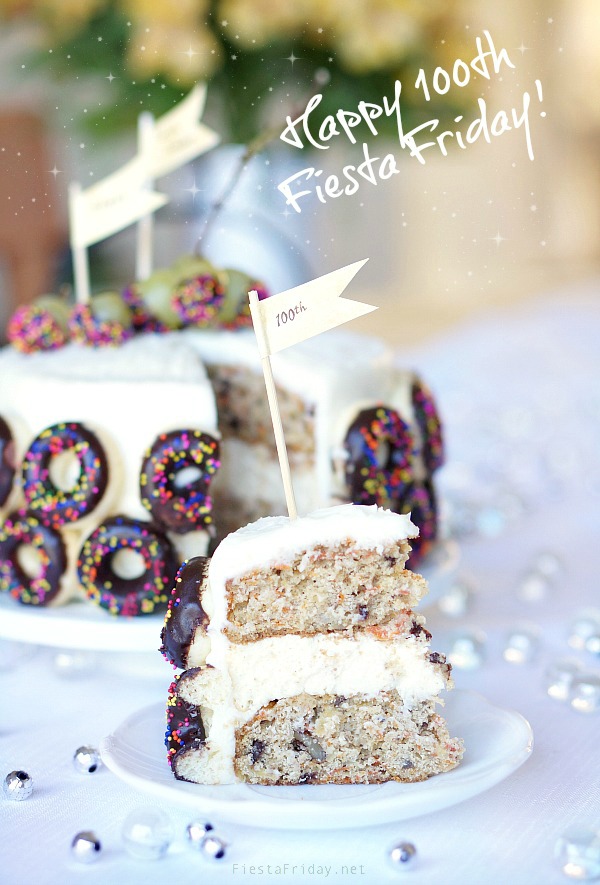 Author:
Angie@fiestafriday.net
1¼ cups all-purpose flour
1 cup whole wheat flour
1 teaspoon baking powder
1 teaspoon baking soda
½ teaspoon salt
1 teaspoon cinnamon
¼ teaspoon freshly grated nutmeg
1 cup sugar
⅔ cup coconut oil (liquid/melted)
1 (8-oz.) can crushed pineapple, undrained
2 large eggs, beaten
2 teaspoons vanilla
2 cups shredded carrots
½ cup nuts (pecan or walnut), toasted and chopped
¼ cup mini chocolate chips
1 (8-oz.) cream cheese, at room temperature
3 tablespoons non-fat Greek yogurt
¼ cup sugar
1 large egg
⅓ cup coconut milk
1 (8-oz.) cream cheese, at room temperature
¼ cup coconut oil, softened
½ cup non-fat Greek yogurt
1 teaspoon vanilla
2 cups powdered sugar
Heat oven to 350°F.
Grease and flour 6-inch round cake pans.
In a medium bowl, combine flours, baking powder, baking soda, salt, cinnamon, and nutmeg. Set aside.
In another (large) bowl, combine sugar, oil, pineapple, eggs, and vanilla. Beat well.
Stir in flour mixture, mix well.
Stir in carrots, nuts, and chocolate chips.
Divide batter into three equal parts, pour into greased and floured pans.
Bake for 30 minutes or until top springs back when touched lightly in center. Let cool completely before frosting.
Heat oven to 325°F.
Prepare a 6-inch springform pan. Spray the bottom and sides with non-stick cooking spray. Cut a round piece of parchment paper to line the bottom of the pan. Spray the paper.
Mix softened cream cheese and yogurt. Add sugar and beat until blended and smooth.
Add egg, vanilla, and coconut milk, and mix on low-speed, just until well blended. Don't overbeat.
Bake for 40–45 minutes, or until center no longer jiggles.
Cool in the fridge for at least 4 hours to overnight before assembling the cake.
Using an electric mixer, beat cream cheese, coconut oil, yogurt, and vanilla on medium speed. Gradually increase mixer speed to high and continue beating until light and fluffy, scraping down the sides of bowl as necessary.
Gradually add powdered sugar, beating on low-speed until well combined. Increase speed and continue beating on high-speed until well combined, smooth, and fluffy (about 1 to 2 minutes).
Stack a layer of carrot cake, the cheesecake, and another layer of carrot cake. Frosting between the layers is not necessary to keep them together when the cheesecake is used as the middle layer (see photo below).
With icing spatula, spread half of the frosting evenly over top and sides of cake. You don't have to be overly neat (see photo below). Most of the surface will be covered with the donuts.
Place the cake in the fridge if frosting gets a little too soft, for about an hour or so.
Spread the rest of the frosting. Decorate sides of cake with mini donuts and top with grapes.
The carrot cake recipe makes 3 (6-inch) round cakes that are about 2 inches high. You can use all 3 for a 3-layered carrot cake or 2 + 1 layer of cheesecake to make the Carrot Cheesecake Cake.
Recipe by
Fiesta Friday
at https://fiestafriday.net/2016/01/05/chocolate-chip-carrot-coconut-cheesecake-cake-fiesta-friday-100/