Spectacular Samosas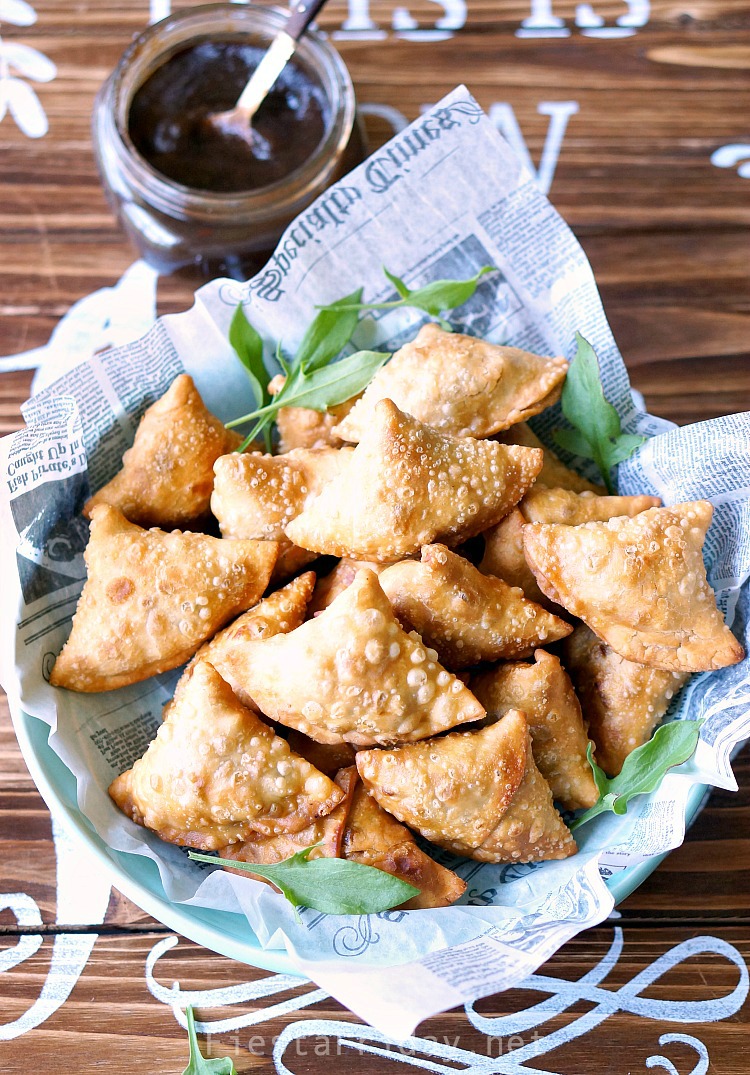 Author:
Angie | FiestaFriday.net
Recipe type:
Appetizer/Snack
2 teaspoons whole coriander seeds
1 teaspoon whole cumin seeds
1 teaspoon turmeric powder
1 teaspoon paprika
1 teaspoon garam masala
Salt & pepper
2 cups all-purpose flour
½ teaspoon salt
3 tablespoons canola oil
6 tablespoons cold water
1 medium onion, chopped
1 cup finely diced rhubarb (substitute with amchoor powder or lemon juice)
3 cloves garlic, minced
1 jalapeño, seeded and minced
1 tablespoon olive oil
2 cups cooked potatoes, chopped
1 cup frozen peas, thawed
2 tablespoons chopped sorrel leaves (or more cilantro, or mint)
2 tablespoons chopped cilantro
Canola oil for frying
Start by preparing the spice mix. Toast coriander and cumin seeds in a small pan over low heat. Cool before grinding. Add turmeric, paprika, garam masala, salt & pepper, and mix. Set aside.
To make the samosa wrappers, mix flour and salt, then add the oil. Using a fork, stir to distribute oil evenly. The flour mix should be crumbly. Add the cold water and continue stirring until dough comes together into a rough ball, just like making a pie crust.
Once the dough forms a ball, lift it, pat it into a disk, then wrap with cling wrap and set aside while you make the filling.
In a large skillet or sauté pan, heat olive oil on medium-high heat.
Cook onion and rhubarb until they are soft. Add garlic and jalapeño. Stir for another minute, then add the spice mix. Continue stirring to distribute the spice.
Add the potatoes. As you're cooking, mash some of the potatoes slightly with the back of your spoon. It will make stuffing the samosas easier.
Add the peas, continue to cook for another couple of minutes until the peas are cooked. Add the sorrel or herbs last. Set aside to cool.
Divide dough into 10 equal pieces, roll each into a ball.
Work with only 1 ball at a time, covering the rest so they stay soft. Using a rolling pin, flatten the dough ball into 6-inch circle. It should be very thin. You can use a large cutter to trim the edges. (*See how-to photos below)
Cut the circle in half, and form each semi circle into a cone, pressing seams to seal. Stuff with about 1 - 2 tablespoons of filling, then seal the opening. (*See how-to photos below)
Continue with the rest of the dough and filling.
Heat oil in a deep frying pan. Drop samosas gently one by one into the hot oil, but don't crowd the pan. Fry in batches instead. Fry for about two minutes, then flip and fry for another 2-3 minutes, or until samosas are golden brown. Drain on paper towels.
Best served with chutney. Tamarind chutney is my favorite, but any chutney or even tomato ketchup will be good.