Baghrir Pancakes with Banana Flambé and Chocolate Sauce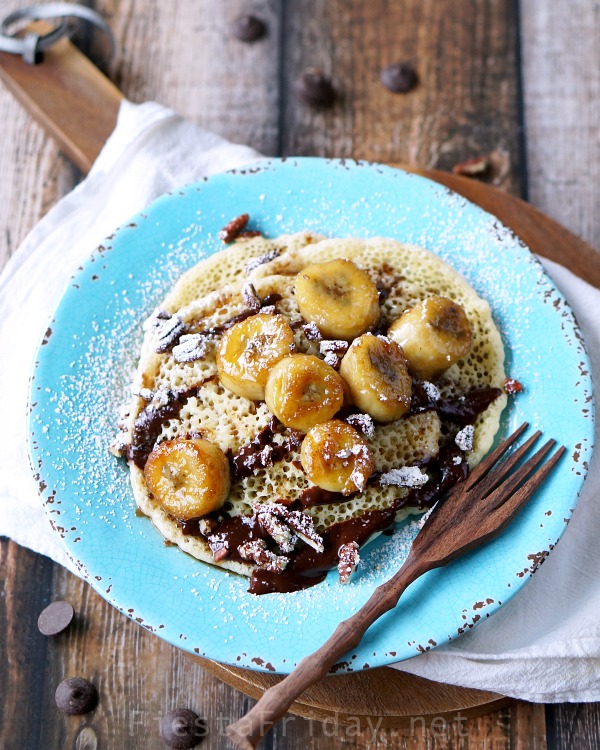 Author:
Angie | FiestaFriday.net
Recipe type:
Breakfast/Dessert
Cuisine:
Moroccan/North African
1½ cups semolina flour
¼ cup all-purpose flour
2¼ cups warm water
2 teaspoons active dry yeast
½ teaspoon salt
2 teaspoons sugar
4 teaspoons baking powder
3 tablespoons butter
½ cup brown sugar
3 ripe but firm bananas
1 teaspoon vanilla
¼ cup rum
½ teaspoon cinnamon
Combine all ingredients for the baghrir, except for baking powder, in a blender and blend for 2 minutes.
Add baking powder and blend for 2 more minutes. The total blending time depends on how powerful your blender is. You're looking for a smooth batter the consistency of a crepe batter.
Pour into a bowl, cover with plastic wrap and let it stand at room temperature for 30 minutes to 2 hours, or until batter is foamy.
Heat a small non-stick skillet over medium heat. No oil is needed, but if you find your pancakes sticking to the pan, you can rub the pan with a little bit of oil on a paper towel.
Pour about ¼ cup of batter (for a 5-inch pancake).
Cook without flipping the pancake, until there is no more wet spots on the surface of the pancake, about 2 minutes.
Serve with honey butter sauce or banana flambé and optional chocolate sauce and toasted nuts.
Melt butter in a skillet over medium-high heat, add sugar, and cook for about 2 minutes, or until sugar begins to caramelize, stirring constantly.
Cut bananas into bite-sized pieces. Add them to skillet, and cook bananas for 1 - 2 minutes until they're slightly browned, flipping once.
Remove from heat. Pour in rum, and carefully ignite the liquid with a long match. If you have a gas range, instead of using a match, you can tilt your skillet slightly to catch the fire. Let flames die down.
Return to heat, add vanilla, and cook for another minute. Sprinkle some cinnamon, then remove from heat.
Combine equal amounts of honey and butter in a small saucepan and heat just until warm and butter is melted. Stir to mix.
This recipe makes about 16 5-inch pancakes.
Recipe by
Fiesta Friday
at https://fiestafriday.net/2017/08/07/thousand-hole-pancakes-aka-baghrir/